Mekong Delta Tours & Day Trips from Ho Chi Minh City
Mekong Delta can be seen as the "rice bowl" of Vietnam, it looks like a green carpet. In this area, everything is like a water world moving to the rhythms of the mighty Mekong. Also, in Mekong Delta where boats, houses, and markets float upon the innumerable streams, canals, and rivers that crisscross the landscape like the normal.
Together with the bustling commerce of the area, it remains the slow pace of life in the countryside where is rewarded with a true taste of rural hospitality. Elsewhere, there have many mangroves of forests with a variety of bird, the remains of Viet Cong bunkers, ornate Khmer pagodas and Buddhist temples, while the off-coast islands offer seductive white sand beaches.
Are you craving for your own Mekong Delta Tour? We bet you are! Hurry, contact Saigon Local Tour for a fabulous day trip in the Mekong with your friends!
The Mekong Delta, the biggest rice basket in Vietnam, is amongst the best destinations in South Vietnam. The surrounding lands comprise low-lying rice paddies, with dense mangroves and palms bordering the rivers. The tributaries of the mighty Mekong Delta provide a comprehensive network of canals and channels making the rivers the best way to explore the region at a leisurely pace while offering the opportunity to experience the truly unique lifestyle of this great river. The best one-day Mekong Delta Tour in My Tho will give you the most commonly fun facts in the area.
---
Things to Do & See | Essential Guides in Mekong Delta
Mekong Delta, known as the Western Region or "Mien Tay" – the endearing name Vietnamese people often call the magical land – is the most unique tourist attraction in the South of Vietnam. This region is comprised of 13 provinces, each comes with the own immense beauty and cultural charms. It is famous for its unique landscapes thanks to the tropical climate, its seemingly endless rice paddies ("The Rice Bowl of Vietnam") as well as it's resident's warm-hearted hospitality. Below are top things to do & see in your Mekong Delta tours from Ho Chi Minh City.
Things to Do & See in Mekong Delta
Experience Boat Cruise Through Small Canals
Exploring the beauty and uniqueness of Mekong Delta by a boat cruise through zigzag canals under the shadow of water coconut trees is considered as an unprecedented experience. A special thing of Mekong River is that it consists of a complicated system of channels. It is really a wonderful time for you to feast your eyes on beautiful sights of green/yellow rice paddies, orchards laden with fruits, coconut trees as well as local houses. In addition, you can also see the coconut candy factory and brick factory along the river.
Visit Floating Markets & Witness Slow Pace of Life
Visiting floating markets will bring tourists a simple but fascinating experience in Things to Do & See in Mekong Delta. Floating markets make the Mekong Delta where you can see daily activities and the culture of inhabitants become outstanding from its neighborhood areas. A large number of products such as dried food, tropical fruits, lively animals and other commodities are exchanged on hundreds of boats and canals. People will paddle the way through the river and walk on planks between two boats in order to exchange well. Besides, the floating markets also offer some traditional dishes like Hu Tieu (Vietnamese clear rice noodle soup), Bun Ca (rice noodle soup with fish), Xoi (steamed sticky rice)… and several coffee shops to serve you when you want to enjoy coffee, fruit juice or tea. The list below is the top five floating markets in Mekong Delta:
• Cai Rang floating market – Can Tho province
• Cai Be floating market – Tien Giang province
• Nga Bay floating market – Hau Giang province
• Phong Dien floating market – Can Tho province
• Nga Nam floating market – Soc Trang province These markets start early (3:00 am) in the morning and are at its liveliest at around 5:00 am – 6:00 am. Floating markets to us are tourist attractions and to the inhabitants, they are the way of life. You will experience the slow pace of life, observe how residents eat, drink, sleep, live and do their business on boats in the Mekong Delta and take a closer glance at the rural area of Vietnam. Be sure that you will wake up early enough to experience this amazing life!
Visit & Taste Fresh Fruits
The Mekong Delta is famous not only for rice paddies but also for tropical orchards thanks to the fertilized land. While there are many farmers working on rice paddy fields, a variety of farmers choosing to grow fruits. Tourists can often run into a large number of tropical fruit trees in the local gardens such as plum, durian, banana, dragon fruit, rambutan, apple, grape, mango… This is the reason why Mekong Delta provides about 70% of the fruit consumed throughout Vietnam; moreover, some are exported to other countries.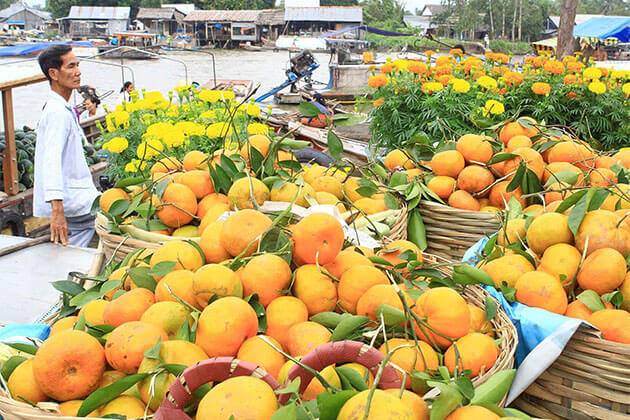 These are some large fruit gardens that you can pay a visit and pick fresh fruits off the trees and enjoy them:
• Cai Be Orchard (Tien Giang) – The largest
• Cai Mon Fruit Garden (Ben Tre)
• Phong Dien and My Khanh Orchards (Can Tho)
• Cu Lao Binh An Garden (Vinh Long)
• Vinh Kim (Tien Giang)
Enjoy Mekong Delta Specialties
The unique cuisine is another highlight of the Western region. Here are several special dishes in the Mekong Delta that you should try.
Duong Dua – Coconut Worm
Due to a large number of coconut trees grown in the region, Mekong Delta is an ideal place to enjoy coconut worms. Beetle larvae pierce holes and lay eggs inside coconut trees, and these eggs become coconut worms - Duong Dua. They are yellow larvae with brown heads. This dish is quite weird, many tourists seem to be scared and are not willing to try it. Eating the grilled coconut larvae is recommended to enjoy this special dish. However, if you are interested in something more challenging, eat them while they are still alive! Raw coconut worms will be dipped in but still, be moving in a bowl of fish sauce. This will surely be a little scary!
Lau Mam – Fermented Hotpot
Lau Mam is a specialty that is very popular in the Western region of Vietnam. "Mam" (fermented fish) is used to flavor the consommé together with many other ingredients such as beef, shrimp, fresh vegetables, lemongrass… This kind of hot pot owns its unique smell. You can enjoy this dish at any restaurants in the Mekong Delta.
Banh Canh Ca Loc – Snakehead Fish Thick-noodle Soup
This kind of soup includes a thick-version of noodles made from rice flour and cooked with snakehead fish meat. It consists of the typical flavors of the region. You can easily find this specialty everywhere in the area. Locals often eat it as a favorite meal.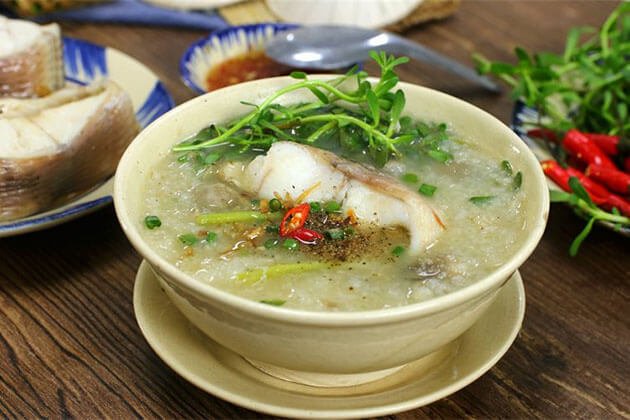 Hu Tieu My Tho – My Tho Noodle Soup
Originated from My Tho, Hu Tieu My Tho is a well-known noodle soup in the South of Vietnam. The broth in this soup is made from boiling pork bones. A Hu Tieu bowl is a mixture of red shrimp, meatballs, green celery, pepper. Especially, the minced garlic is a very important spice which creates the unique fragrance of this dish.
Banh Pia – Durian Cake
Banh Pia is a famous cake and can be brought back as a gift from Mekong Delta. Durian Cake is the perfect combination of green beans, durian, and salted eggs to create a typical flavor. Banh Pia is produced in many provinces in the Western region but Banh Pia Soc Trang is still the most famous and delicious.
Bird Watching at Tram Chim National Park
Tram Chim National Park, located in Dong Thap province, is known as "The Kingdom of Birds" in Vietnam. Covering the total area of more than 7,000 hectares, Tram Chim National Park is home to about 200 types of birds consisting of lots of precious and rare birds. Almost 60 percent of red-headed cranes – one of the most threatened cranes in the world – live in Tram Chim National Park. When you want to go bird watching, you have to take a boat tour. Each boat tour costs 800,000 VND for a group of 12 tourists and lasts from 30 minutes to 1 hour or more.
Listen to Southern Folk Song – "Đon Ca Tai Tu"
"Don Ca Tai Tu" is one of the traditional kinds of musical art. After a long day full of activities, listening to Don Ca Tai Tu is a good way for you to relax. It reflects the lifestyle of people who live and earn their living along the Mekong Delta as well as help them express their emotions, encourages them to overcome all life difficulties.
Essential Tips for the Wonderful Mekong Delta Tours
When to Visit Mekong Delta
Thanks to the tropical climate, the Southwest region of Vietnam owns its variety of natural landscapes. You can pay a visit to Mekong Delta at almost any time throughout the year. If you want to enjoy the freshest fruits, you should visit the summertime (April to November). The rainfall at this time is quite high; however, it will not affect your trip badly.
Spring (December to March) is considered as the best time to travel to Mekong Delta. A variety of colorful flowers cover all the corners of this region at this time. It is really convenient for travelers to get more understanding about the local life and learn more about traditional cultures. Especially, you will have the chance to experience the Tet holiday and many other holidays.
How to get Mekong Delta
By plane Mekong Delta has an airport in Can Tho City. It just takes about 45 minutes enjoying the view at the height of about 10,000 meters from land. Two airlines from Ho Chi Minh City to Can Tho are VASCO and Vietjet Air, the price is 600,000 VND/ticket. By Motorbike If you love adventuring experience, you should ride the motorbike to enjoy the exciting feelings. You need to prepare many essential things such as map, money, first aid kit… when choosing motorbike to get to Mekong Delta. By motorbike, you will be able to explore and discover every corner of the Western region.
Where to Stay at Mekong Delta
You can rent a homestay, live together with the locals to learn more about their lifestyle. The owners of homestays are mostly friendly and warm-hearted farmers. Also, hotels are always available, so tourists can book easily. These are some popular homestays as well as hotels you can choose to stay:
• Happy Farm Tien Giang Homestay (My Tho) –US$26/night
• Minh Viet Homestay ( Can Tho) – US$24/night
• Charming Countryside Homestay (Ben Tre) – US$25/night
• Phu Quoc Valley Sen Bungalow (Kien Giang) – US$24/night
• KQ Hotel (Can Tho) – US$30/night
• Sao Mai Hotel (Cai Be) – US$16/night
• Cottage Village (Kien Giang) – US$32/night