Ho Chi Minh City Tours & Day Trips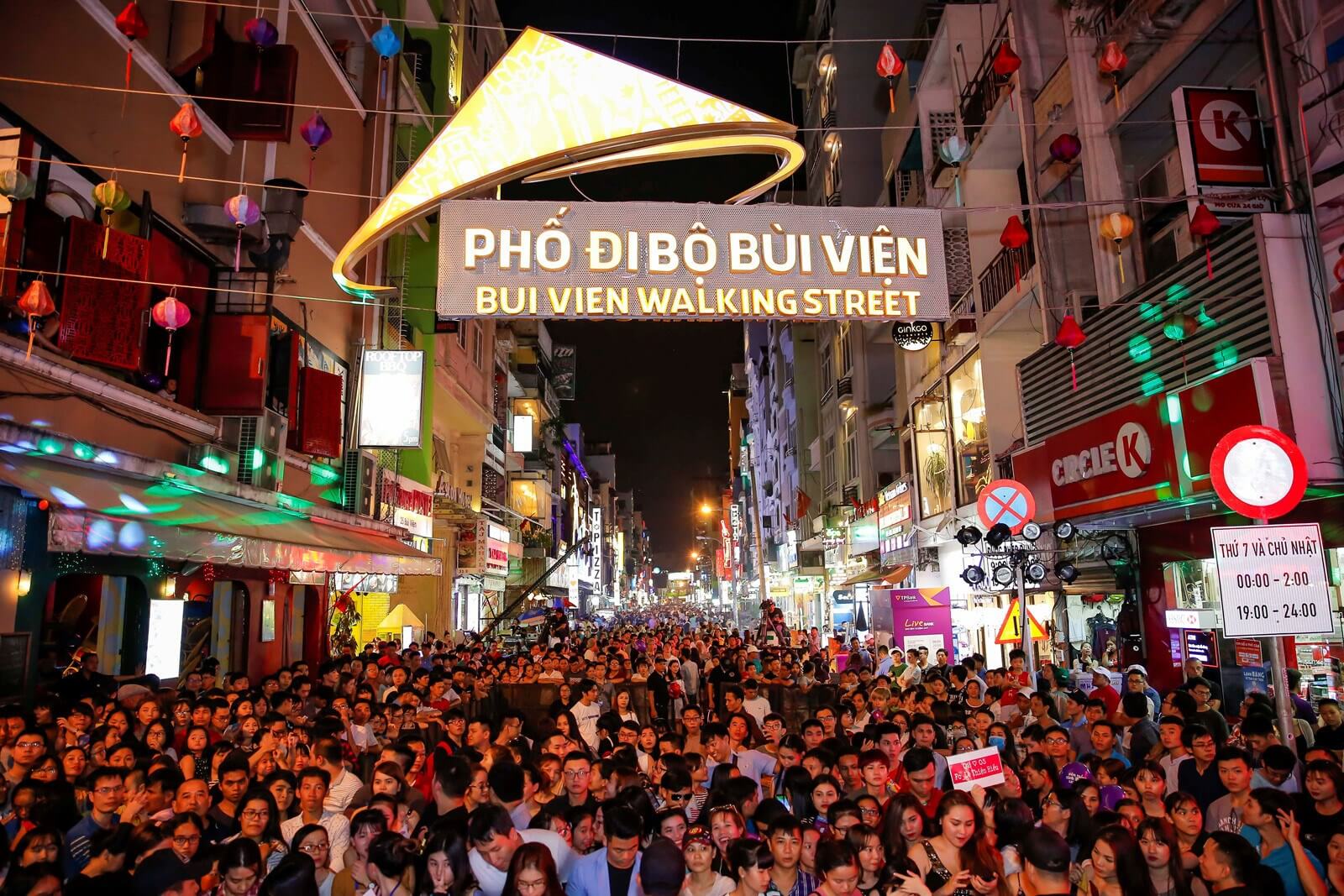 Being one of the most prominent tourist destinations in Vietnam, Ho Chi Minh City (formerly known as Saigon) houses many classic French buildings, skyscrapers as well as ornate Buddhist pagodas and temples dating back to the 18th century. Also, Ho Chi Minh city has been known as "a city never sleeps", it has vibrant nightlife and tourists will have many amazing choices for a night out with a variety of fancy restaurants, lively bars, nightclubs, and rooftop bars.
To ensure that you have the chance to experience the best of this charming city, Saigon Local Tour – the top leading travel agency in Vietnam offers you various options for awesome tours & day trips in Ho Chi Minh City that suit every interest, budget, and group size.
Taste the most astounding street foods that define Ho Chi Minh City as the paradise of cuisine. Visit the busiest popular street stalls and hidden lanes in town serving the specialties the Saigonese really love. They have not repeated dishes such as Pho, spring rolls, banh mi, or pancakes because this food tour is filled with true foods of Vietnamese street style that international tourists have never experienced before. Keep your appetite for a moment before rewarding your empty stomach with mouthwatering and authentic Vietnamese foods.
---
Things to Do & See For Tours in Ho Chi Minh City | Essential Guides
Known as "The Pearl of the Far-East", Ho Chi Minh City (or Saigon) is situated in the heart of the Southern region of Vietnam. This charming city draws the attention of millions of domestic and foreign visitors each year with many attractive tourist destinations. When traveling to Ho Chi Minh City, you can find many colonial buildings, skyscrapers together with modern shopping and entertainment centers. Saigon is worth discovering and below are tops things to do and see in this city.
Top Tourist Attractions in Ho Chi Minh City Tours
Saigon Central Post Office
Situated at the city center, Saigon Central Post Office is the largest post office in Vietnam. It is the perfect combination of Western architecture and Oriental decorations. Especially, there are two maps on two sides on the entrance: "Saigon et ses environs 1892" describes Saigon in the past and "Lignes téléraphiques du Sud Vietnam et du Cambodge 1936" depicts the telegraph lines of the South of Vietnam and Cambodia. The post office also has 38 customer counters service.
Tourists in Ho Chi Minh City tours visiting this building admire the unique architectural style and immerse themselves in the nostalgic world with post office boxes and phone booths.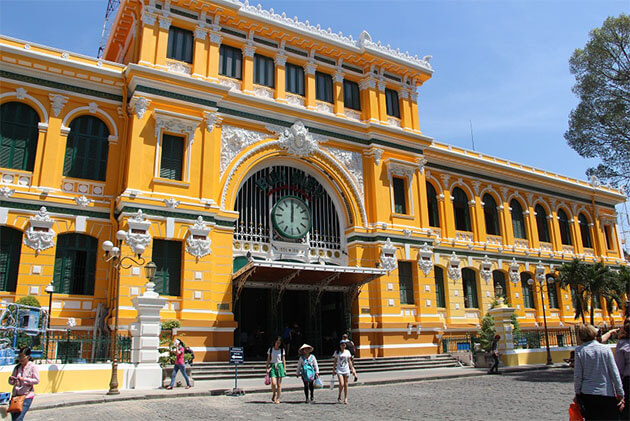 Some interesting activities at Saigon Central Post Office that you can do include:
• Admire the unique architectural style
• Visit Mr. Duong Van Ngo, who spent 27 writing letters fluently in both English and French
• Send postcards, collect stamps, buy souvenirs
Address: 2 Paris Commune Street, District 1, Ho Chi Minh City
Opening hours: 7:00 am – 7:00 pm
Saigon Chinatown
Chinatown, the convergence of Chinese people living together in Ho Chi Minh City, has still preserved their precious culture and architecture dating thousands of years. It has long been one of the most attractive destinations in any tours in Ho Chi Minh City.

Saigon Chinatown, also known as Cho Lon, was first established in the late 1700s when a large number of Hoa, an ethnic Chinese minority resided in Vietnam. Over hundreds of years, this area grew in size and population with many ancient temples, pagodas, markets, and houses constructed according to the Chinese architectural style. Tourists visiting Saigon Chinatown feel like to be in a Chinese old town several centuries ago. You can visit Thien Hau Pagoda, Luong Nhu Hoc Lantern Street, Ha Chuong Assembly Hall… and savor special foods such as dim sum, roasted duck, chicken stew with herbs…
Address: District 5, Ho Chi Minh City
Binh Tay Market
Located in the center of Saigon Chinatown, Binh Tay Market (or Cho Lon Market) is one of the liveliest shopping areas in Ho Chi Minh City. It sells a wide range of different products including clothes, souvenirs as well as fruits, vegetables, fresh food, textiles, handicrafts… Being a wholesaler market, the price here is reasonable and affordable.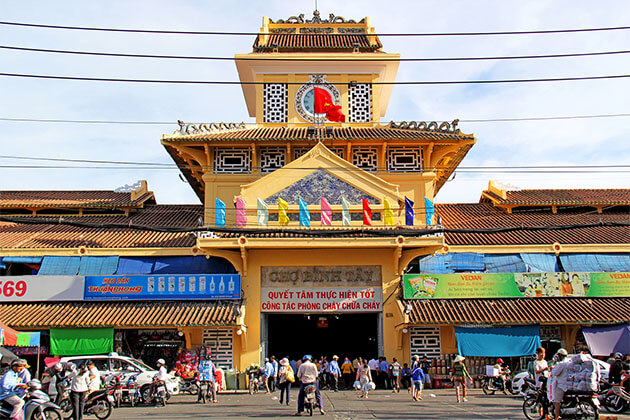 Besides, your Ho Chi Minh City tour shouldn't miss small food stalls where you can get some simple but delicious Vietnamese dishes including pho (rice noodle soup), goi cuon (spring rolls), com tam (broken rice) as well as Chinese-influenced delicacies.
Tourists come here in hopes of not only doing the shopping, enjoying the tasty dishes but also admiring the special architecture. Binh Tay Market was constructed by the French and originally served the trade needs of Chinese merchants; thus, it reflects both the characteristics of Chinese architectural style and Eastern-influenced architecture.
Address: No.57 Thap Muoi, Ward 2, District 6, Ho Chi Minh City
Opening hours: 7:00 am – 10:00 pm
Bitexco Financial Tower
Bitexco Financial Tower – Saigon Sky Deck is known as the tallest skyscrapers in Ho Chi Minh City with an impressive height of 262 meters. With the design concept is taken from the shape of the lotus bud, Bitexco Financial Tower is considered as the symbol of beauty and the fast development of the city's economy.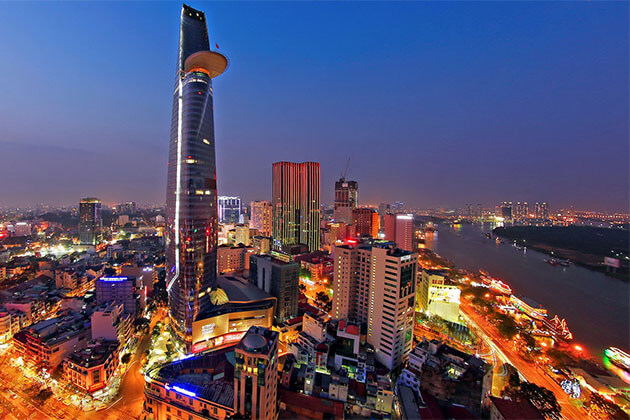 The highlight of the tower is the Sky Deck on the 49th floor where visitors can easily enjoy the full sight of Ho Chi Minh City and Saigon River and have the chance to use modern facilities and services. Tourists can comfortably shop, eat, watch movies or take photos. Additionally, travelers also can enjoy the poetic space of Eon51 Café on the 51st floor of the Bitexco Financial Tower.
When visiting the building, tourists do not have to pay. However, if you want to visit Saigon Sky Deck, you are required to buy tickets.
The ticket costs 200.000 VND (for an adult) and 130.000 VND (for elderly, and children).
Address: 36 Ho Tung Mau, District 1, Ho Chi Minh City
Opening hours: 9:30 am – 9:30 pm
Best time to visit Saigon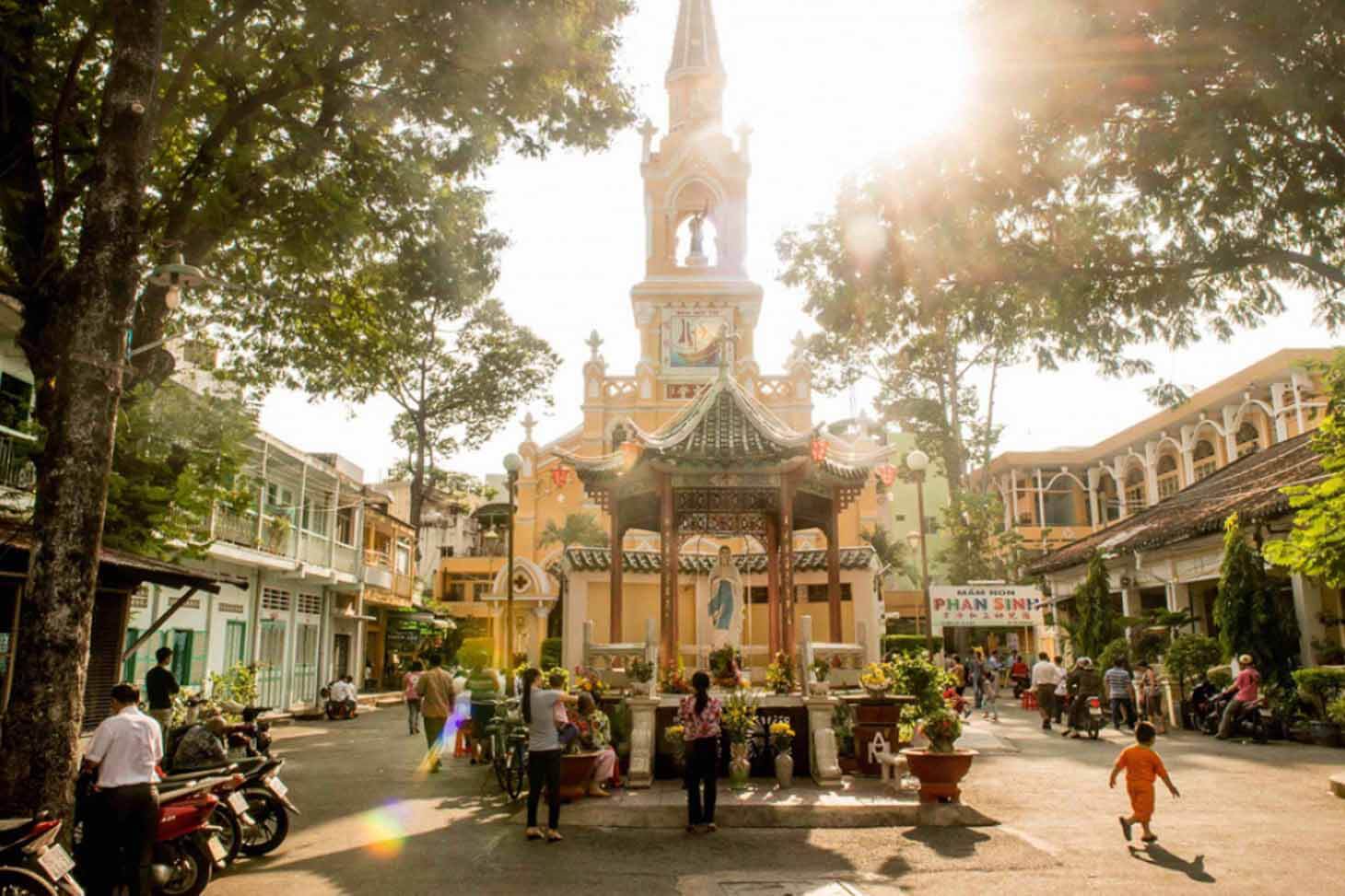 The climate in Ho Chi Minh City is quite nice, warm all year and rarely has severe natural disasters. It is a tropical climate with two main distinct seasons: the dry season (November – April) and the wet season (May – October).
If you enjoy the warm sunshine and have a wonderful journey with many exciting activities including doing shopping, visiting famous architectural structures, and savoring the unique cuisine… this is a great time for you as this period is appreciated to be the time when Saigon is at its best with a balmy atmosphere and colorful flowers. Also, there are many festivals and cultural activities including the Tet holiday, Lantern Festival, and Christmas.
Traveling when it is in the rainy season, tourists can choose a lovely café with a poetic space to experience the trip in your way. However, this period seems to be not an ideal condition to travel because of the heavy rains throughout both daytime and nighttime that make people feel uncomfortable.
How to get to Ho Chi Minh City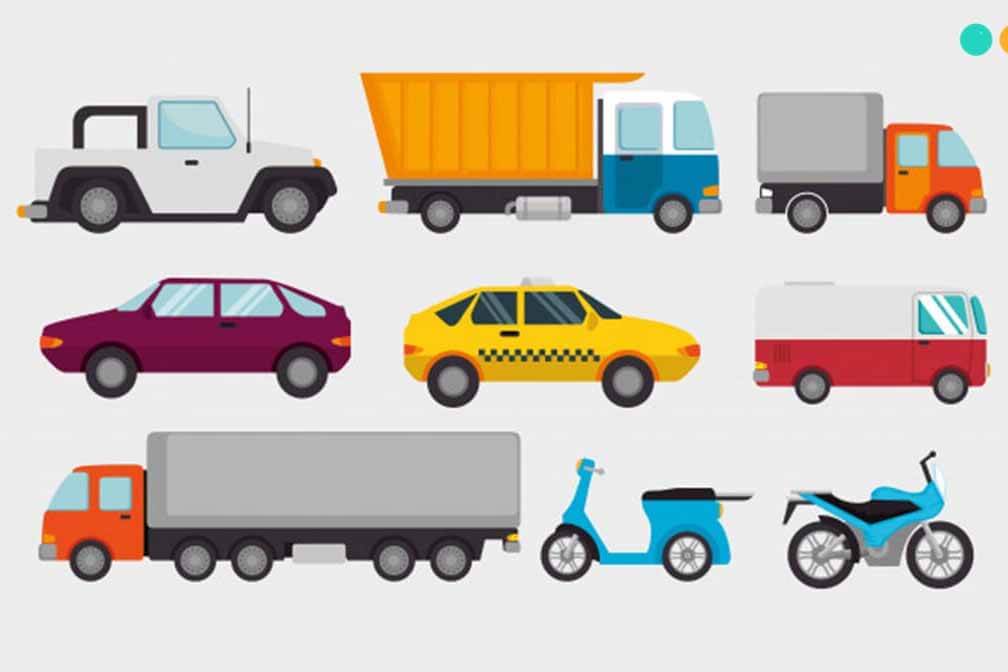 If you want to get to Ho Chi Minh City by air, you need to take a flight to Tan Son Nhat International airport located in Tan Binh District, Ho Chi Minh City, with direct flights from Southeast Asia, Asia, the Middle East, Europe, and Australia.
Domestically, there are daily flights from big cities including Hanoi, Danang, Hue, and others that have 3-4 flights per week.
From Hanoi to Saigon, 30 daily flights are operated by Vietnam Airlines, Jetstar Pacific, Air Mekong, and Vietjet Air. One way far is from $100 to $150, depending on the season.
From Danang to Saigon, there are 10 daily flights. One way far is $70 to $90.
Where to Stay in Ho Chi Minh City
Hotels in Ho Chi Minh City always offer great value-for-money accommodations with full services, strategic location, and professional staff. From luxurious hotels to mid-range hotels, you will find them all in the list below: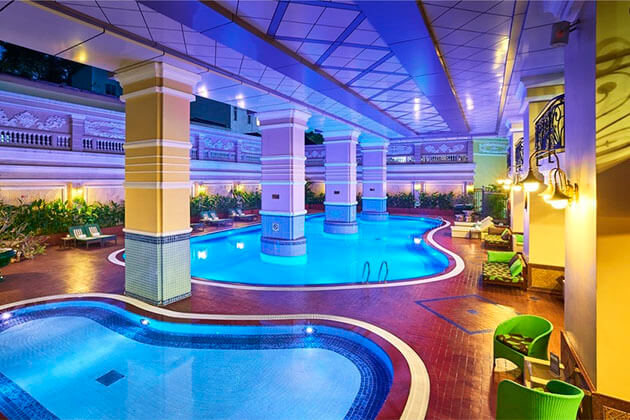 Best luxurious Hotels in HCMC
Grand Hotel Saigon – District 1 – From 2.500.000 VND/room/night
Hotel Nikko Saigon – District 1 – From 2.720.000 VND/room/night
Liberty Central Saigon Citypoint – District 1 – From 2.000.000 VND/room/night
Sherwood Residence – District 3 – From 2.315.000 VND/room/night
Best Mid-range Hotels in HCMC
Sabina Hotel & Apartment – District 7 – From 839.000 VND/room/night
Huong Sen Hotel – District 1 – From 983.000 VND/room/night
Lamo Boutique Hotel – District 4 – From 450.000 VND/room/night