General Information of Saigon Tour
Tour Route: Ho Chi Minh City – Cao Dai Temple – Cu Chi Tunnel
Duration: 1 Day
Departure Date: Any Time You Wish
Start/ End: Ho Chi Minh City/ Ho Chi Minh City
Tour Highlights
Enjoy a view of the magnificent architecture of Cao Dai temple
Indulge in the significance of the temple's decorated symbols
Take part in the fascinating ceremony at 12:00 noon
Discover one of the most famous battlegrounds in the world – Cu Chi Tunnel
Witness a myriad of craters left from B52 bombing raids.
Full Itinerary of Tour from Saigon
The morning will start with a scenic drive to Cao Dai Temple in Tay Ninh to witness the midday ceremony. After lunch, we will drive to Cu Chi Tunnel and return to Ho Chi Minh city in the late afternoon.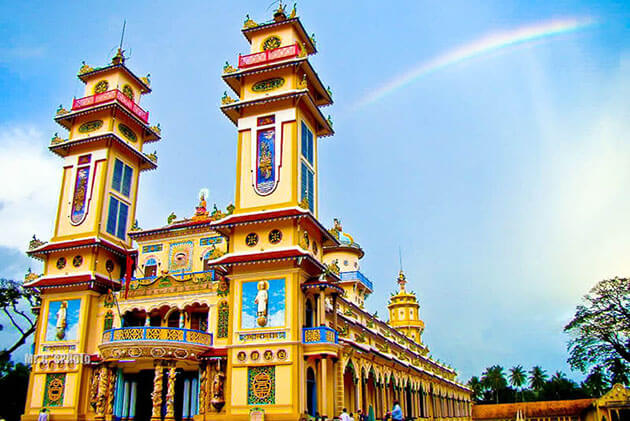 Tay Ninh province, near the Cambodian border, is home to the unique Cao Dai sect. The patron saints of this sect include Joan of Arc, Victor Hugo, and Winston Churchill to name a few. We can say that religion has a similarity with Buddhism, Taoism, Confucianism, and Christianity. Cao Dai Temple in Tay Ninh can be described as a Walt Disney fantasia of the East. The exterior of Cao Dai is decorated with multi-colored dragons of all shapes & sizes competing for space with a number of Buddhist symbols.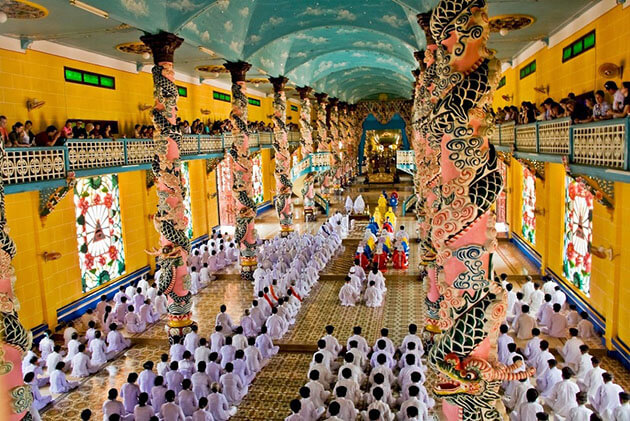 The main entrance is impressed with the all-seeing holy eye, the symbol of the Cao Dai sect. The interior of the temple is just as engaging as statues of Jesus Christ, Buddha, and the Hindu, Brahma, stand side by side.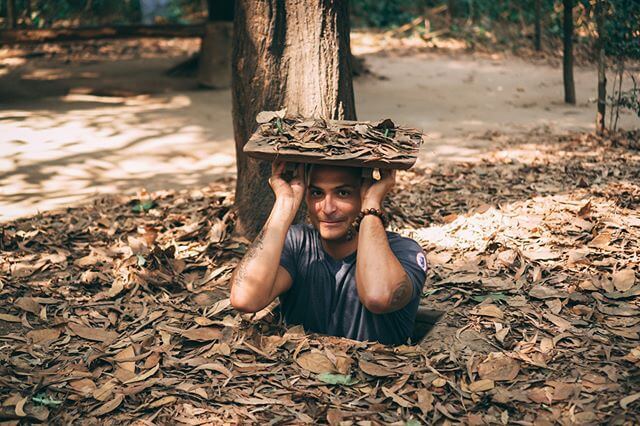 Also, your trip to Tay Ninh leads you to Cu Chi Tunnel, one of the heroic tourist destinations in South Vietnam. The tunnel system stretches over 250km from Saigon to the Cambodian border and it has three levels in depth. The tunnel system consists of countless trap doors, especially constructs living areas, storage facilities, weapons factories, hospitals, command centers, and kitchens. Cu Chi Tunnel is now becoming a major tourist attraction with a unique experience, a sense of what underground life during the American war.