Taste the most astounding street foods that define Ho Chi Minh City as the paradise of cuisine. Visit the busiest popular street stalls and hidden lanes in town serving the specialties the Saigonese really love. They have not repeated dishes such as Pho, spring rolls, banh mi, or pancakes because this food tour is filled with true foods of Vietnamese street style that international tourists have never experienced before. Keep your appetite for a moment before rewarding your empty stomach with mouthwatering and authentic Vietnamese foods.
General Information
Tour Route: 5 Districts of Saigon with Chinatown – Binh Tay Market – seafood market
Duration: From 5.00pm – 11.00pm
Date: No fixed dates
Tour Customizable: Definitely! (Tell us your specific requirements in the inquiry form)
Tour Type: Food tour and sightseeing
Group Size: Group tour from 2 people or private tour
Transportation: Vespa scooters
Saigon Foodie Tour Brief Information
The evening is the time when most street vendors and food stalls open for sale. Besides tasting street foods, this tour is combined with Saigon Vespa Tour after dark to show you the lively images of the daily life of local people as well as the most attractive tourist destinations along the route. One thing for sure that we will not make you eat some weird foods like dog meat, bugs, organs, and raw foods. (If not requested).
Saigon Foodie Tour Itinerary
The first stop is District 1 where you are introduced to Bun Bo Hue (Hue rice vermicelli with beef) at a food stall hidden inside an alleyway. A great mix of pork sausage, beef, rice vermicelli, lemongrass, and spring onions will be completely your great starter. Satisfy your tastebuds by ordering some shredded banana flowers, Vietnamese water spinach, and some special hot chili sauce. The cart owner has been making only this dish for years so its taste can be said to be perfect.
Get back on the Vespa and move to District 5 and Chinatown. Visit a street market where a lot of fresh products and ripen fruits are sold along the path. You can see the vibrant nightlife of vendors, motorbike taxi drivers, cyclo riders, and people buying themselves something for dinner.
Afterward, reach Binh Tay market – the large wholesale market with a fantastic history. In the evening, it is surrounded by wheeled carts selling rice paper mixed with dried shrimp, salt, chili, and kumquats, the popular Vietnamese fast food. The smell of Chinese herbs wafts fills the air making a distinctive atmosphere.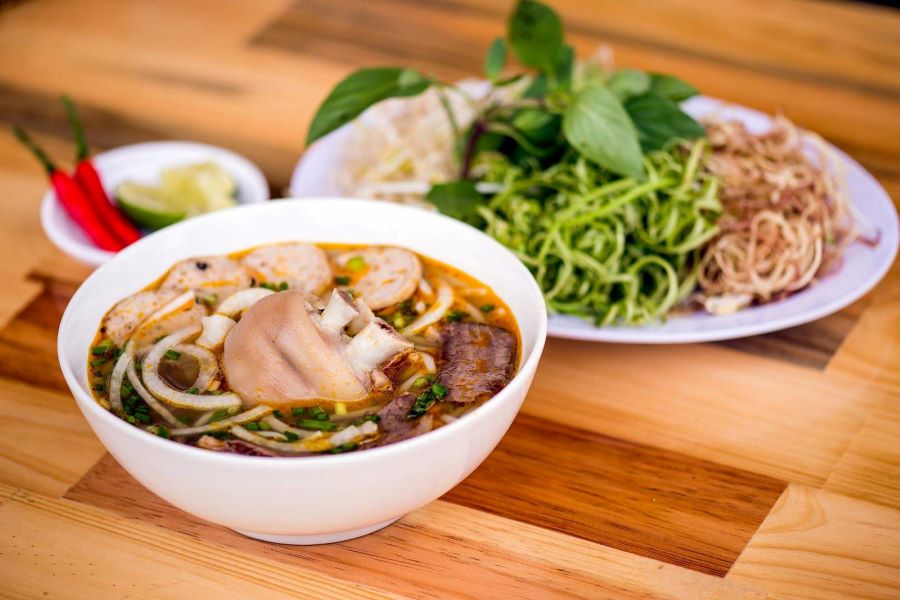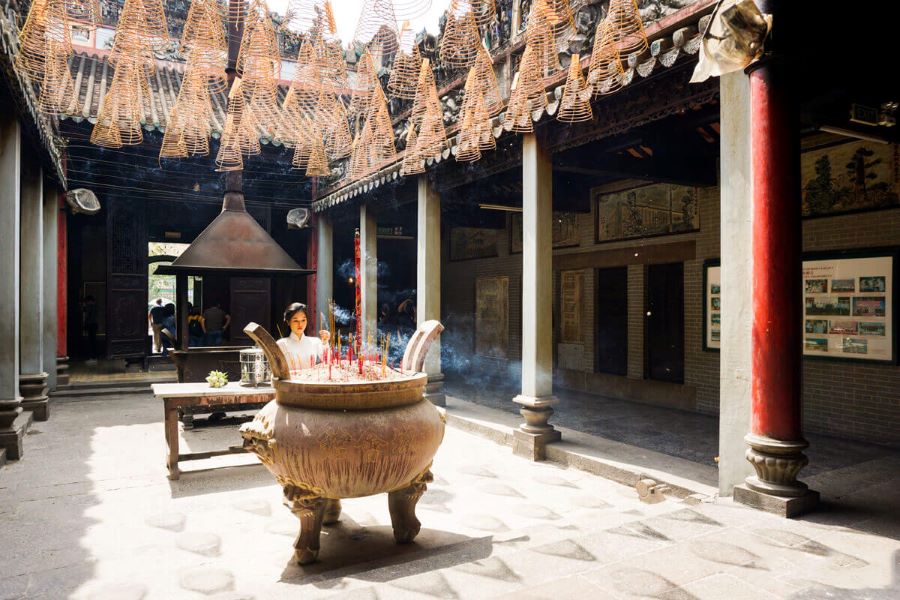 Travel to District 8 which is extremely famous for hotpots and grilled meats. Enjoy the barbecue party on the featured red plastic chairs with goat's breast, frogs, shrimps, pork, and beef together with fermented tofu and cold Saigon beer.
Reach District 7 for your wonderful dessert of coconut jelly and caramel covered in shaved ice and coffee.
End your foodie tour at District 4 – the kingdom of seafood. The only thing to do is choose what types of seafood you want to taste then wait for them to be cooked. Taste grilled scallops with fried peanuts and spring onions together with Razor Clams with Vietnamese water spinach. What makes the seafood dishes delicious is the special dipping sauce of secret recipe for boiled seafood such as crabs or lobsters.
After that, you will be taken back to your hotel. Your Ho Chi Minh City tour ends.