District 1, the central district, is the major commercial and financial hub of Ho Chi Minh City. It considered as one of the most top-notch districts to live in thanks to its strategic position. This district is the home to a lot of modern buildings, luxurious hotels, fancy restaurants & bars along with various well-known tourist attractions. This is the reason why most tourists will spend the majority of their time here when visiting Ho Chi Minh City.
Located at the city center, Ho Chi Minh Central Post Office is the largest post office of Vietnam and perhaps the grandest one in Southeast Asia. It is a unique architectural work, attracts a large number of tourists when traveling to Ho Chi Minh City. This is the perfect combination of French architecture and Oriental decorations.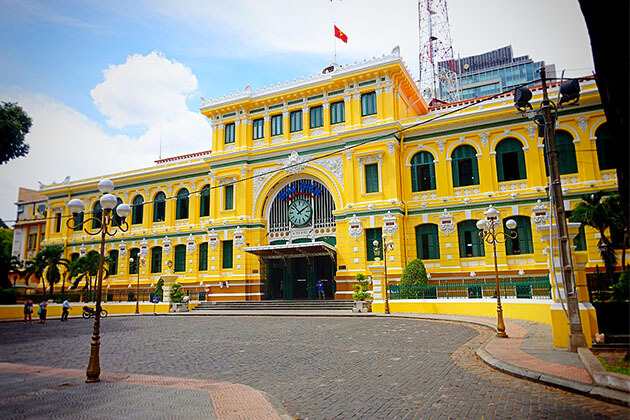 The post office constructed between 1886 and 1891 was designed by Gustave Eiffel, a famous French architecture. Notable features are its curved windows together with the big clock above the main entrance. Especially, there are two maps on two sides of the entrance: "Saigon et ses environs 1892" depicts Saigon in the past and "Lignes téléraphiques du Sud Vietnam et du Cambodge 1936" describes the telegraph lines of the South of Vietnam and Cambodia. Saigon Central Post Office also has nearly 40 customer counters service.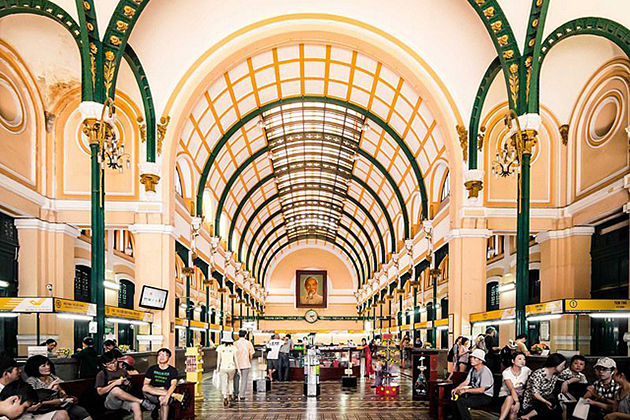 Tourists visit this building with the aim of admiring the unique architecture as well as immersing themselves in the nostalgic world with post office boxes and phone booths. Some activities that you can do at Ho Chi Minh Central Post Office include:
• Admiring the unique architecture
• Visit Mr. Duong Van Ngo, who spent 27 years writing letters fluently in both English and French
• Send postcards
• Collect stamps
• Buy souvenirs
Address: 2 Paris Commune Street, District 1, Ho Chi Minh City
Opening hours: 7:00 am – 7:00 pm
Notre Dame Cathedral
Saigon Notre Dame Cathedral, constructed around 1863 and 1880 by French colonists, is one of the most unique architectural works in Saigon, always attracts the attention of domestic and foreign tourists.
The architecture of the church was built in the Roman style combined with Gothic architectural style. The cathedral founded up a community and religious services for French colonialists. Its foundation was specially designed to withstand 10 times the load of the entire church above. Especially, red bricks covering the whole building were from Marseille. They retain their color until today.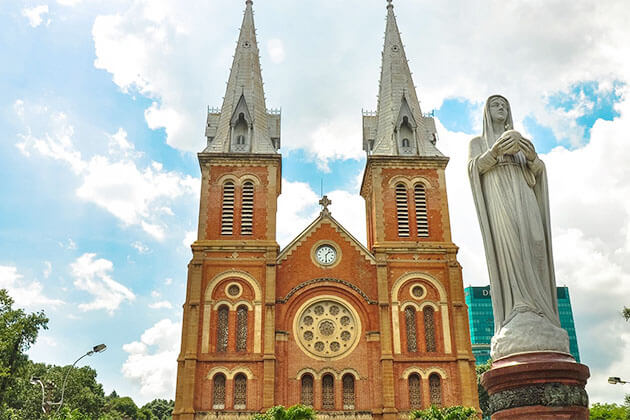 In 2005, there was an alleged event that caused a big commotion in the area. The statue of the Virgin Mary was claimed to have shed tears. Thousands of tourists gather in front of the statue in the hope of witnessing a miracle.
Nowadays, Saigon Notre Dame Cathedral still serves as a religious institution for the locals, demonstrates the freedom of belief. Visitors should pay a visit to this destination, especially on Christmas Eve, the church area and the city center turn into a jubilant festival area.
*Note: When you explore Notre Dame Cathedral, do dress appropriately and do not disturb the worshippers.
Address: 1 Paris Commune Street, District 1, Ho Chi Minh City
Opening hours: 8:00 am – 5:00 pm
Bitexco Financial Tower – Saigon Sky Deck
Bitexco Financial Tower is known as the tallest skyscraper in Ho Chi Minh City. The main tourist attraction at the tower is the Sky Deck on the 49th floor where visitors can easily enjoy an unparalleled view across the bustling city.
This building includes offices, restaurants, shopping areas, cinemas, and luxurious bars on the rooftop. Tourists can comfortably shop, eat, watch movies or take souvenir photos. In addition, visitors also have a chance to experience drinks and enjoy the poetic space of Eon51 Café on the 51st floor of Bitexco Finacial Tower.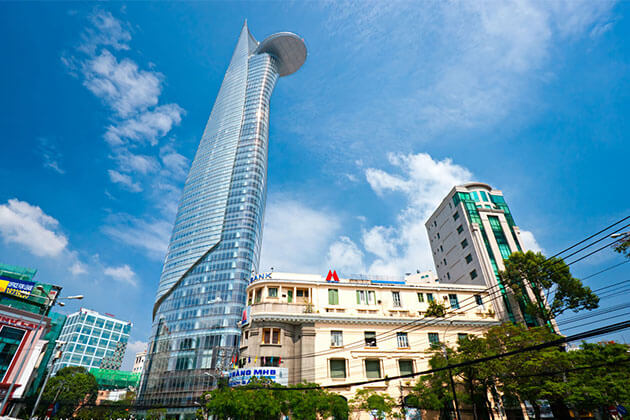 When visiting, playing or shopping inside the building, visitors do not have to pay. However, if you want to visit Saigon Sky Deck on the 49th floor, visitors are required to buy tickets. The current ticket costs 200,000 VND (adult) and 130,000 VND (elderly, children).
Address: 36 Ho Tung Mau, District 1, Ho Chi Minh City
Opening hours: 9:30 am – 9:30 pm
Nguyen Hue Walking Street
Nguyen Hue Walking Street, also known as Nguyen Hue Walking Square, is one of the latest works of the city which was completed on the 40th anniversary of the liberation of the South on April 30, 2015. It serves as a place for locals as well as foreign tourists to do many activities such as walking, shopping, taking photos and entertaining.
Nguyen Hue Walking Square is stretched from the beginning of Le Thanh Ton Street to the end of Ton Duc Thang Street. Especially, the floor of the street is covered with granite. The new walking area is the most magnificent and largest street in Ho Chi Minh City with modern water fountain system together with colorful decoration.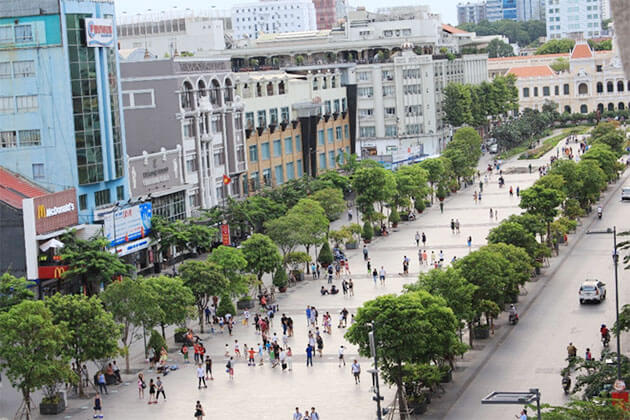 From 6 pm daily, stores, bars, cafés along both two sides of the streets are always full of visitors. Except for Saturday and Sunday nights, from 7 pm to 11 pm, visitors are not allowed to walk; on weekdays, tourists have to be careful when crossing two pathways as vehicles run day and night.
Besides, tourists can also visit many other famous attractions such as Ben Thanh Market, Reunification Palace, War Remnants Museum…
Restaurants & Bars in District 1, Ho Chi Minh City
Propaganda Vietnamese Bistro
If you want to taste original but creative dishes of Vietnamese homemade food, Propaganda Vietnamese Bistro would be the great choice for you.
The restaurant owns classic patterns combined with warm light, on the walls of this restaurant are bold inscriptions of Vietnamese words "Mỗi ngày ta chọn một món ngon" ("Every day we choose a delicious dish").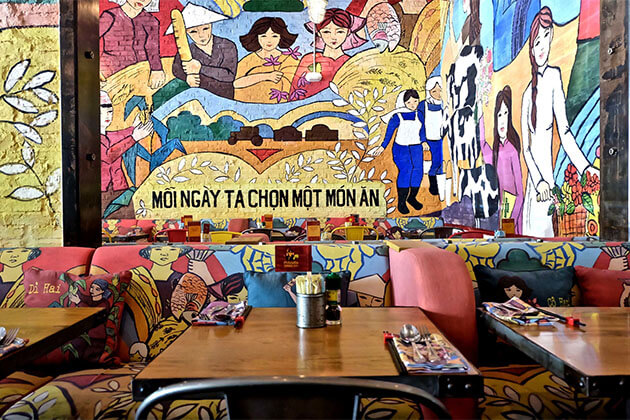 The menu of Propaganda is famous for various spring rolls dishes made from freshest ingredients. A decent wine list goes with the yummy food as well as great music will not disappoint the diners.
Address: 21 Han Thuyen, Ben Nghe Ward, District 1, Ho Chi Minh City
Opening hours: 7:30 am – 11:00 pm
Price: 100.000 – 200.000 VND
The Refinery Bar and Restaurant
The Refinery Bar and Restaurant brings a menu of mostly French-style favorites such as steak fries and creative salads. French Onion Soup with Crouton and Cheese, Warm Octopus & Potato Salad, and Grilled Salmon… are famous dishes, characterizing the culmination of combining ingredients in European cuisine. It is also such a pleasant space with high ceilings, floral floor tiles, and rows of wine.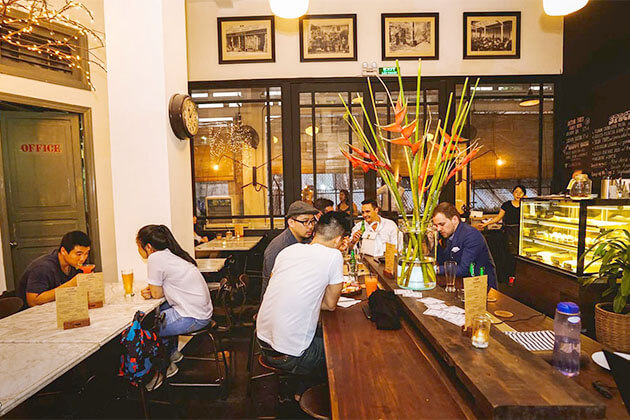 You will be surprised when coming to this restaurant from 4:00 pm to 7:00 pm – all drinks are discounted by 30%.
*Obscure fact about the restaurant: In 1881, the alley No.74, Hai Ba Trung Street is the largest opium depot in Indochina, and The Refinery's location is the place where the exclusive opium refinery factory of the French government was located. Today, The Refinery Bar & Restaurant is the paradise for gourmets.
Address: 74 Hai Ba Trung, District 1, Ho Chi Minh City
Opening hours: 11:00 am – 11:00 pm
Price: 230.000 – 700.000 VND
Tandoor Indian Restaurant
Tandoor Indian Restaurant is one of the best Indian restaurants Ho Chi Minh City. The cozy atmosphere of the restaurant will make your meal more delicious and attractive.
Gourmets will have chance to enjoy the quintessence of Indian cuisine with more than 150 dishes namely Chicken Butter Masala, Nan, Sada Chawal, Kashmir Pila… Especially, all the dishes are created by professional native chefs.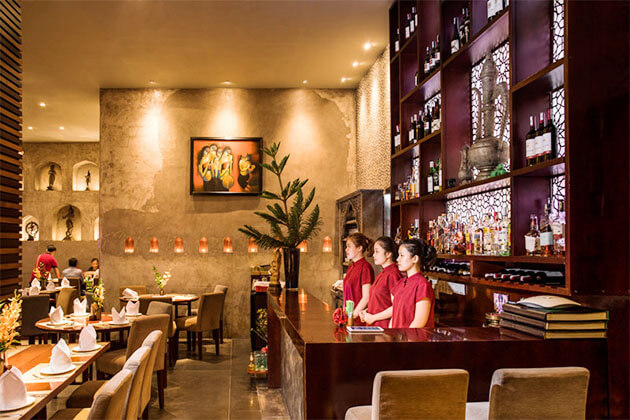 Address: 39 Ngo Duc Ke, Ben Nghe Ward, District 1, Ho Chi Minh City
Opening hours: 10:30 am – 2:30 pm & 5:00 pm – 11:00 pm
Price: 100.000 – 500.000 VND
Where to Stay in District 1, Saigon
District 1 always offers good accommodations with cozy rooms, great location, full modern services… Below is the list of best hotels in District 1, Ho Chi Minh City: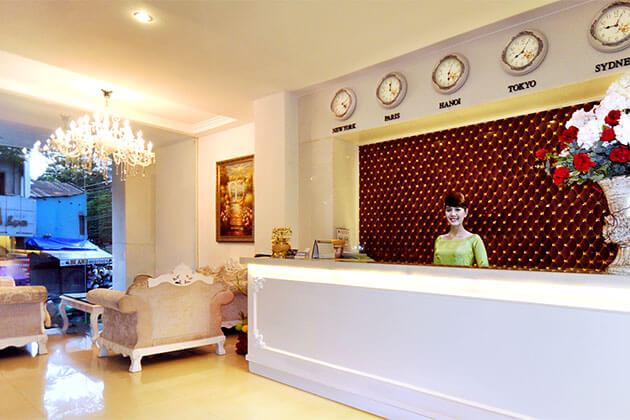 The White House – US$19/room/night
Saigon Cozy Hotel – US$21/room/night
Ben Thanh Retreats Hotel – US$28/room/night
Triple E – US$32/room/night
Chez Mimosa Boutique Corner – US$45/room/night
Silverland Yen Hotel – US$76/room/night
Liberty Central Saigon Citypoint – US$87/room/night
Grand Hotel Saigon – US$113/room/night
How to Get District 1 in Ho Chi Minh City
It takes about half an hour to drive from Tan Son Nhat International Airport to District 1. If you call taxis at the airport, you have to pay almost 150,000 VND. If you want to pay less, find the bus at the airport that will drop you at Notre Dame Cathedral, Ben Thanh Market or some streets or hotels in District 1.