Saigon Central Post Office is the largest post office in Vietnam, is one of the special symbol in Ho Chi Minh City and is also an Asian-European design of French architect Gustave Eiffel was completed in 1891. Saigon Central Post Office has become an attractive sightseeing destination for domestic and international tourists.
Saigon Central Post Office History
After hitting Gia Dinh citadel, capturing Saigon, France established a communication system. In 1860, Saigon Central Post Office was built right in the center of the city by Gustave Eiffel. He is a famous French architect who designed the Eiffel Tower (Paris), the Statue of Liberty (New York),…
On January 13, 1863, the building was first opened to cater to local residents and the post office that issued their first stamp. In 1864, the Saigon Central Post Office started to be famous in the southern region. From 1886 to 1891, the building was modernized by architect Villedieu, and it was the appearance of Saigon Post Office that we see today.

Today, Saigon Central Post Office and Ben Thanh Market, Saigon Opera House, The Independence Palace, Notre Dame Cathedral … make a special complex of relics, becoming difficult symbols to replace so in the heart of Saigon people.
Saigon Central Post Office Architecture
The post office has a unique bright yellow exterior with white borders. Elegant framed windows with green shutters and a large watch are highlighted at the main entrance of the building. Spacious, beautiful interior with high ceilings, arched shape with metal arches and beautifully patterned tile floors. Inside the office having 2 painted maps – Lignes télégraphiques du Sud Vietnamet du Cambodge 1892 (Telegraph line of South Vietnam and Cambodia 1892) describing the postal route from South Vietnam to Cambodia, and on the right, the building is Saigon et Ses environs, 1892 (Saigon and surroundings), a local map.
Tourists walking inside the Saigon Central Post Office will feel as if they were temporarily taken out of Asia and transferred to a train station in Europe in the 20th century.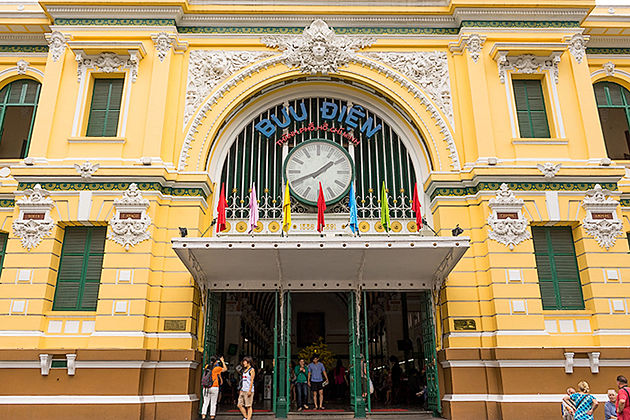 The post office has polished old school phone booths, original oil paintings on the wall, wooden table tops along the sides, old glue pots to place stamps on envelopes and areas to write letters to people. The only landmark inside the building that betrayed its true position was the large portrait of Ho Chi Minh at the end of the hall.
Saigon Central Post Office is a great place to marvel at the extraordinary colonial architecture. The city has meticulously maintained this sophisticated building and it is still fully operational. The office provides full postal service and also sells a variety of postcards and stamps, as a great souvenir to take home.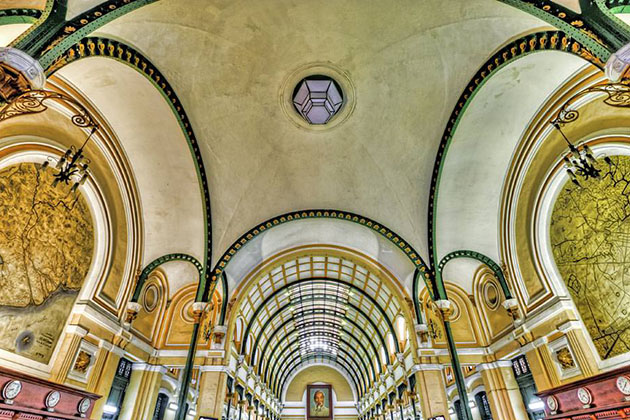 Visiting Saigon to explore the city post office, visitors have the opportunity to meet Mr. Duong Van Ngo, a former postal worker since 1952, who is the last writer of the Central Post Office in Saigon. Although he has retired for more than 24 years, he still wants to contribute to serving people when he is healthy.
How to Get Saigon Central Post Office
This Saigon attraction is currently located at 2 Cong Xa Paris Street, District 1, Ho Chi Minh City. It is located near the Notre Dame Cathedral and the Independence Palace, so you can easily visit these French colonial architecture in one day. If your hotel or hostel is in District 1, it will be a 20-minute walk away. Or, you can call a taxi or bike to get there.
Central Post Office Saigon Opening hours
Weekdays: 7 am – 7 pm
Saturday: 7 am – 6 pm
Sunday: 8 am – 6 pm
You can go wandering around the site or use the postal service every day as it is open for free all day of the week.