If you are interested in the vibrant atmosphere, you should spend time exploring Binh Tay Market which is located in the center of Vietnam's largest Chinatown district. It is the center local market in District 6 and one of the biggest local markets in Ho Chi Minh City. This market has played a vital role in Ho Chi Minh residents daily life mostly because it serves a wide range of fresh fruits, meat, seafood, vegetable and more productions from regions across Vietnam.
Unique Features of Binh Tay Market
Binh Tay Market is a great choice for you to discover the tradition of Chinese people living in Vietnam. This is the reason why this market has some unique features of structure and architecture. The style of Chinese houses with roof tiles was built based on modern French techniques. The corners of the roof are gently curving – the architecture is easy to see in the Eastern temples. The main tower of the market is built with a 4-sided clock so that people standing in all directions can follow the time. Certainly, the impressive clock tower is a unique feature of the trading hub for the Vietnamese and Chinese. The market has 12 auxiliary gates and 1 main gate to go directly Cho Lon bus station, which is extremely convenient for transporting goods. Moreover, another distinctive point of this market is that in the middle of the market there is a large space surrounded by blocks. There are fish ponds and several stone chairs around the market.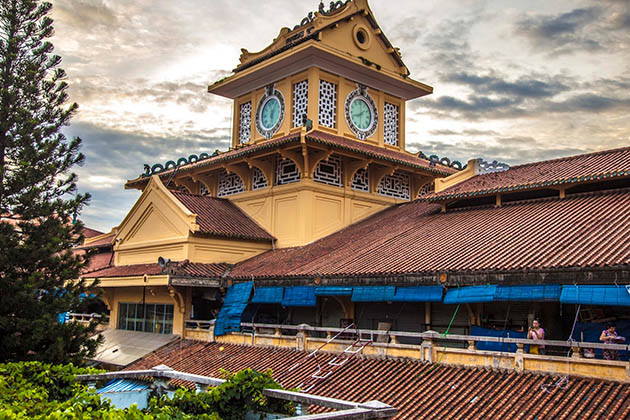 Every year, Binh Tay market welcomes about 120,000 visitors to visit and shop, including visitors introduced by travel companies. With the advantage of waterway traffic, Binh Tay market quickly became a busy wholesale market throughout the land of Nam Ky up to now.
What to Buy in Binh Tay Market
Besides the interesting historical and cultural of Binh Tay Market, exploring the products and local cuisines are the great choices for you. There are two different parts to visiting Binh Tay Market: the outside wet market street, and the inside section of the market. When it comes to outdoor wet market, you certainly see the chaotic and energetic atmosphere in the market. To be more precise, in the early part of the morning you will witness some activities of locals who are those customers or seller. Moreover, the indoor section in the market is also an amazing experience. Compared to the outside fresh wet market, inside was calm where also sell a wide range of things but mostly the dried and preserved types of ingredients, rather than fresh ingredients.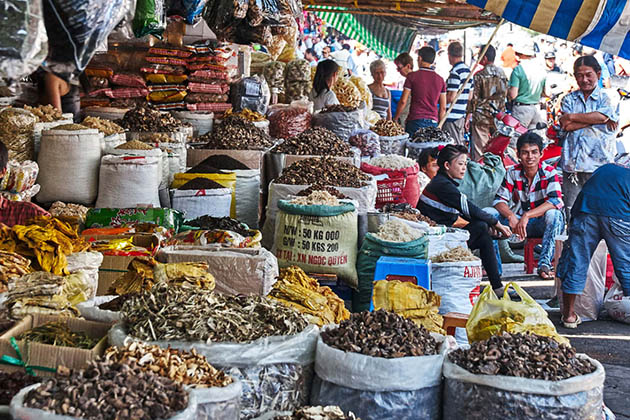 What to Eat in Binh Tay Market
If you are a food lover, you should not miss enjoying local cuisines here with a wide range of food. In the early morning, you can enjoy some kind of breakfast such as noodles, spring rolls, broken rice as well as Chinese-influenced delicacies. Take ' banh bao' as an example, which is a steamed bun with a lot of ingredients such as onions, pork or chicken meat, mushrooms and herb.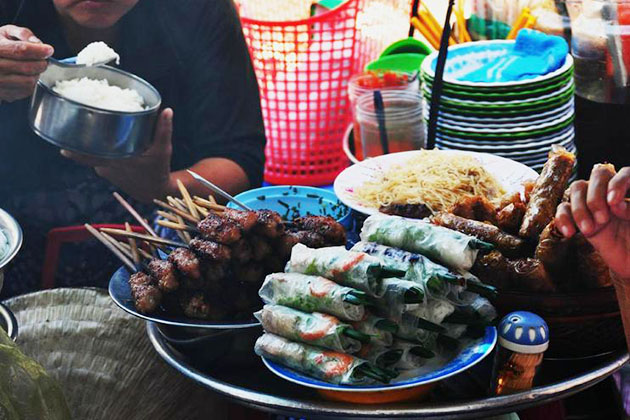 Moreover, street food is also a good choice for you which includes a long line vendors . Many sell takeaway food, or food to deliver to other markets sellers, but most have a few small tables, or bar countertops, where you can slurp down some delicious food on spot. Enjoy your meal!
Best Time to Visit Binh Tay Market
Binh Tay is one of the oldest market in Ho Chi Minh City. It opens from 3am to 10pm and is full of hustel and bustel of transfering, selling and buying. It is not only an important trading place but also one of the destinations of domestic and international tourists. The reasonable time to visit this market depends on your purpose and your schedule. To be more pricise, if you are a seller, you should visit the market during the night or in the early part of the morning in order to buy the cheapest cost. Moreover, remember to check weather forcast before visit here to travel convinently and easily. To sum up, if you plan to be in Ho Chi Minh, you must stop by this market and have an amazing experience.