If you are setting up for your trip around Ho Chi Minh City, you should not forget to visit Thien Hau Temple. There are a lot of Chinese living in this area of District 5, District 6, District 10 and a part of District 11. Thus, many pagodas and temples built by Chinese which is a unique feature of this architecture. One of the most ancient Chinese architectures is Thien Hau Temple, located at 710 Nguyen Trai Street, Ward 11, District 5, Ho Chi Minh City. It takes about 20 minutes driving from the city center. The temple was built by a Chinese group, which had come from Quang Chau province, China in 1760. This place is not only a place to worship a god but also a place where China- Vietnamese gather and helping each other in Saigon.
Architecture of Thien Hau Temple
Coming to Thien Hau Temple, visitors will be amazed by its architecture which is decorated with many sculptures, statues, and artworks. All of them have red and yellow colors which make a warm and cozy atmosphere. Besides, the temple has lots of other antiques made in the late 18th century and 19th century. Moreover, the temple also has carved pictures of the four supernatural creatures. It has pottery sculpture attached on the temple's top, roof, walls and altars which were produced in China in 1908. This temple was built based on Chinese temple architecture with three main halls: the front, the center, and the back. Don't hesitate to watch closely and get detail information about the historical site during your trip around Ho Chi Minh city.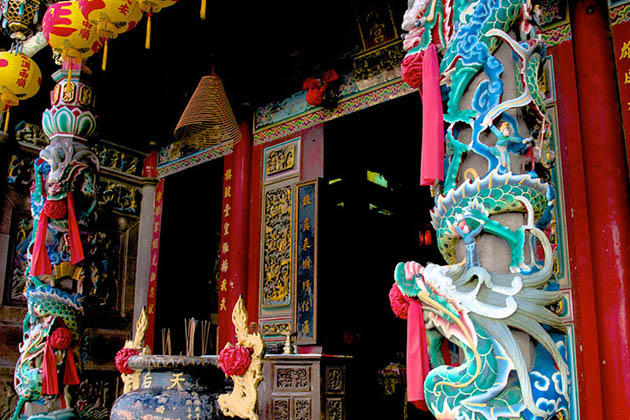 Thien Hau Temple – Things to do
One of the most traditional beauties of Vietnamese people is going to these sacred places. This is the reason why most tourists reaching Cholon and visiting Thien Hau Temple in order to pray for safety and see the ancient architecture style, and antique of Chinese.

Most of the tourists are impressed by the peaceful atmosphere and strong smell of incense which in this temple. There are hundreds of circle incense with one's wishes sticks hanging from the roof, which last for some days, even a week. The temple welcomes many people coming to pray every day. On the lunar 15th and 1st of each month, Tet holidays, especially Lady of the Sea's Day (the lunar 23rd of the third month), the temple is full of Chinese and Vietnamese people coming to pray for luckiness, happiness, health, and more.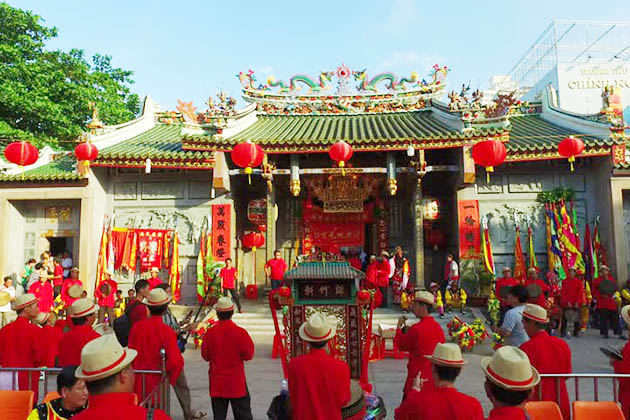 Colorful Festival in Thien Hau Temple
The colorful festival in Thien Hau is one of the biggest cultural activities of Binh Duong Province and is held every year on the first day of the 1st lunar month with many special programs. This festival attracts thousands of tourists and pilgrims coming to this place.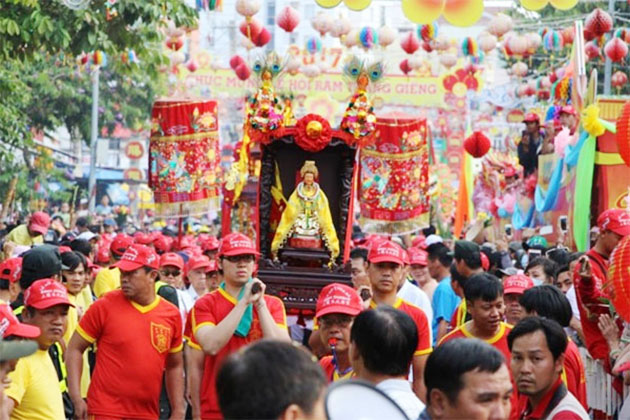 On this occasion, Thien Hau Temple will be splendidly decorated with flags and lanterns extending from the gate to the inside of the temple. Festivals are a way to create a connection between the gods and ordinary life, bringing spirituality into life. In addition, it is also an opportunity for people to socialize and entertain in the atmosphere of the festival. One of the most unique futures in Chinese festivals is that people do not read or worshiping as the custom of Vietnamese people.
Best time to visit Thien Hau Temple
Thien Hau Temple has attracted plenty of visitors a day in day out, especially at the weekend. Therefore, one practical recommendation for you is to visit here in the early part of the morning to dip yourself into an ancient and tranquil atmosphere. Certainly, this is the prime time to witness unique architecture and express your respectful. Most importantly, you should go to the sacred place in the good weather (escape from rainy days) in order to travel conveniently. It is noticeable that you have to dress politely and keep silent when the monks are in prayer.
Opening hour: from 8:00 am to 4:30 pm