It is an appearance that the prime time to visit Ho Chi Minh ( Sai Gon) and Southern Vietnam is the period of time from December to April ( dry season). Anyone who comes to visit Vietnam should not definitely forget to check out Saigon city which is one of the most hustle and bustle cities in Southeast of Vietnam. It is true that this charming city has acquired a reputation for a wide range of stunning landscapes, local cuisine, and culture. This is the reason why a high volume visitors visit this tourist destination each year. You don't have to worry about the weather, all you need is a well- planned for your trip. As the following practical information is provided to become great choices for you.
It is common that weather is always a major concern for visitors before setting up a vacation. To address this problem you have to find out clearly about the weather in Ho Chi Minh in general and Saigon in particular. The climate in this city has a tropical monsoon climate which provides two distinctive seasons including the wet and the dry seasons, it's suggested that you should pay a visit to Saigon during the dry season.
Best Time to Visit Ho Chi Minh City
Saigon Weather in The Dry Season
The dry season begins from December and lasting until April, which is appreciated as the best time to visit Ho Chi Minh City. April is the hottest month of the year, with an average temperature of 28 °C. The peak is 39 °C around daytime in late April, while the lowest may fall below 17 °C in the early part of the mornings of late December which is the coolest month.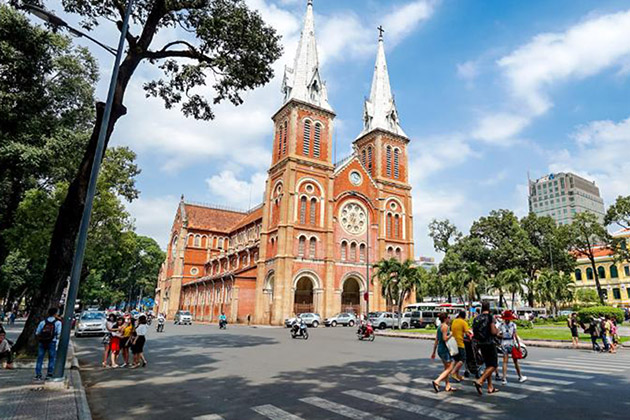 Luckily, during the time from December to February when festivals take places such as Christmas and Tet holiday. You can imagine the carnival atmosphere with a variety of colorful decoration including sidewalks, street lamps, festive lights, and flowers. Interestingly, these festivals are a great time for people to hang out with their beloved ones. Just enjoy the festive mood! The period of time between March and April, the climate is getting hotter so it is the ideal time to go sightseeing and enjoy your vacation. However, there are some necessaries tips for you. First and foremost, don't forget to bring glasses and sun-cream to protect your skin from sunlight. Moreover, asking the guides for advice whenever you get problems.
Saigon Weather in The Wet Season
Although visitors tend to pick up the dry reason to visit, the wet reason also has its features and advantages. The wet season begins from late – June to September, when the rains occur frequently, it is quite humid and rainy. It would be better for you to bring an umbrella, raincoat, and warm clothing. In these days, if you struggle to travel, you should spend time with a cup of tea and look through the window in a coffee shop. It is also a fantastic way for you to chill out and unwind.
Good Time to Visit Southern Vietnam & Mekong Delta
The temperatures in Southern Vietnam is relatively stable all year with an average temperature of 30 °C. In general, the weather in this area is similar to Ho Chi Minh ( Saigon) weather. The dry season in the Mekong Delta is from October to April/May. This time is considered as an ideal time for visitors to visit Southern Vietnam. Obviously, this is a peak season because of its advantages such as weather, price, and sightseeing. Another thing you need to note is that in Mekong Delta, the rainy season begins in May and lasts until August. Nevertheless, the rains in this region are usually short and it won't affect your trip seriously. July is the wettest month of the year in Southern Vietnam with a deluge of rainfall averaging at 190 mm. The average high temperature remains the same at 32°C but the average low temperature decreases to 24°C. Therefore, visiting the Mekong Delta during these months is not a bad choice at all.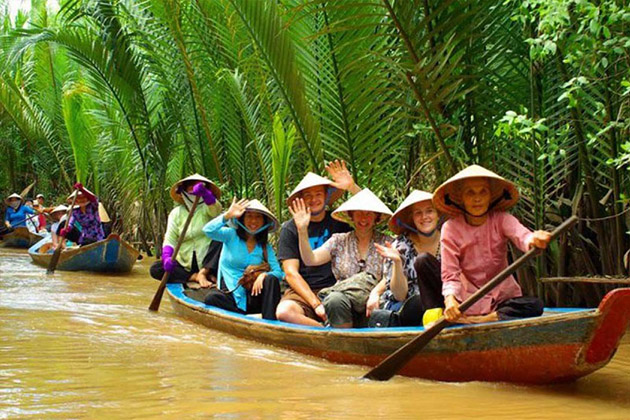 Peak season in Ho Chi Minh City 
High season is from October to April when having a variety of big events. Take the traditional Vietnamese New Year festival as an example, it takes place at the end of January, early February. Visitors to this city will enjoy the exciting atmosphere of Tet flowers market, experience and explore the customs of local communities. Moreover, at that time, the weather is so beautiful that visitors decided to set up their vocation to Ho Chi Minh City. Going sightseeing to enjoy breathtaking landscapes and trying some local cuisines are the best choice for you. The rest of the year [January, February, May, June, July, August, September] can be called low season because of its disadvantages.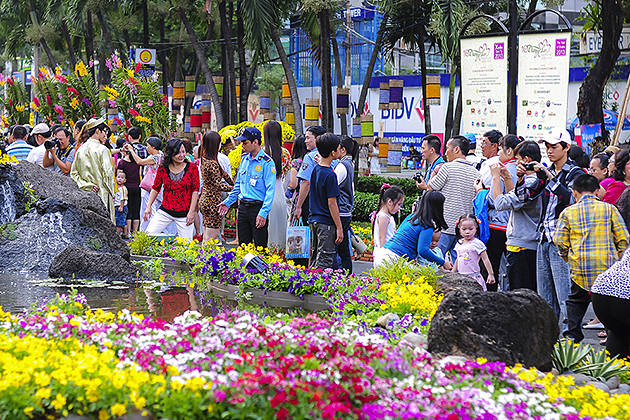 But no matter what the travel season you choose is, a trip throughout Ho Chi Minh (Saigon) is always something positively unforgettable.