The nightlife in Ho Chi Minh City is one of the craziest in Southeast Asia. This article is our report on its best nightclubs and bars. Note that Ho Chi Minh City may also be called Saigon. We will also provide you more practical tips to enjoy the nightlife in Vietnam.
Top Bars & Clubs featured for Nightlife in Ho Chi Minh City
Currently, the best bars and clubs in Ho Chi Minh City for expats and tourists are:
Glow Sky Bar
Awesome rooftop bar with great music and a very relaxed atmosphere. Many expatriates, of whom 50% seem to be French.
Address: 93 Nguyen Du, District 1, Ho Chi Minh City
Chill Sky Bar
Chill Sky Bar remains a great place for a night out. With a magical view and a nice crowd, all you need to fully enjoy is a 6-figure salary.
Address: Rooftop 26th Floor, AB Tower, 76A Le Lai, District 1, Ho Chi Minh City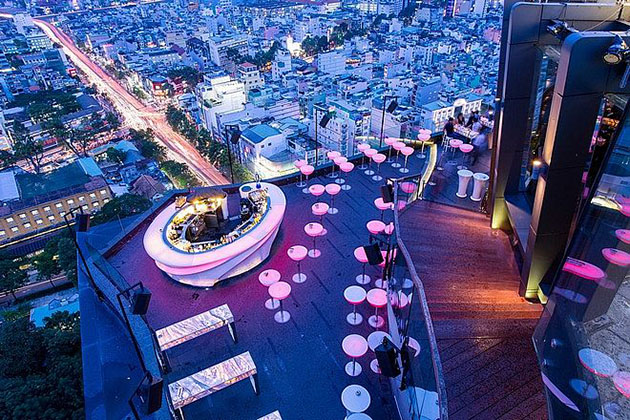 Lush Saigon Bar
Lush is fun and a great place to meet Vietnamese girls. Many girls who go to Lush Saigon Bar are not prostitutes and seek to meet strangers. In contrast, Lush's music is mostly ordinary. It also attracts quite a lot of backpackers.
Address: 2 Ly Tu Trong, District 1, Ho Chi Minh City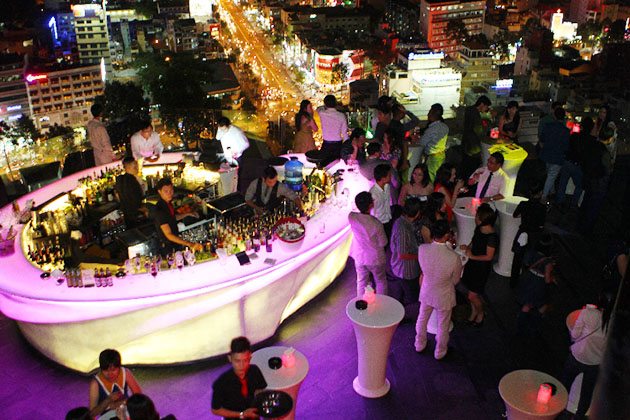 Sin Lounge
Sin Lounge is one of Ho Chi Minh City's favorite party venues for models, actresses, and other local celebrities. Most of the customers here are Viet Kieu (Vietnamese overseas). They regularly have events such as DJs guests, bikini dancers or fashion shows.
Address: Ground Floor Lancaster Building, 22 Le Thanh Ton, District 1, Ho Chi Minh City
02 Gold Club
This nightclub is the follie. The club is ostentatiously decorated. The number of hostess girls is very large. We recommend this club only if you are comfortable to be in a 100% Vietnamese environment. You need to reserve a table or order a bottle in advance. You can go on their facebook to book.
Address: 02 Ho Huan Nghiep, Ben Nghe Ward, District 1, Ho Chi Minh City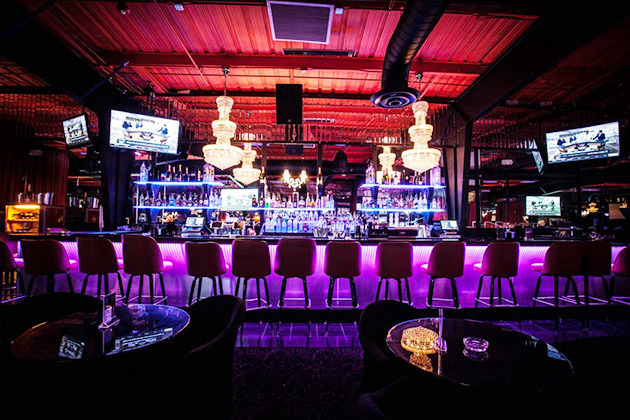 DC Club
Like at 02 Gold Club, it has a huge number of incredibly sexy girls. The music is strong and the decoration is very impressive.
Address: 148 Cong Quynh, Pham Ngu Lao Ward, District 1, Ho Chi Minh City
In District 1, other popular nightclubs and bars among expats are Snuffbox, Racha House, Tash Bar Blanchy and Xu.
Best Gay Bars in Ho Chi Minh City
Republic Lounge
Republic Lounge serves an assortment of beverages and food in a modern setting, with live DJ, drag shows. The spot pulls in numerous youthful, gorgeous groups and gets extremely occupied on the end of the week.
Address: 274-276 De Tham Street, District 1, Ho Chi Minh City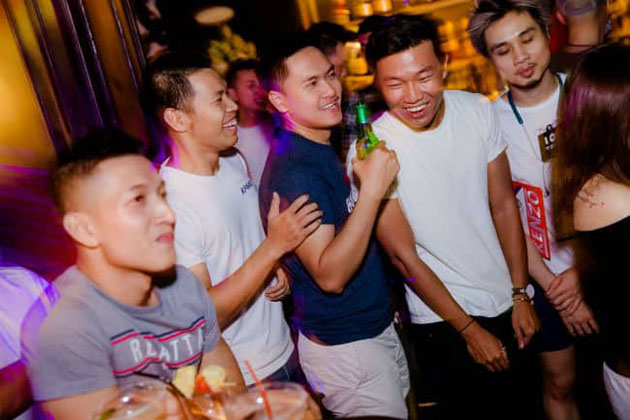 The Tipsy Unicorn
Phenomenal new LGBT bar just opened in the heart of Ho Chi Minh City! There are 3 floors of lounge space, yards and, amusement with neighborly local staff. Open every day of the week, and with 241 classic mixed drinks accessible amid every day. Happy Hour is from 4 p.m to 7 p.m.
Address: 37 De Tham Street, District 1, Ho Chi Minh City
THI Bar
A standout amongst the most mainstream bars in the Bui Vien backpacker's area possessed and kept running by a French-Vietnamese gay couple.
THI Bar has a little bar and highlights live music consistently. Exceptionally occupied on the ends of the week. This bar often offers happy hours and "buy two get one free" promotion.
Address: 224 De Tham St, Pham Ngu Lao Ward, District 1, Ho Chi Minh City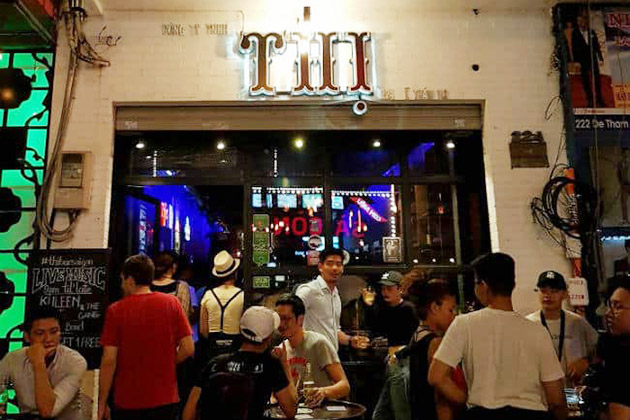 Whiskey & Wares
One of the most up to date bars around the local area. Whiskey & Wares is an upscale but not pretentious bar, possessed and managed by two American guys, drawing in blended/gay expats, local people, and visitors.
The ground floor is more laid-back, with a crisp and pop-jazz feel – an ideal spot to meet new individuals or talk with the friendly bartender and staff. Upstairs is a parlor with couches where you can pick your own music – extraordinary for bigger gatherings.
Address: 196 De Tham Street, District 1, Ho Chi Minh City
Le PUB
Le PUB is another LGBT-most loved hangout, situated inside the backpacker's space. Open from 6 p.m.
This bar and dance club (since 2004) incorporates a fun, roguish atmosphere, a chill-savage lounge, and karaoke. Famous with a younger cluster, and a number of evenings are 'gayer' than others.
Address:175/22 Pham Ngu Lao Street, District 1, Ho Chi Minh City
Tips for Enjoying The Nightlife in Ho Chi Minh
Fruit plates
In some clubs, the waiter will offer to bring you a plate of fruit when you order the alcohol. Be careful that the price can be very expensive.
Getting Around – Parking / Taxi / Motorbike
Taxis are cheap, and especially do not drive if you are a little drunk. You can also rent a motorbike for your evening for around 100,000 per day (go to the Bui Vien Backpackers' Area to find them). Night traffic in Saigon is quite easy to manage. When parking your motorcycle, always make sure the ticket is kept. You will need to pay between 2,000 and 20,000 for parking.
The minimum age for clubs
One of the most shocking things you will see in clubs is that many children are in clubs. It is common to see 5-year old children sitting next to their parents who are partying.
Police intervention
As drug use seems quite common in some clubs, the police visit them to check from time to time.
Security
Being a foreigner in a Vietnamese club means that you will be treated like kings. Many people will be happy to see you and they will invite you to cheer with them. We advise you to remain discreet and careful, however. In particular, always follow the rules and show respect for the servers. Never start a fight with a local. Be very careful when you want to flirt a girl: Be sure she has no boyfriend nearby.