Ho Chi Minh City, which was once colonized by France from 1859 to 1954. Today, more than 100 years later, Ho Chi Minh City still retains French-style architecture, which makes it become one of the most beautiful cities in Vietnam. Let's check out these amazing photo taking locations right in this modern city to create your own artwork!
Top 5 best photo spots in Ho Chi Minh City
Chua An Giao Hindu Temple of Ho Chi Minh City
In the middle of these gigantic buildings, a Hindu Temple surprised us. The calm of the place was very relaxing. Yellow walls, ceramic floors. Chua An Giao is beautiful and spiritual. Statues and representations off Hindu gods cover the walls. If you ask the guardian of the place, you can even access the roof. There are beautiful statues of Hindu gods in the middle of the terrace or rooftop, with a view of the buildings.
Tan Dinh Church
Located at 289 Hai Ba Trung, Ward 10, District 3, Ho Chi Minh City, Tan Dinh church is one of the most beautiful old churches in Saigon. Just like Domaine de Marie – Da Lat, Tan Dinh Church makes everyone "flutter" by its unique, cute colors, attracting every look from the first time. If you have "conquered" all the famous places in Saigon: Ben Thanh Market, Nguyen Hue Walking Street, Sai Gon Center, … what are you waiting for? Just check out at this "pink church" immediately.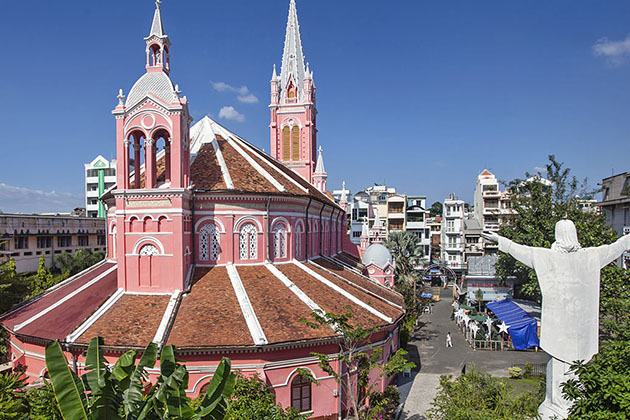 Museum of Fine Arts
Fine Arts Museum is located at 97A Pho Duc Chinh, District 1. This is the place for beautiful photos in Saigon for those who love culture and art. In here, they store and display a lot of art in Ho Chi Minh City and surrounding areas. The museum is designed in the famous Baroque style of France. This is one of the first unique architectural houses in Saigon. Through ups and downs for nearly a century, it still retains the characteristics of architecture. Many famous people choose this place to shoot music videos or take art photos.
Ho Chi Minh City Post Office
The central post office is one of Ho Chi Minh City's architectural symbol works. This is a building built by the French from 1886–1891 under the design project of architect Villedieu and assistant Foulhoux. European architectural style combined with Asian decorative features. The post office is elaborately designed, the inside is carved with classic, delicate and beautiful patterns. Therefore, it is also one of the best photo spots in Ho Chi Minh City for young people and tourists.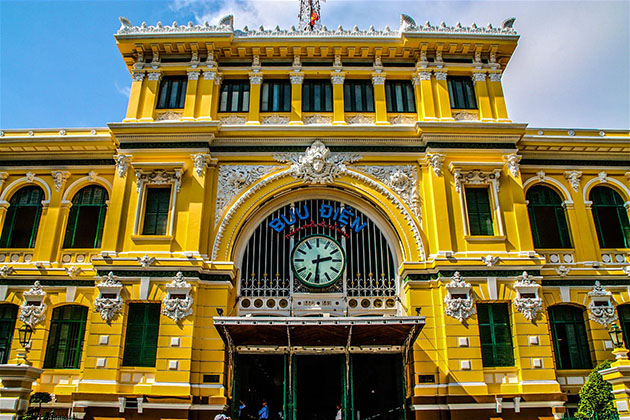 3A Station
We cannot ignore this beautiful ideal photography spots in Ho Chi Minh City because there are many beautiful cafes, good clothes shops and very beautiful graffiti walls here. If you like photos in Art style, don't miss this place!
Unique Alleys for Street Photography in Ho Chi Minh City
Alley 144 Pasteur
The two walls are drawn things that are familiar to Vietnamese people such as regional landmarks and fruits, with every eye-catching artistic font. Above, there is a sparkling, virtual golden lamp throughout the small alley about 100 m. This path leads to a restaurant, but now it is a place for beautiful photography, which is extremely famous and sought by young people.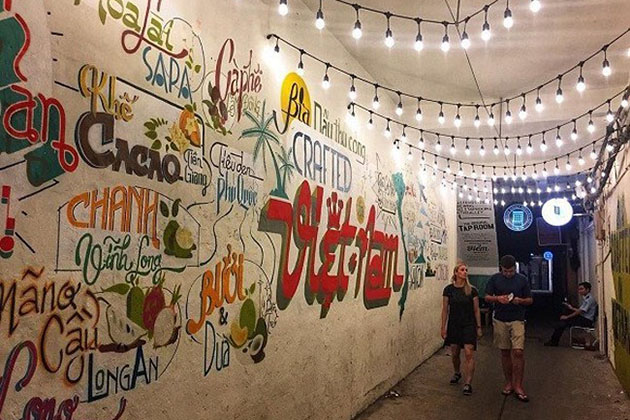 Alley 41 Pham Ngoc Thach
West alley 41 Pham Ngoc Thach is a beautiful photographing place in Saigon that is loved by both young people and foreign tourists. The old wall is renewed, blown into it by the young life through pictures and slogans about life.
Japanese alley
It is one of the most beautiful alleyways in the center of Ho Chi Minh City because of the concentration of the most famous Japanese restaurants. People who come here to eat and drink often do not forget to take some photos in this sparkling alley. Restaurants with wooden walls, lanterns hanging in front of doors, signs, and curtains that fly in the wind will be the highlight of Japan. The feeling is like being lost in a small street in Japan.
Other Recommended Photo Spots in Ho Chi Minh City
Nguyen Hue Walking Street
Undeniably, Nguyen Hue Walking Street is one of the best shooting locations in Ho Chi Minh City since its opening. This is the place where a lot of people come in the evening. Here you will have sparkling photos of the bustling city. Also in the morning, you can take photos with flowers & nearby high-rise buildings.
Ho Chi Minh Opera House
Ho Chi Minh City Opera House, also known as City Theater, is a beautiful structure that adds charm and elegance to Saigon city center. Many young people choose this place to record beautiful shots. The city theater has an ancient and majestic architecture with modern light and sound system that will make you admire.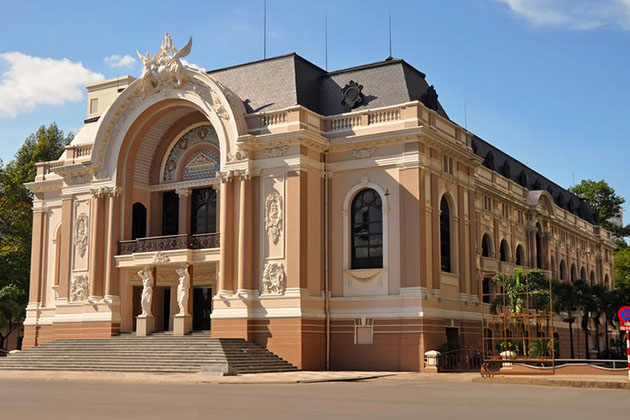 Botanical Garden
Over hundreds of years old, Saigon Zoo and Botanical Garden still attract a large number of tourists to visit because of the wild, natural and pure beauty of this entertainment area and also one of the recommended photo spots in Ho Chi Minh City. Coming to Saigon Zoo and Botanical Garden is coming to the open nature, to enjoy the fresh air with the gibbon, birds, trees, beautiful flowers, .. and you can comfortably create extremely good photos
Ben Thanh Market
Ben Thanh Market is one of the typical architectural works that anyone who comes to Ho Chi Minh City cannot ignore. Ben Thanh Market is not merely a place for daily trading activities but a place to witness the ups and downs of the city and the whole country. Come to Ben Thanh Market, you can find any item, from bunches of vegetables, fish to cloth, electronics, souvenirs,… Therefore, Ben Thanh Market always bustles domestic and foreign tourists to visit, shop and take photos. The photos here are very soulful, suggesting the inherent excitement of crowded Ho Chi Minh City.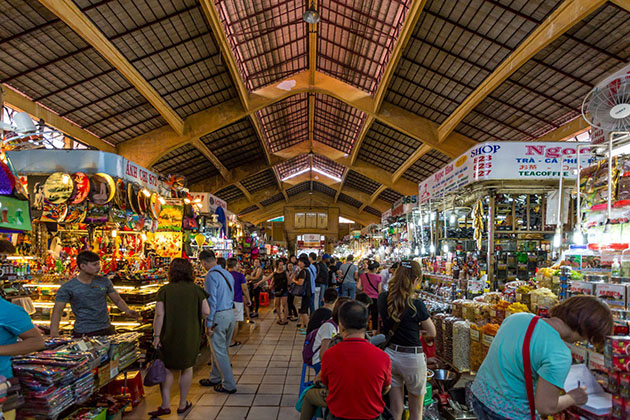 Turtle Lake
Turtle Lake (or Con Rua Lake) area is a dating place and one of the best photo spots in Ho Chi Minh City. Don't know when and how, but if you want to remember Ho Chi Minh City more, don't forget to come here.