Walking streets have long become destinations that not only attracts tourists but also local people in Saigon. Besides walking, there are many interesting activities that you may not know about in these streets. Let's take a trip to explore every good corner of these beautiful walking streets in Saigon!
Saigon Walking Streets
Nguyen Hue Walking Street
This lively walking street is located on Nguyen Hue Street, District 1, Ho Chi Minh City, extending from the City People's Committee headquarters to Bach Dang wharf. Since the inauguration until now, this has always been one of the busiest destinations in Saigon because of its open space, many interesting activities as well as beautiful apartment buildings, shops, and cafes.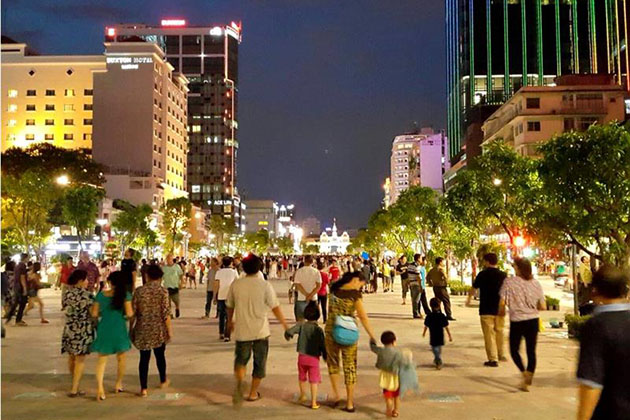 Bui Vien Walking Street
The walking street of Bui Vien (Pham Ngu Lao Ward, District 1, Ho Chi Minh City) opened in mid-August, 2017 and has attracted thousands of tourists with many interesting activities. Before becoming a walking street, Bui Vien Street was known as the backpacker area because the number of tourists coming here mainly came from Western countries and was a "play area" exclusively for the young. The bustling street has become more and more crowded.
Bui Vien Street ban the car for a length of about 500m, from De Tham to Do Quang Dau during the period from 19 pm – 2 am the next day on weekends to serve entertainment activities with food spaces, folk games, street performances, etc. Visitors who come to Bui Vien walking street will enjoy "four free": toilets, WIFI, tourist information, and "free smiles".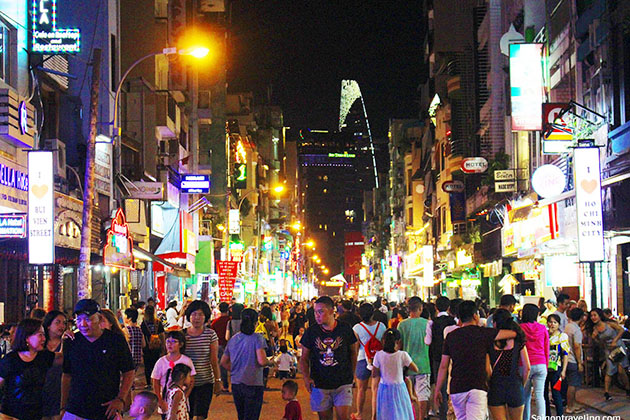 Pham Ngu Lao Street
Backpacker Street is a familiar way of Saigon people and tourists to call Pham Ngu Lao Street, belonging to Pham Ngu Lao Ward, District 1, Ho Chi Minh City. The reason for this name is because this place has a lot of Western tourists, especially Western backpackers. The rhythm of living in Pham Ngu Lao street is often bustling, especially at night.
Saigon Walking Street Attractions
Street Performances
In the evening, there are groups of young people, art enthusiasts gathering at the end of the street to perform. Many art performances from the sidewalks to the streets attract a lot of visitors, creating a very exciting atmosphere. Occasionally, there are big occasions you will see the grand stage, the sound system, the professional lighting on the walking street and the number of people increase on weekdays. You will also enjoy the musical repertoire from the national music stage and the international music stage.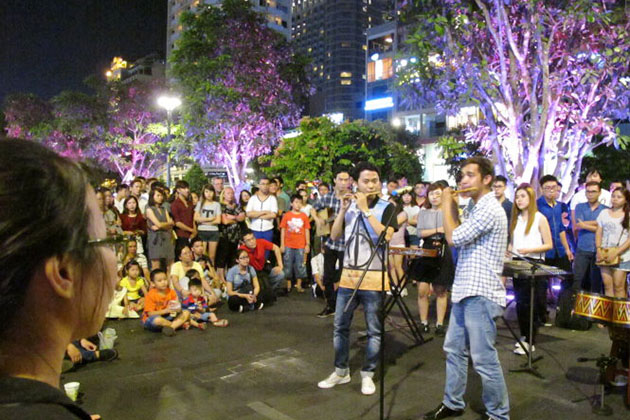 Nguyen Hue Walking Street – Best Place to Take Pictures
Nguyen Hue Walking Street is compared by many people to a street in some foreign country, without wires and garbage. The long road is paved with clean granite tiles with 2 fountains, a system of green trees and flowers are displayed vividly. In the evening, the lights here as well as the light from the cafes and restaurants shimmer and create beautiful moments. Therefore, for those who are passionate about taking photos, like to have really shimmering photos, just come here and have all the necessary context for the best photos.
Drinking Beers
If Hanoi is famous for beer in Ta Hien street, Bui Vien beer is the most popular for young people in Saigon. Along the walking street are beer shops with relatively soft prices. Gathering with friends for a few beers of Bui Vien – certain experience you have to try when coming to Saigon.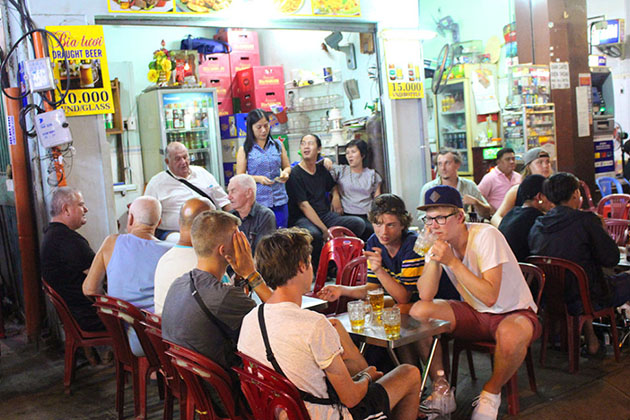 Exploring Walking Street Food Paradise
Saigon Walking Streets concentrate a lot of restaurants, eateries from luxurious to affordable, creating a rich and diverse cuisine with many dishes that you should not ignore when having the opportunity to come here. Visiting Saigon Walking Streets, visitors can find most of the famous street food in Saigon. From the street food such as the type of rice noodles, bread, rice, pho to dishes such as pizzas, crackers, hot pots or popular snacks like skewers, mixed rice paper, grilled German sausage, corn,…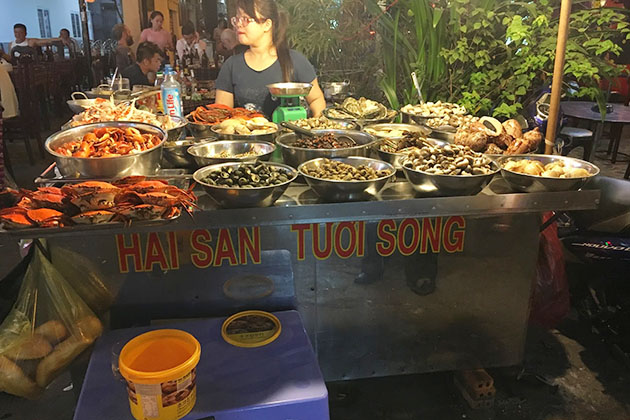 Having Fun in Backpacker Street Bars
Bui Vien walking street and Pham Ngu Lao street have almost all services to meet the diverse needs of tourists from dining, leisure to entertainment. And it will be a lack if visitors have never experienced bars on these streets like Sahara Beer Club, Thi Bar, Boheme Pub…