Saigon is not only known to be the largest economic center in Vietnam but also the busiest "shopping paradise" in our country. You can comfortably go shopping, you also can admire the spectacular and beautiful space. The shopping experience below includes where to shop and what to buy when you travel to Ho Chi Minh City. You can buy from clothes, shoes, bags, specialties to gifts and jewelry, but if you buy in crowded places, protect your property carefully!
Bustling Markets in Ho Chi Minh City
Ben Thanh Market
Ben Thanh market which is considered as a bustling market in Ho Chi Minh city with various goods such as clothes, shoes, food, souvenirs,… attracts a large number of tourists from many different countries. This market is lively during day time as well as at night. In the morning, you can visit it early to collect some fresh products and there will be a crowded night market with a variety of goods and cuisine in the evening.
This market can be more expensive than other markets because of its central location. However, it will be quite cheap if you know how to bargain and how to identify the quality of products. One tip is that you should preview the market map to easily find where to buy the items you want.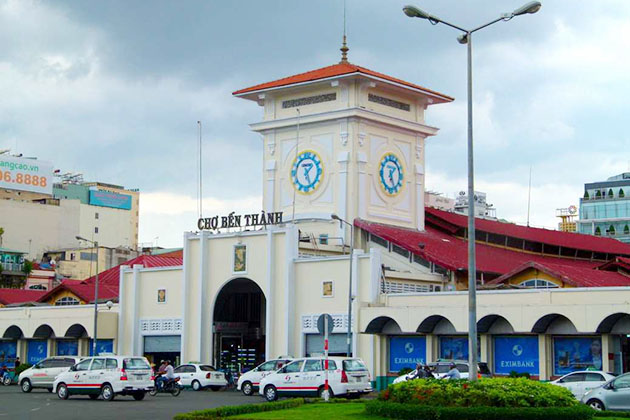 Address: Cua Nam, Ben Thanh Ward, District 1, Ho Chi Minh City, Vietnam
Opening hours: 4:00 am – 11:30 pm
How to bargain at Ben Thanh market
• Start with 40-50% of the original asking price & negotiate from there
• If the store owner does not decrease the price, go to the next stall
Saigon Square
Located in the heart of the city, Saigon Square is considered a heaven for shoppers who want to find where to shop when traveling to Ho Chi Minh City. You can find various products including clothes, fashion accessories, footwear as well as kitchenware and technological gadgets at Saigon Square. Especially, Saigon Square is frequently referred to as an outlet where tourists can buy the trendiest items. This makes Saigon Square be a favorite shopping place for Vietnamese youngsters and international tourists.
A special thing is that Saigon Square is air-conditioned to create a pleasant shopping experience for tourists.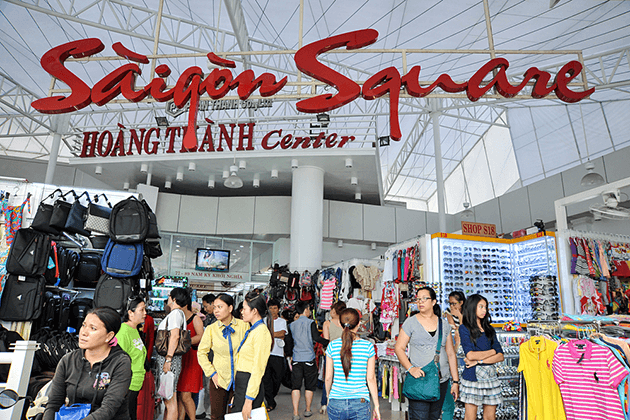 Address: 77 Nam Ky Khoi Nghia, District 1
Opening hours: 8:00 am – 10:00 pm
Tips to get lower-priced products
Products at Saigon Square are often at a high-priced level due to its central location. You should check the quality of a product and the price of the same item at some different stalls before purchasing. Try offering the store owners 1/2 of the asking price, and raise it up gradually.
ChoLon Market (Binh Tay Market)
Cho Lon Market, or "Big Market", also known as Binh Tay Market, is one of the famous shopping areas in Saigon. It sells a large number of different products consisting of fruits, vegetables, fresh food, handicrafts, textiles,… Because of being a wholesaler market, products here is always available and affordable.
Especially, the market was originally built to serve the business and trade needs of Chinese traders; therefore, Cho Lon Market also reflects the characteristics of Chinese architecture. Additionally, Binh Tay Market is equipped with Eastern-influenced architecture throughout. These make visitors come here in hopes of not only doing the shopping but admiring the architecture as well.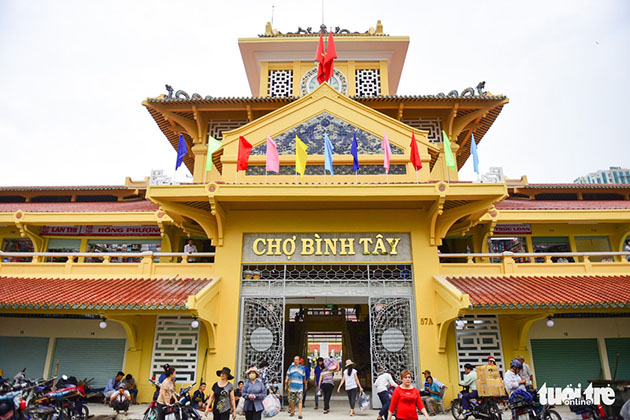 Address: No.57 Thap Muoi, Ward 2, District 6, Ho Chi Minh City
Opening hours: 7:00 am – 10:00 pm
Ho Chi Minh City Shopping Centers
Takashimaya Vietnam – Saigon Centre
Takashimaya Vietnam is high-end shopping center in Ho Chi Minh City of Japan's Leading Retail Corporation, opened in July 2016 at Saigon Centre building. It is really a "shopping paradise", restaurants, coffee shops, and shopping areas are included in this center. Besides, Takashimaya also has an exhibition space to organize cultural and artistic activities.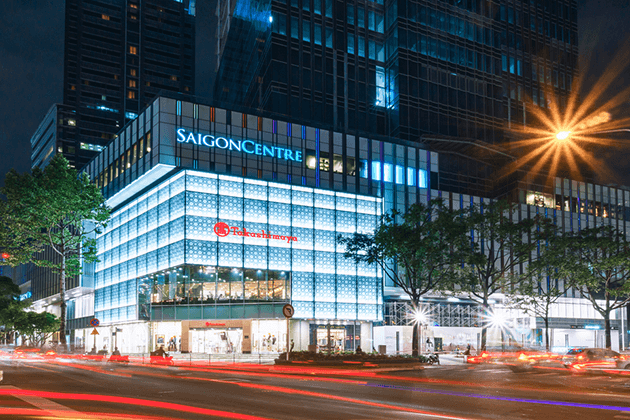 If you are interested in many luxury brands such as Montblanc, Tommy Hilfiger, Versace,…, this is a wonderful place for you to spend money. There are a large number of well-known cosmetics, jewelry, and fragrance brands from Europe such as Clarins, L'occitane, Christian Dior, Estee Lauder… Takashimaya also sells ladies apparel from Bosnia, Bahana Republic,… and footwear from Clarks, Cole Haan, and Geox. Finally, the highest level is where you can find casual wear for men as well as clothes and toys for children…
Address: 92-94 Nam Ky Khoi Nghia, Ben Nghe Ward, District 1, Ho Chi Minh City
Opening hours: 9:30 – 21:30
AEON Mall Tan Phu Celadon
AEON Mall Tan Phu Celadon has a lot of items from fashion to cuisine as well as many sport and entertainment activities. If you want to enjoy authentic Japanese food or buy good-quality clothes, go to AEON Mall Tan Phu. It is a 3-floor shopping center, young people often come here to watch movies at the CGV theatre, eat Japanese food and buy clothes from big fashion brands in the world. Families also often bring children to the center because there is a play area for children, which is quite spacious with many interesting games.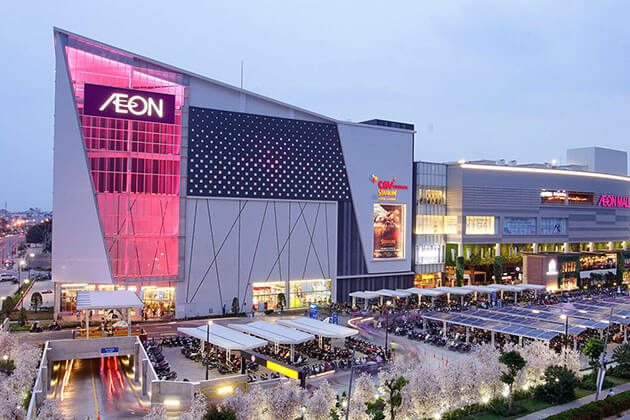 Shopping center with professional and attentive service staff will give customers interesting experience when shopping here.
Address: 30 Bo Bao Tan Thang, Son Ky Ward, Tan Phu District, Ho Chi Minh City
Opening hours: 8:00 am – 10:00 pm
Parkson Plaza
Parkson is the retail arm of The Lion Group, an international corporation which was established and developed in the 1930s. Today, Parkson has five modern department stores in Ho Chi Minh City.
At Parkson Plaza, you can choose to buy the best-designed clothes, jewelry, and cosmetics from well-known international brands like Lacoste, Esprit, Timberland,…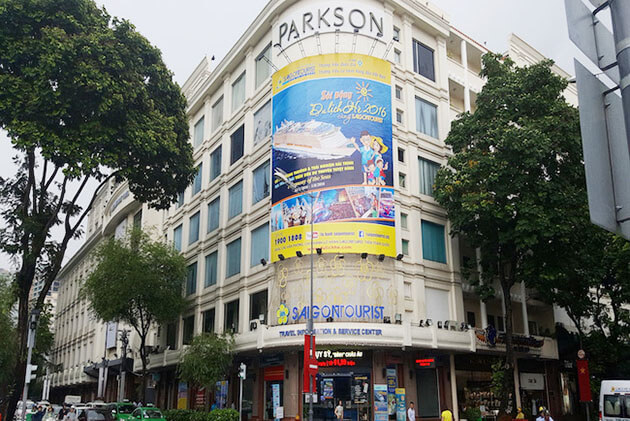 The ground floor is where you can try and test an amazing range of perfumes and cosmetics, spray the perfume you love and watch sparkling diamond jewelry. Fashion wears, sports clothes for men, women, and children are on the first floor. Go to the second floor to discover the world of furniture and household appliances. On the next floor of Parkson Plaza is Citimart supermarket the great place to buy typical Asian ingredients like organic coconut milk, spicy chutney, and many other products. Besides, tourists can buy a cooking book with recipes for local dishes and choose the ingredients needed so that you can cook your favorite Vietnamese food.
After shopping, you should come to restaurants on the fourth floor to relax and have a great meal, try traditional Vietnamese food or Western dishes like burger, pizza,…
Address: 45 Le Thanh Ton Street, District 1, Ho Chi Minh City
Opening hours: 9:30 – 22:00
Happy shopping!