If you travel to Ho Chi Minh City or Saigon, what are the things to buy as souvenirs there? Saigon is one of the best destinations for visitors seeking perfect Vietnamese gifts for loved ones back home or for themselves as reminders of unforgettable experiences in Vietnam. Here is our best-pick list of top 10 souvenirs to get in Saigon.
Best 10 Souvenirs to Buy in Ho Chi Minh City
Silk Product
Vietnamese silk has secured its place among the world's top quality silk products. It plays a vital role in not only in Vietnam society but also in Vietnamese culture, regarded as an extravagant luxury, wealth and success back in feudal times. This souvenir is a must-buy thing when visiting Ho Chi Minh City. There is a variety of choices with vibrant colors and exquisite patterns for tourists, namely plain silk, embroidered silk, versatile silk, Lismore Bud silk,…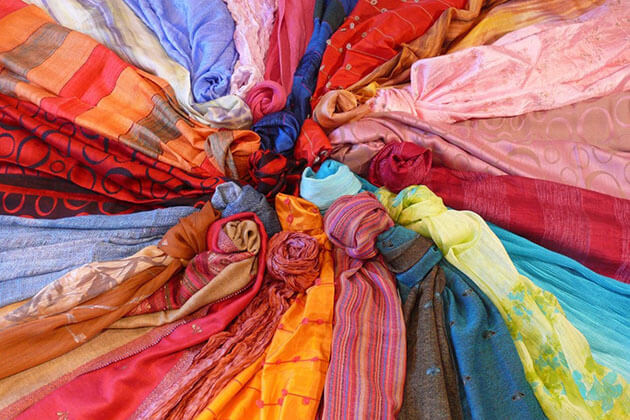 It is easy to spot a place where sells silk in the area such as Ben Thanh Market. However, differentiating the authentic and fake silk requires experiences and knowledge from the professionals. We suggest that visitors should visit reliable stores on Le Thanh Ton or Pasteur Street. Nice Silk (237 Le Thanh Ton, District 1), Tiem Huu La La ( 282 Pasteur), Thai Tuan Silk (1/148 Nguyen Van Qua, District 12), Tan Dinh Market ( District 1) are some recommended stores to note in your list.
Traditional Ao Dai
Being worldwide famous, Vietnamese Aodai is of top recommendation for people to buy as a souvenir. The outfit shows the beauty of women. Beside ready-made Ao Dai, there are many other customized services offered for customers. They can choose from an extensive range of fabric and have themselves a very own custom-made Ao Dai from professional tailors. In addition, travelers can require the service of customizing the ready-made Ao Dai to fit their bodies.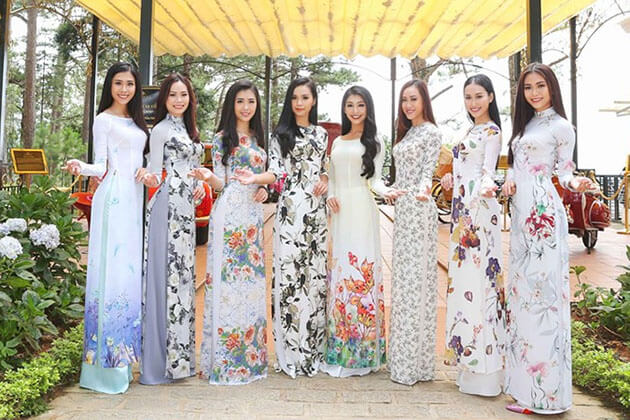 Looking for ready-made Ao Dai, visitors can head to Ben Thanh Market or Tan Dinh Market. Meanwhile, tailor-made Ao Dai can be found in Ao Dai Thiet Lap ( 286 Pasteur, District 1), Aodai Lien Huong (111 Pasteur), Aodai Ngoc Chau (148 Nguyen Thien Thuat, District 3),…
Ao Ba Ba
This is the traditional Southern Vietnamese clothes. The outfit normally is a silk top matched with a pair of silk pants. Ao Ba Ba is considered as a modern refinement of Ao Dai, with the two-piece altogether upon which the Vietnamese traditional outfit is derived. The top is typically a long-sleeved, button-down, long and split shirt with a scooped neck while the bottom is simple trousers.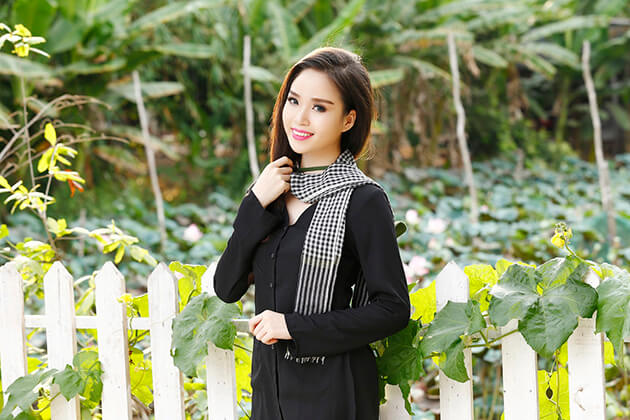 The souvenir can be collected in the markets or souvenir shops. Hoai Giang Shop ( 40 Tran Quang Khai, District 1) and Ao Dai Minh Thu (129 De Tham, District 1) are famous for their best Ao Ba Ba.
Non la/ Conical Hat
Considered the symbol of Vietnam's wet rice civilization, this is a great option for tourists to have themselves as souvenirs. The product is typically made by hands, using natural materials such as bamboo, palm leaves, and Moc trees' bark. Convenient and practical, the conical hat has been used popularly as both a hat and an umbrella, so this item is one of the must-have items for traveling. This accessory when perfectly combined with Aodai or Ao Ba Ba would create extraordinary beauty of women.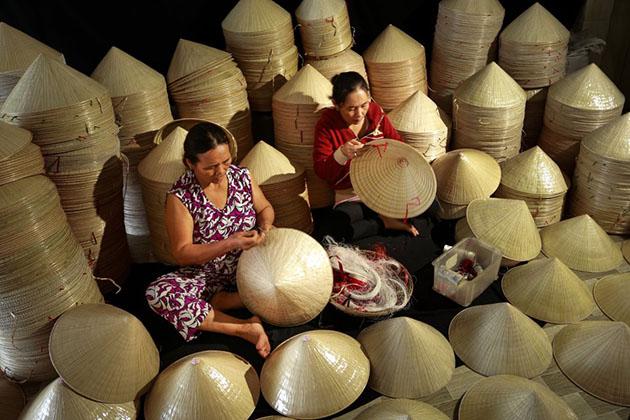 Because of the various kinds of Non La, visitors can choose a perfect gift based on their interests, such as conical hats with Vietnamese poems on them. This thing is sold everywhere, in the markets, in the shops, with the price ranging only from 1 to 5 USD.
Wood Souvenirs
Wooden handicraft is one of the signature things to buy when visit Vietnam in general and Saigon in particular. They are comprehensively made by skillful artists. They appear in a massive variety of collection from trays, boxes, picture frames, models,… with the patterns that tend to depict Vietnamese people's life or beliefs. They are reasonably priced and durable. It is a considerable option to fly back home with some wooden souvenirs with you.
The Craft House (28 Nguyen Trai, District 1), Huong Nga Art and Craft ( 81 Mac Thi Buoi, District 1) are advisable destinations to get some local crafts.
Bamboo Products
Along with wood, bamboo has a great influence on Vietnamese people's lives, it has long been believed to symbolize the strong spirit of Vietnamese people, that's why it has become a vital material in the household. These environmentally-friendly products are all hand woven, beautifully carved and are available in various forms like fans, hats, bowls, trays, and baskets. There are even bamboo paintings found in many galleries and bamboo dragonflies, that can only be found in Vietnam. They are gorgeous and suitable to be bought as a souvenir to your friends or yourselves.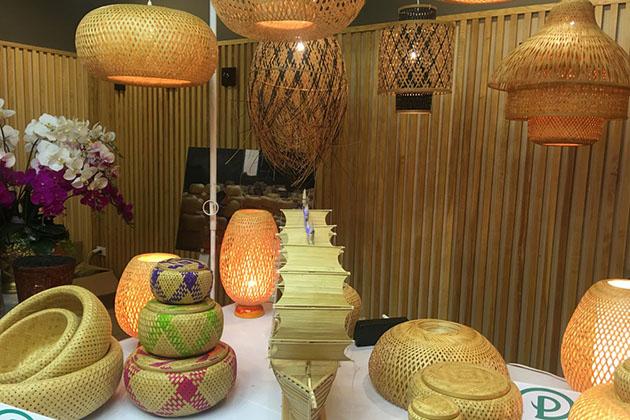 Sand Painting
This would be a fantastic gift in Vietnam. It requires lots of concentration and skills to finish a painting since the artists need to pour sands into a transparent cup and a spoon is used to paint the picture rather than traditional paint colors. The topic normally focuses on Vietnamese rural lifestyle or breathtaking sceneries. Sometimes, customers can order their own customized sand painting. Gift receivers would be totally impressed by the majestic beauty of the products. Don't miss this unique souvenir!
Dried Food
Dried food is an excellent choice as a souvenir. Tasty, easy to deliver, convenient, reasonably-priced, dried food plays a crucial role in Vietnamese cuisine and it is something that cannot be missed. Some of the highly suggested dried foods are beef jerky, dried fruit, dried squid, shrimp salt, fish jerky,… Try some and you would never forget the moment.
They can be found in every market (Ben Thanh, Tan Dinh, Binh Tay,…) or in supermarkets, dried food zone. You can buy them in boxes, cans or in grams, kilograms,…
Chocolate
The most exquisite bars in the world are being made in a garage in Saigon. This is the most genuine feedback from the New York Times of Maison Marou Chocolate. Visit Marou Faiseurs de Chocolat (167-169 Calmette, District 1), visitors would have a chance to enjoy one of the world's finest chocolate bars. Unlike many factories in the world, Marou's chocolate is created from trinitario and criollo, carefully collected from local Vietnamese farms. Therefore, this gift has a unique complexity and variability and the flavors are nowhere to be found. If you want to have something as a souvenir from your travels, do not miss this incredible product!
Tea and Coffee
Speaking of these two products, we cannot forget to mention Ho Chi Minh City. This is where hundreds of local famous brands gather. Try a cup of coffee in a coffee shop or a cup of tea in a teahouse in Saigon is an elegant habit to enjoy the exotic flavor of the drink here. Bring home some coffee and tea, take a sip and all the memories of the joyful days would throwback in your mind.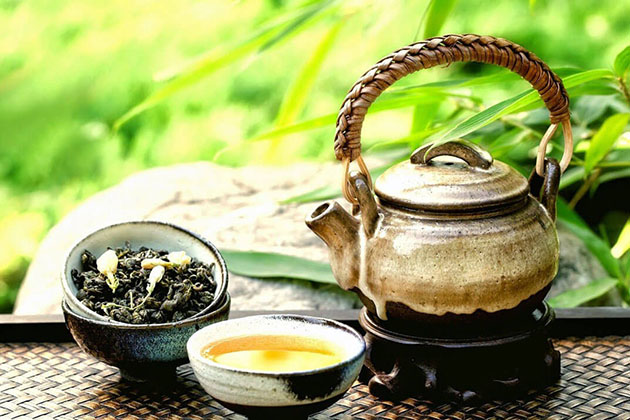 Tourists can buy packed coffee or tea bags in Phuc Long Coffee and Tea House, Trung Nguyen Legend or Highlands Coffee. There offer a long list of tea and coffee products ( peach tea, green tea, jasmine tea, black tea, Culi, Robusta, Arabica,…) so that travelers can buy freely up to their interest. The bags are packed carefully in order to be able to be delivered worldwide and sent as a gift.
Recommended Souvenirs in Saigon
Brocade
Brocades of Vietnam are now known as a national treasure. These items are made by Vietnamese ethnic minority groups, with a variety of shapes, sizes, colors, and purposes. A brocade tote would be a good choice to buy before flying back home.
Ceramics
The history of Vietnamese ceramics dated back thousands of years ago. Therefore, the products are well-known in not only domestic but also international markets. They are glazed by traditional methodologies to become majestic artworks such as teapot, bowl, cup,…
Bullet-shell Souvenirs
Souvenirs made from bullet shells tend to be small and reshaped. You can get bullet-shell planes, helicopters, motorbikes,… to bring back home as a lovely gift to your friends and family.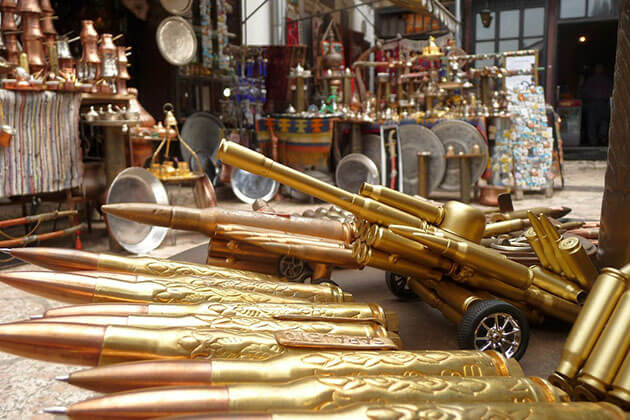 Useful Tips to Buy Souvenirs in Saigon
Always bargain
When shopping at shops, the prices are normally fixed. However, at markets, especially Ben Thanh Market, always remember "Bargain before buying". The real prices of most products tend to be only half, one third, one fourth or even one fifth the prices you are told. You should start by bargaining with 40-50% of the first price. If the owners do not agree on the negotiation, go to the next stalls. Many sellers can speak English fluently, hence there is no need to be afraid of negotiating.
Keep a keen eye on your bags or purses
Security in Ho Chi Minh City street has long been in doubt. Pickpockets and bag or jewels snatchers are everywhere from bus stops markets to even streets. The markets are always crowded, so you should always secure your bags and keep an eye on them. In addition, divide your money into small parts and put them in different places, and do not bring all the cash with you the whole time you go outside.
Check the products' quality carefully
There is a long line of stores in the market that sells the same products, but with different qualities. Therefore, check every detail of the souvenirs you want to buy before paying for them. You should also go to reliable stores to avoid the risk of buying fake goods.