Chinatown, which is the convergence of the Chinese living together in District 5, Saigon, has still preserved their precious culture, religion as well as architecture values dating thousands of years. It has also been one of the magnificent attractions in Ho Chi Minh City.
Saigon Chinatown History
Chinatown, known as Cholon ("Big Market"), covers a large area consisting of District 5, District 6, District 10 and a part of District 11 of Ho Chi Minh City.
Cholon was first founded in the late 1700s when a large number of Hoa, an ethnic Chinese minority resided in Vietnam and most of them were from Quang Dong, Trieu Chau, and Phuc Kien. Over the next hundred years, the area continued to grow in size and population with many ancient pagodas, temples, markets, and houses built in Chinese style.
Things to Do and See in Saigon Chinatown
Thien Hau Pagoda
On Tran Hung Dao, Trieu Quang Phuc, Chau Van Liem, Luong Nhu Hoc streets, visitors will also have the opportunity to admire the houses of Chinese people built 100 years ago with the combination of both French and Chinese architecture. In addition, the temples and guilds are also wonderful places for tourists who want to find out the cultural identity of Chinese people. Indeed, the pagoda of the Hoa people looks very ancient and attracts many tourists. Thien Hau pagoda was built in a popular architectural style, among the buildings is the "skylight" area to create a natural light source for sacred beauty.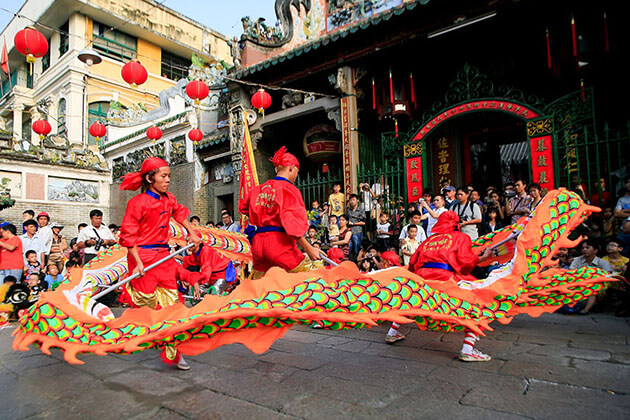 Luong Nhu Hoc Lantern Street
This place is really a prosperous place with a series of luxury shops with the appearance of Hongkong. On major occasions, especially Nguyen Dan, Nguyen Tieu, Trung Thu, both two sides of the road are full of red lanterns, creating a jubilant and fanciful space.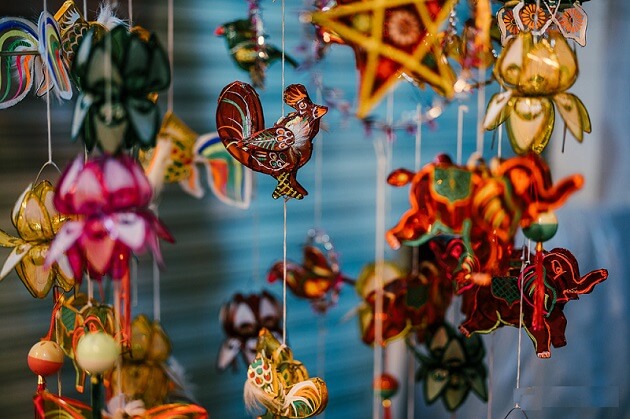 Ha Chuong Assembly Hall
Also known as Chuong Chau Assembly Hall, or Ong Huoc Pagoda or Ba Ha Chuong Pagoda; Ha Chuong Assembly Hall is currently located at 802 Nguyen Trai, Ward 14, District 5, Ho Chi Minh City.
This is a unique project with wood sculpture, stone and brick, similar to the On Lang Assembly Hall, Nhi Phu Temple … in the form of ancient Chinese temples with wooden frames, roof tiles. The most special way of shaping and decorating is the style of Phuc Kien people – the curved roofs with mortar pieces and colorful glasses.
Stroll around Chinatown in Saigon and Savor Special Foods
Restaurants in Chinatown, Ho Chi Minh City often have bilingual signboards and especially homeowners can respond to diners in Vietnamese but talk with family members in Chinese. Here visitors also run into the pattern of Chinese restaurant owners – a big belly man, a cheerful face with a handkerchief on his shoulder.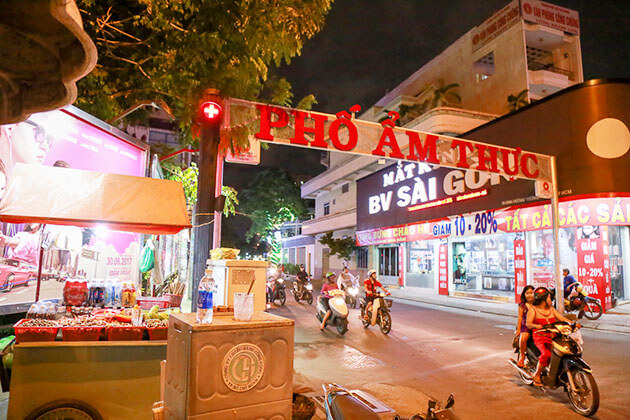 Cholon dining area has not only steamed rice balls, wonton balls, or Trieu Chau porridge, but also many kinds of street food that attract tourists a lot. Moreover, you can enjoy a variety of famous Chinese dishes such as roasted duck, roasted pork, spicy duck noodles, chicken stew with herbs…
Some great restaurants which reflect various heritages can be found throughout these suggested places below:
Tien Phat Dim Sum
Tien Phat Dimsum on Ky Hoa road has long been a familiar name for residents of District 5 (Ho Chi Minh City) and those who love Hong Kong style dishes. The ambiance is cozy, casual and authentic. The restaurant's dimsum menu has about 50 items such as baked dumplings, fried shrimp dumplings, grilled pork pie, rolls … Each dish has its own flavor and appeal.
• Opening hours: 6:00 am – 12:00 pm (Monday – Sunday)
• Address: 18 Ky Hoa, Ward 11, District 5, HCMC
• Phone: +84 28 3853 6217
Vietnamese Crepe Ngoc Son
Banh Xeo, or crispy Vietnamese pancake is a well-known street food that is supposed to be originated from France. This cake has a yellow outer layer and is filled with shrimp, boiled pork strips, spring onion, and bean sprouts. In addition, fresh vegetables are always served with this dish such as lettuce, perilla, sweet basil,… Take a piece of Banh Xeo and put it on the rice paper, add vegetables, roll them tightly, dip the roll into the sauce and…Enjoy it!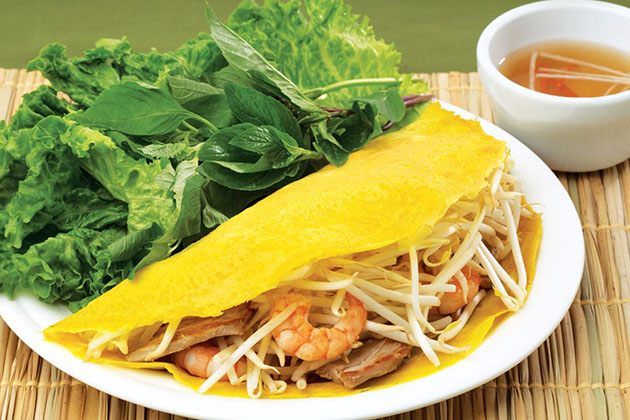 • Opening hours: 9:00 am – 9:00 pm (Monday – Sunday)
• Address: 103 Ngo Quyen, Ward 11, District 5, HCMC
• Phone: +84 28 3853 7486
Accommodation in Chinatown, Ho Chi Minh City
Hotels in Saigon Chinatown always offer great value-for-money accommodations with cozy rooms, central location, and service-oriented staff… Room rate ranges from 300,000 to 900,000 VND/room/night (mid-priced hotels). You can refer the list of popular hotels in this area:
Truong Giang Hotel
Average price: 360,000 VND/ night (~$15.7)
Trung Mai Hotel
Average price: 495,000 VND/ night (~$21.6)
Tan Cuu Long Hotel
Average price: 492,000 VND/ night (~$21.5)
Dong Khanh Hotel
Average price: 892,000 VND/ night (~$39)
Cozy [email protected]
Average price: 559,000 VND/ night (~$24.3)