If you are a big fan of skyscrapers and breathtaking views, you should spend your prime time to explore Bitexco Financial Tower. It is definitely an amazing experience for you simply because Bitexco Financial Tower is the tallest building in Ho Chi Minh City at a height of 262 meters. One of the most unique features of this tower is the design which is taken from the shape of a lotus bud- a symbol of beauty and the growing economy of Ho Chi Minh City. Interestingly, Skydeck serves a full range of services and facilities and held many activities which attracted a lot of both domestic and international tourists.
Location of Bitexco Financial Tower
Bitexco Financial Tower stands at the heart of Ho Chi Minh City Center. It is located in District 1–one of the world's fastest-growing economies. You do not have to worry about the distance because it only takes about 5-10 minutes of walking from Ben Thanh Market. With its central location, this tower well connected to Tan Son Nhat International Airport, Thu Thiem Tunnel, and Sai Gon Bridge. Certainly, Bitexco Financial Tower will be an ideal destination for your trip because of its advantages and beauty.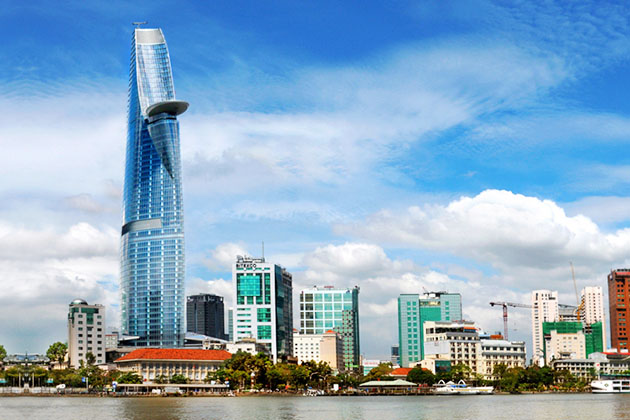 What to Do at Bitexco Financial Tower
Coming to Bitexco Financial Tower, you will have the opportunity to immerse yourself in stunning views and interesting activities here. This is because Bitexco is a shining jewel with a unique architecture where provides a full range of entertainment center, shopping center, restaurants, and bars. This list of destinations following will be good suggestions for you.
The Saigon Skydeck
When it comes to Bitexco Financial Tower, the Saigon Skydeck is one of the most ideal destinations for visitors. On the 49th floor, there is a telescope to help you see the panoramic view over Ho Chi Minh City such as the Ben Thanh Market, the Notre Dame Cathedral or the City Hall of Saigon. Also, there are free binoculars all over the Skydeck do you can see the city from near. You can also go to the rooftop bar to have some beer waiting for the sunset over the city from above and enjoy music to chill out and unwind. Great spot of the dynamic city! Moreover, if you are keen on taking the photo, you should capture a great shot of the city at night. It is a stunning view with full of glittering lights and bustling atmosphere which you see from the rooftop.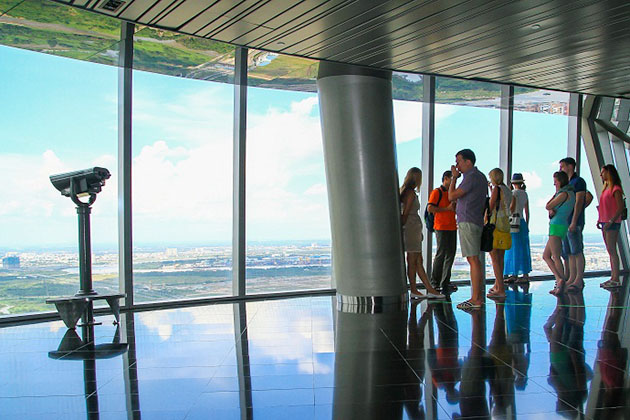 To get to the Saigon Skydeck on the 49th floor with a 360-degree view, you have to buy a ticket at the entrance. You need to remember that the Saigon Skydeck is opened daily from 9.30 a.m to 9.30 p.m. The entrance fee is currently VND 200,000 VND for adults and 130,000 VND for children, seniors, and handicapped persons.
Ground Floor: Shopping and Garden Café
In this place, you can easily see sporting goods shops in the lobby like Adidas, Nike, Puma, … But more specifically, the garden coffee shop hiding under the cool trees, Elle café stands out with its natural green and live music serving every night.
Floor 3 & Floor 4: The Combination of Food and Cinema
If you are looking for entertainment place at the weekend, the entertainment areas at Bitexco Financial Tower is a great choice for you. It is a fact that this place serves a wide range of delicious food and quality cinemas.
Floor 51: EON Cafe
In the floor 51 where you can enjoy a cup of coffee and see the overview of the city. It is an amazing experience for you. EON Café has become a popular destination where attracts a lot of visitors.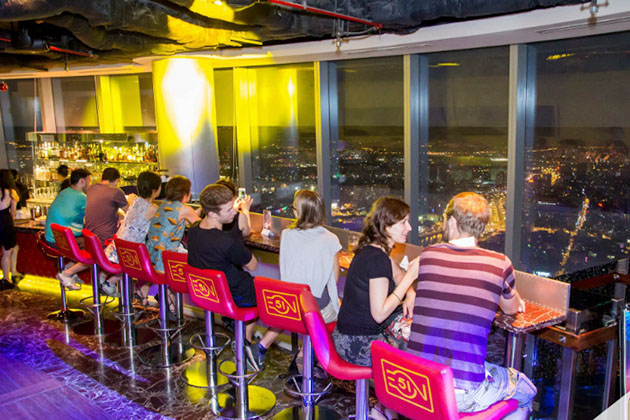 Floor 52: Strata Restaurant (Buffet Restaurant on the High Floor)
If you want to try the buffet restaurant on the high floor, you should spend time on coming to floor 50 of Bitexco. Surely, it is the opportunity for you to develop a sense of enjoyment simply because sitting on the high floor and enjoying delicious food are the way to chill out. Most importantly, the restaurant provides a wide range of food with over 50 dishes and add bars. It is a great combination which attracts a lot of guests. The price is quite expensive (about 820.000 VND including a soft drink) but it is reasonable for a five-star restaurant.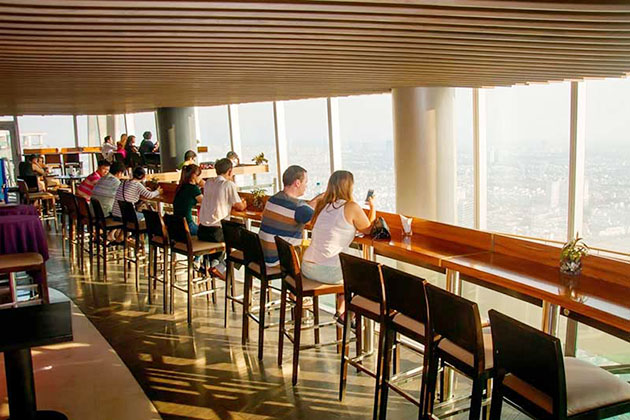 Highlight & Some Useful Information of Bitexco Financial Tower
– Operating hours: Monday – Sunday
– Visitors are not allowed to take any food or beverage into the Skydeck.
– Saigon Skydeck is a non-smoking environment and chewing gum strictly prohibited. Animals are not allowed in any part of the building.
– Visitors are prohibited from carrying weapons, ammunition, explosives or volatile substances.
– Tickets for entry are to be purchased from the ticketing counter and cannot be re-used, re-sold, refunded or exchanged.
– The Skydeck Operator reserves the right to refuse entry to any guest.
– The person who is the sole opinion of the Skydeck Operator are or appear to be under the influence of alcohol or drugs will be refused entry.
– Purchase of a ticket signifies acceptance of the Terms and Conditions of an entry posted at the Skydeck's Ticket Office.