Cu Chi Tunnels of Vietnam is listed by CNN channel of America about 12 underground works that attract the most tourists in the world. A group of underground works dubbed the steel land has entered the heroic struggle history of the Vietnamese people as a legend of the 20th century and become a famous place in the world and mistake horror of American imperialists.
Cu Chi Tunnels History and Facts
Cu Chi tunnels were formed during the resistance war against French colonialism (1946 – 1948). Located about 60 km northwest of Ho Chi Minh City, the Cu Chi tunnel network is a vast labyrinth of underground tunnels stretching to the Cambodian border. They were built over a period of 25 years and the initial construction began in 1948 by the Viet Minh in the war against France. At that time, tunnels were a means of communication between villages and also helped Vietnamese to evade French soldiers scouting the area.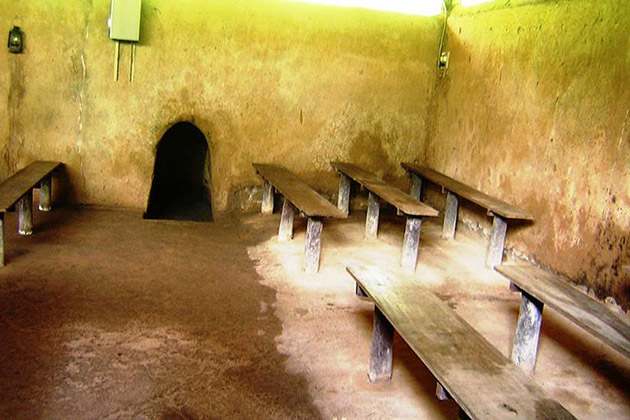 During the American War, the tunnels were expanded on an area of about 250km and were therefore of great strategic importance to the Viet Cong fighting army and played a huge role in helping the Vietnamese army win over American insurgents. The tunnel is not only a home for thousands of Viet Cong guerrillas but also a complex structure including many trenches, underground tunnels, mine traps, bomb shelters, and exceptional ventilation. Soldiers cook, eat, sleep, work and even go to school in these tunnels when the conflict breaks out above.
Believe it, there are hospitals, theaters, schools, kitchens, all built in this extraordinary tunnel system. Cu Chi was also used as a base for sabotage teams and intelligence agents to enter Saigon.
Things to Do & Essential Guides for Tour in Cu Chi Tunnels
How to Get Cu Chi Tunnels
Cu Chi Tunnels are built on the "steel land" area of Cu Chi, Phu Hiep Hamlet, Phu My Hung Commune, Cu Chi District, Ho Chi Minh City. about 70 km from the city center. You can go by motorbike, bus or taxi.
Bus
This is a popular means for tourists to move to Cu Chi Tunnels from the center of Saigon. You can take this bus at Ben Thanh bus station.
– Going to Ben Du Tunnels: You take bus number 13 (Ben Thanh – Cu Chi) or No. 94 (Cho Lon – Cu Chi) to get to Cu Chi bus station, then from here bus number 79 (Cu Chi – Dau Tieng ) to go to Ben Duoc Tunnels.
– Going to Ben Dinh Tunnels: You take bus 13 (Ben Thanh – Cu Chi) or No. 94 (Cho Lon – Cu Chi) to get to the bus station to An Suong bus station, take the number 122 bus to Tan Quy bus station, then from here, you can hop on the bus number 70 to Ben Dinh Tunnels.
Motorbike or car
Some troupes and crowds often choose this way to visit and learn Cu Chi Tunnels. Just follow the direction of An Suong overpass – Highway 22. In the experience of visiting Cu Chi Tunnels, the bus is still the most convenient and cheap.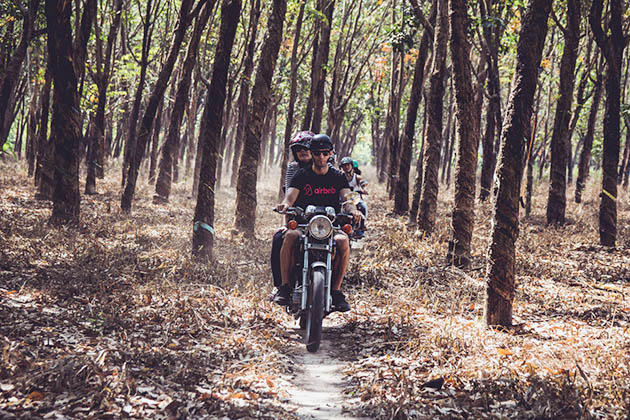 Accommodation at Cu Chi Tunnels
Most tourists only spend 1 day to visit Cu Chi Tunnels, but if you want to stay overnight, there are still motels to serve you, room rates range from 150,000 to 300,000 VND /room/night with full convenient. According to the experience of visiting Cu Chi Tunnels, this is a relatively reasonable room price in the tourist area.
Cu Chi Tunnels Specialties
– Xuan Dao cows: This is one of Saigon's specialties, soft beef, carefully marinated and grilled on a charcoal stove so it is very delicious and unique, the taste is not the same as any beef you have ever had eat. The restaurant is located a few hundred meters from An Suong flyover, very spacious and has open space.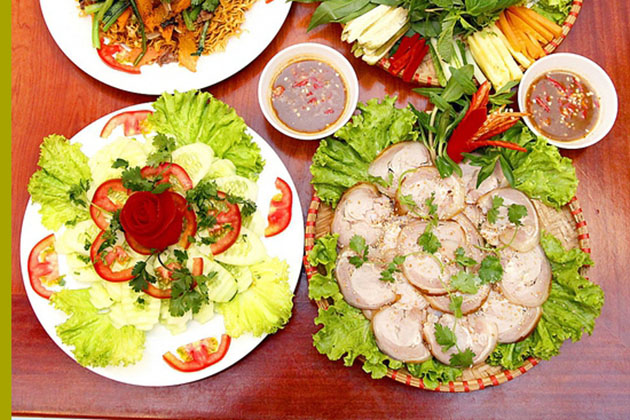 – Minh Quy pork bun: This is a long-term restaurant in Saigon, 7km from An Suong overpass and right turn to Minh Quy pork bun restaurant. The restaurant is very crowded and only sold until 9 am is closed. So, if you want to enjoy this dish, you have to come very early.
– Hoc mon sweet soup: When going through Hoc Mon town, do not forget to visit the Wild Wing shop to enjoy the special sweet soup of this land.
Cu Chi Tunnels Attractions and Fee Entrance
Both Ben Dinh and Ben Duoc entrances have the same operating hours, however, there are different entry fees.
Opening hours: 8 am to 5 pm all days of the week
Entrance ticket:
Ben Dinh: VND 110,000 / person
Ben Duoc: VND 90,000 / person
Cu Chi Wildlife Rescue Station
Wildlife rescue station is located between Ben Dinh and Ben Duoc, about 1km from Cu Chi tunnels. Founded in 2006, up to now, the largest wildlife hospital in the South has saved about 3600 rare animals. Here you can not only visit rare wildlife but also hear the guide tell stories about them.
Cu Chi Tunnels
This is definitely the main attraction in your journey. Here, you will experience the life of the tunnels as a war-era father, visiting, exploring every corner of the 120-meter-long tunnel system with 2 floors, eating food that people the locality used to eat when in the tunnels.
In the experience of visiting Cu Chi Tunnels shared by some tourists, the most interesting thing when discovering Cu Chi Tunnels is that you will be able to eat sweet potatoes, cassava, and tubers with sesame in Hoang Cam kitchen area. After going through the tunnel.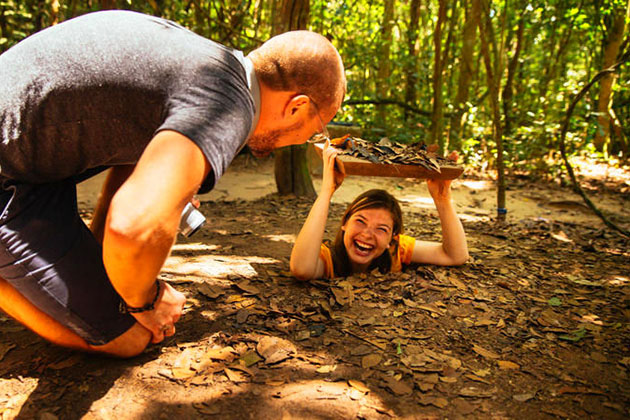 Area of War Zone Re-emergence
This area is the place for you to see the "footage" of the entire war in this steel land. In addition, in this area, there are also famous Vietnamese monuments and landscapes such as Nha Rong, Hoang Sa, Truong Sa, Long Bien, One Cot, Saigon bridges …
Shooting Area
Here you are not only instructed how to disassemble and disassemble the gun but also try the shooting skill. This area attracts many domestic and foreign tourists to experience. Ticket price is 50,000 VND / person / 60 minutes.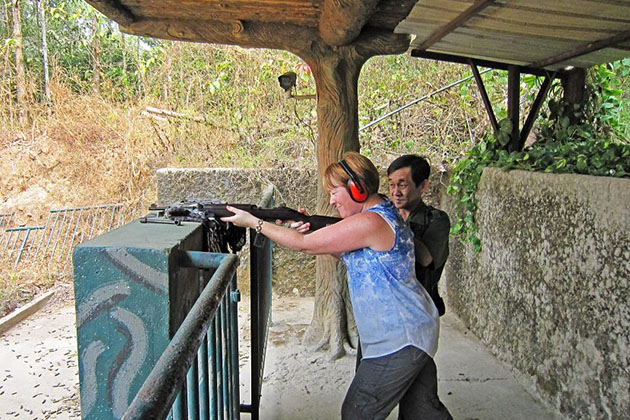 Swimming Pool Area Simulates the East Sea
After a while in the underground, surely you will want to immerse yourself in the cool blue water, right? So please take a walk for about 15 minutes to get to the bathing area simulating the East Sea, the ticket price is about 20,000 VND / person /
Trung An Fruit Garden
The South is famous for its fruit garden, there is a place in the tunnels. This is the place for you to stray to a spacious, cool orchard and enjoy delicious soy fruits such as durian, rambutan, plum, jackfruit …