Ben Thanh Market, more than 100 years old, has changed a lot in a long time and experienced many ups and downs throughout history and war. It is not only a place where people sell and buy products, but it also becomes a symbol of Ho Chi Minh City. It comes with a blend of Saigon in the past and recent days. Ben Thanh Market is a must-see destination in Ho Chi Minh City and cannot be missed on any Ho Chi Minh tourist route.
Ben Thanh Market History and Architecture
The origin was a wet market created by street vendors in the early 17th century, Ben Thanh experienced many ups and downs throughout his history, and is now the oldest market and one of the statues of Ho Chi Minh City. The market was founded by the French colonial government after taking over Thanh Gia Dinh in 1859. The market was destroyed by fire in 1870 and rebuilt to become Saigon's largest market, called Les Halles Centrales. In 1912, the market was moved to a new building and changed its name to Ben Thanh Market to distinguish it from its predecessor.
According to architectural experts, Ben Thanh Market is considered a historical monument, because it carries the unique characteristics of a 100-year-old market that does not contain the noise or fuss. It seems to sparkle between modern and contemporary buildings around Saigon center.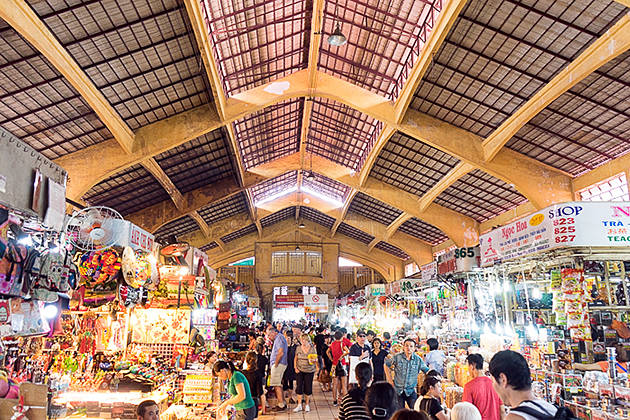 The famous market has four entrances and four sections, a clock tower on the roof and overlooks the four main streets of District 1. In 1985, the market underwent major improvements for both exterior and interior design, although the overall architecture remained with its brand-name clock tower in the foreground. Stretching over 13,000 square meters, Ben Thanh Market welcomes more than 10,000 visitors every day. This market has nearly 1,500 booths with more than 6,000 small businesses selling wholesale and retail items from food to luxury goods.
Four main market gateways also serve as a directory for its customers. For example, the southern gate, opposite Quach Thi Trang square, is divided among garments and textiles along with dry food products. On the opposite side, the North gate, people can find cosmetic products and colorful sweets.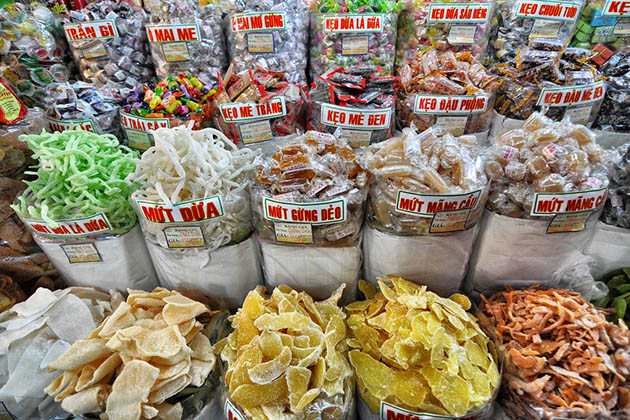 Ben Thanh has special goods and goods to serve the needs of tourists, such as souvenirs, unique clothes, silk, handicrafts, and brocades, but in addition to products, what people buy during the trip. Going to Ben Thanh market is a unique and sharp style reflecting life in Ho Chi Minh City. Ben Thanh Market has now become one of the indispensable destinations of all city tours in Ho Chi Minh City.
Ben Thanh Market Location and Opening hours
Ben Thanh is considered as a landmark when it comes to tourist destinations of Saigon. The market has one of the most important locations in District 1 – the intersection of Le Loi, Le Lai, Ham Nghi, and Tran Hung Dao, and also directly opposite Saigon bus station – so you can say that every The road leads to Ben Thanh. From Tan Son Nhat International Airport, you can take bus 152 to take you to Ben Thanh Market and cost about VND 15,000 (50 cents).
You can easily walk if you live in a neighborhood, take a bus or if you are a lazy person eating meat and bones like me, you can always call Uber / Grab or call a taxi Vinasun / Mai Linh Dia direction. They will all know where it is.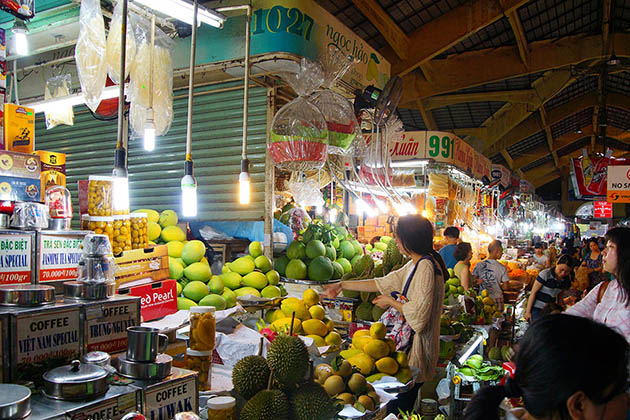 Opening hours:
Ben Thanh Market: 07:00 AM – 07:00 PM
Ben Thanh Night Market: From ) 7:00 PM
During Tet (Lunar New Year), Ben Thanh market is open, but not all stalls are open. It will also be less crowded, so for me, this is the perfect time to visit the Market Market which is also decorated with beautiful lights and flowers, so it's a remarkable sight!
Ben Thanh Market food
Walking around Ben Thanh Market, you can easily find your favorite items because it is very diverse in types and designs. However, if you only go to Ben Thanh market and shop, you cannot enjoy the interesting features of the market.
Bun Mam
Bun mam originated from the West, long ago vermicelli has become the "specialty" of Ben Thanh market that anyone should stop by to try once. This noodle soup is located on Phan Boi Chau street (East gate of Ben Thanh market) with a strong flavor, combined with many regional specialties such as snakehead fish, tiger shrimp, squid, eggplant, … and roasted pork creating a dish only to try once will remember forever.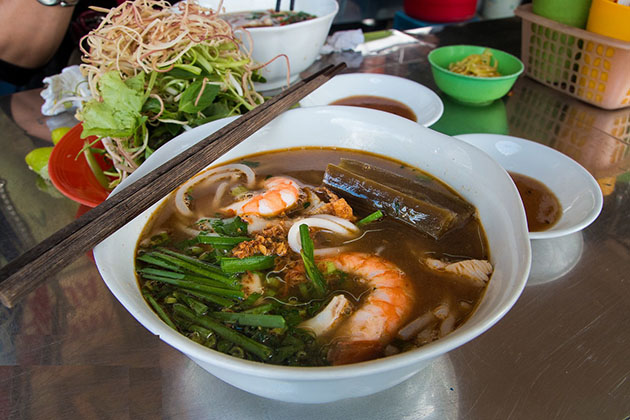 Especially, the piece of roasted pork when it is full of water is still very delicious, chewed in crisp in the mouth. Each vermicelli bowl here is usually priced at around VND 65,000.
Bun Rieu
Bun Rieu in the heart of many generations of Sai Thanh people lies on the sidewalk of Phan Chu Trinh street. Not only famous for its long-term over 30 years, attracting not only Vietnamese but also foreign tourists. Bun Rieu is an ordinary, casual breakfast and lunch of Saigon people. Ben Thanh Ben Thanh is also known for its delicious and poisonous recipe that makes famous people also eat. A full bowl costs about 40,000 VND.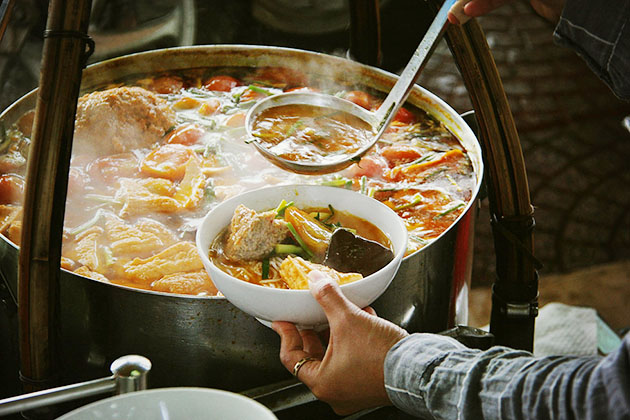 Banh Beo
The cake shop in Ben Thanh market is very popular with people here and nearby areas. A Banh Beo mixed will cost 20,000 VND with a full of Banh Beo, filtered cake, a ceiling cake, sprinkled with fried bread, rolls, shrimp, etc. Besides, the sauce is prepared according to a special recipe. Give diners a sweet and sour taste, flattering.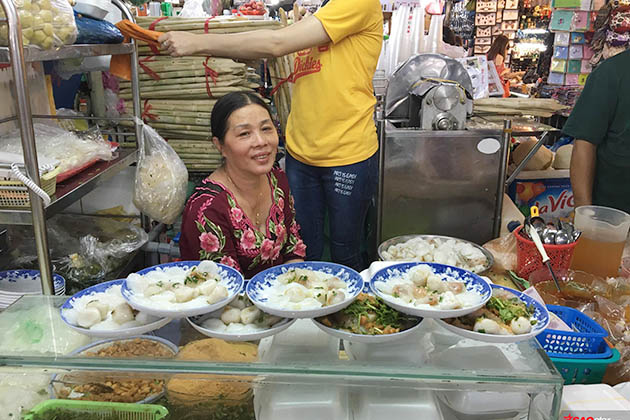 Sweet soup
Is a small shop nestled in the dining area at the gate of 7, west of Ben Thanh market, this place attracts diners right from the view with a colorful bowl of colorful tea: green of nuggets, yellow of bananas, corn, peas, white of coconut milk, taro purple, red pomegranate dewdrop … A cup of sweet soup here costs from 15,000 to 25,000 VND.
Ben Thanh Market at night
From 7 pm, the shops inside the main market closed, instead there was the appearance of the lively Ben Thanh Night Market, gathered on the side of the main market. There are also shops of handicrafts, souvenirs, clothes, shoes, and especially attractive cuisine Ben Thanh Night Market with a variety of baked goods, seafood, beer, and specialties
Going to Ben Thanh Night Market is also considered a cultural feature of Ho Chi Minh City. Every night, the market welcomes nearly 1,000 visitors to visit, eat, and shop at night. The situation of security and order, quality of goods and attitudes of sellers is also improved, satisfying the tastes of the city people and tourists.