Vam Sat Mangrove Forest Introduction
Vam Sat mangrove forest, which is situated in the heart of Can Gio district, is a natural protected area considered as the "Green Lung of Ho Chi Minh City". It has also been highly regarded as one of the World's most sustainable ecological sites by the World Tourism Organization and an international Biosphere Reserves by UNESCO in 2000. Vam Sat is a perfect destination for people wishing to enjoy the pristine natural landscape and explore daily life along the water. Being an ideal eco-tourism destination with a total area of 75.740 ha and more than 200 species of fauna and 52 species of flora, Vam Sat is the largest rehabilitated mangrove forest in Vietnam. A journey to Vam Sat will promisingly bring relaxation and much pleasure for all tourists.
Top Things to Do & See When Visit Vam Sat Mangrove Forest
Taking a step into this famous destination, visitors will feel like being released from the chaos, bustle and stuffy space of the large city. Tourists will have chances to take pleasure in a natural landscape and enjoy the very fresh pure air. This forest is so primitive with a great number of mangroves, and different kinds of other creatures. The mangroves grow in series with extremely large roots knit together. When visitors explore this green forest, you can see a lot of wild monkeys jumping out suddenly. During the tour, tourists will also have chances to feed and take photos with hundreds of long-tailed monkeys and other wild animals such as wild boars, deer, etc. Therefore, Vam Sat mangrove forest is an ideal destination for people to reconnect with nature, relaxed exploration and wildlife-spotting.
Bat Lagoon
After discovering the characteristic and natural landscape of the Vam Sat mangrove forest, visitors should take a canoe trip along the extensive river to go to the area of large fruit bats – Đầm Dơi (Bat Lagoon). This is an amazing colony of hundreds of large flying bats sleeping all day long.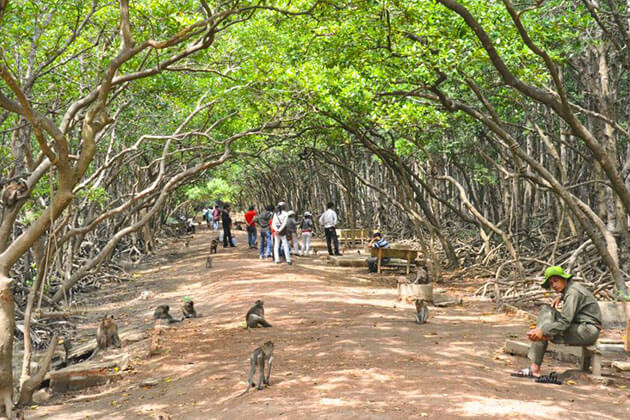 Bird Sanctuary
After that, a short trek will take visitors to the heart of the forest: Tràm Chim (Bird Sanctuary). Covering an area of 602.5 ha, it is home to 26 different species of birds including 11 water birds.
Tang Bong Watchtower
Head straight to the Tang Bong tower, which is one of the most outstanding spots of the journey, travelers can observe thousands of birds flying around and making their nets such as storks, herons, and cranes, etc. With the height of 26 meters above ground, top of this watchtower is a perfect view to enjoy a great panorama of whole forest landscapes around.
The Natural Crocodile Lake
Coming to Vam Sat mangrove forest, tourists should not miss the natural crocodile lake. It becomes an attractive destination for many tourists to experience thrilling crocodile fishing. Besides, it will be exciting to learn and try to catch mudskippers and spotted gobies.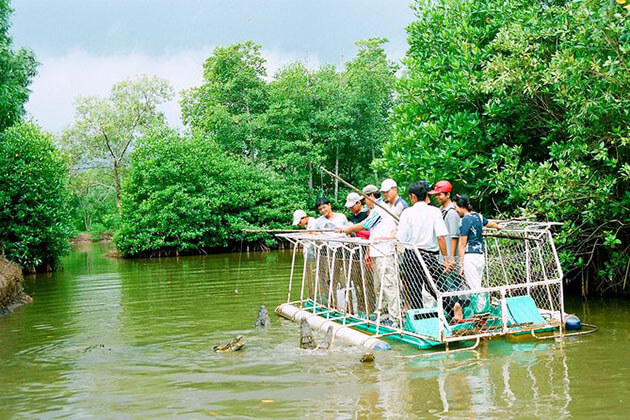 Other Activities in Vam Sat Mangrove Forest
Nowadays, there are more and more interesting activities as well as new services to fulfill nature lovers' expectation such as bird-watching, night fishing, biking through forest, camping, catching crabs, rowing "Xuồng ba lá" (a simple kind of boat made by three planks linking together), walking on "Cầu khỉ" (a typical bridge made of bamboo), etc.
Especially, the local people here also leave a strong impression on tourists. They are so friendly, kind, and welcome visitors warmly. They even offer tourists who visit this peaceful land a traditional meal at their home.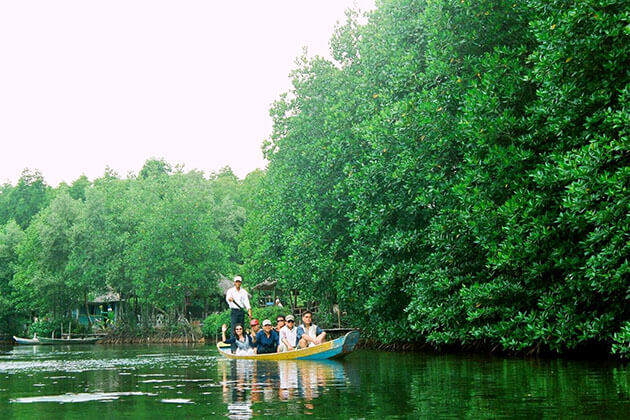 How to Get Vam Sat Mangrove Forest
This mangrove forest is only about 50 kilometers far from the center of Ho Chi Minh city, so it is easily accessible by high-speed boat or bus in approximately one and a half hours. Depart from Bình Khánh port (between Nhà Bè district and Can Gio district), continue going for one hour by bus to Dần Xây bridge, visitors can see Vam Sat mangrove forest.