A quite new travel bus in Ho Chi Minh City (Saigon) has inspired many tourists to come to the biggest city of Vietnam. The hop-on-hop-off allows travelers to discover Saigon in their own paces. The iconic sites will be included in this Ho Chi Minh City tour. You can visit, go shopping, enjoying Saigon's cuisine without being afraid of affecting other passengers. The following tour highlights will explain the reason why the hop-on-hop-off tours are supposed as one of the amazing experiences you have got.
Ho Chi Minh Hop On Hop Off Tour Itinerary
Departures: every 30 minutes from 8 a.m to 5 p.m everyday (lunch break from 12:30pm to 1:00pm).
BUS LINE 1: City Central Tour Reason
The bus station in 23/9 park (Pham Ngu Lao street – Ton That Tung street)
Ben Thanh market
Skydeck
Bach Dang pier
Ho Chi Minh city hall – Saigon opera house – Nguyen Hue walking street
Independence Palace
Notre-Dame Cathedral Basilica of Saigon – Saigon central post office
Museum of Vietnamese History- The zoo
War remnants museum
BUS LINE 2: China town – Cho Lon Tour
The bus station in 23/9 park (Pham Ngu Lao street – Ton That Tung street)
Ba Thien Hau temple – Nghia An Hoi Quan pagoda- Cholon mosque
Hai Thuong Lan Ong oriental medicine street
Hai Thuong Lan Ong – the street selling Tet decorative items
Saint Francis Xavier Church – Soai Ky Lam fabric market
Binh Tay market.
An Extra Ho Chi Minh City Hop On Hop Off Tour By Night Itinerary
The bus station in 23/9 park (Pham Ngu Lao street – Ton That Tung street)
Ben Thanh market – sky deck
Bach Dang pier
Nguyen Hue walking street
Saigon opera house
Independence Palace
Notre-Dame Cathedral Basilica of Saigon
Saigon zoo and botanical gardens + history museum
War remnants museum
Cancellation Charges
Cancellation more than 3 days before arrival: 100% booking refund.
Cancellation 1-2 days prior to arrival – no refund.
Ho Chi Minh City Hop On Hop Off Sightseeing Bus 
You will have ample opportunities to enjoy breathtaking views from the buses. Surely, you can develop a sense of enjoyment when taking Ho Chi Minh City Hop On Hop Off bus tour simply because of its continent and affordability. It is necessary for you to know more about the following places when taking the hop on hop off tour :
23/9 Park at Pham Ngu Lao Street (Backpackers area)
Named after the country's national hero, this street is famous for being the backpacker district of the city. Travelers from all over the world flock to the streets, local markets, bars, and cafes found in the area. It is an absolutely amazing experience.
Ben Thanh Market (bus stop number 120 on Ham Nghi street)
If you are the kind of person who is looking for a little less tranquil you definitely check out Ben Thanh Market which is one of the largest markets in the city. It is the place where you can find a wide variety of local crafts, souvenirs, local delicacies, and more. It is also a significant historical landmark as one of the oldest surviving structures in Ho Chi Minh City.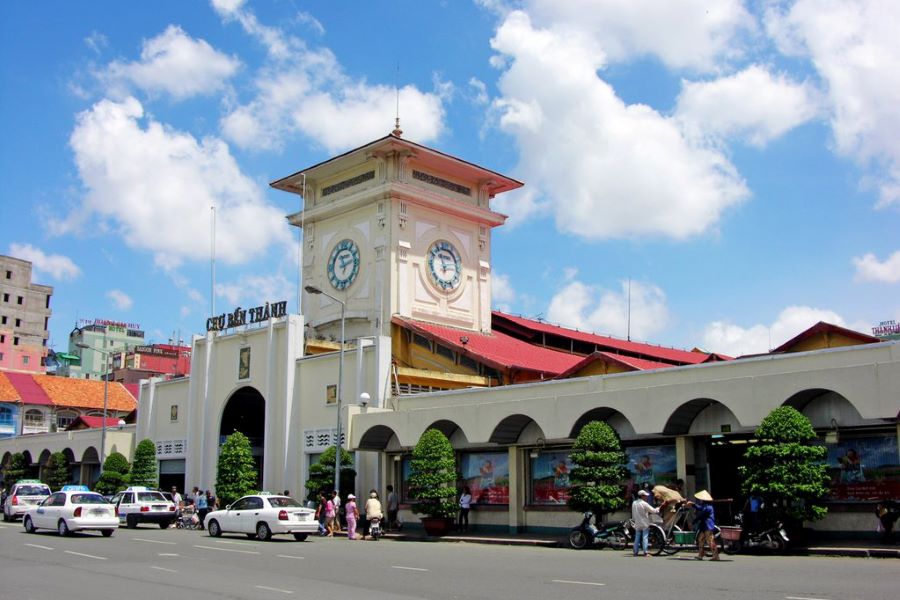 Saigon Skydeck
Located in Bitexco Financial Tower, one of the tallest buildings in Vietnam, the observation deck offers sweeping views of the city from 178 meters above the ground. Visitors have the opportunity to visit Saigon Skydeck and enjoy full sight of the Ho Chi Minh City, Saigon River, and a wide range of stunning views of the city.
Bach Dang Pier
A perfect resting spot for both locals and tourists. The pier area is quite a simple park by the harbor, where you can watch the beautiful cruise on the river. If you visit this place in the late afternoon, it will be cool and windy, and you can see the sky turned dark and the city light up. There's a big statue on the opposite road where you can take a picture.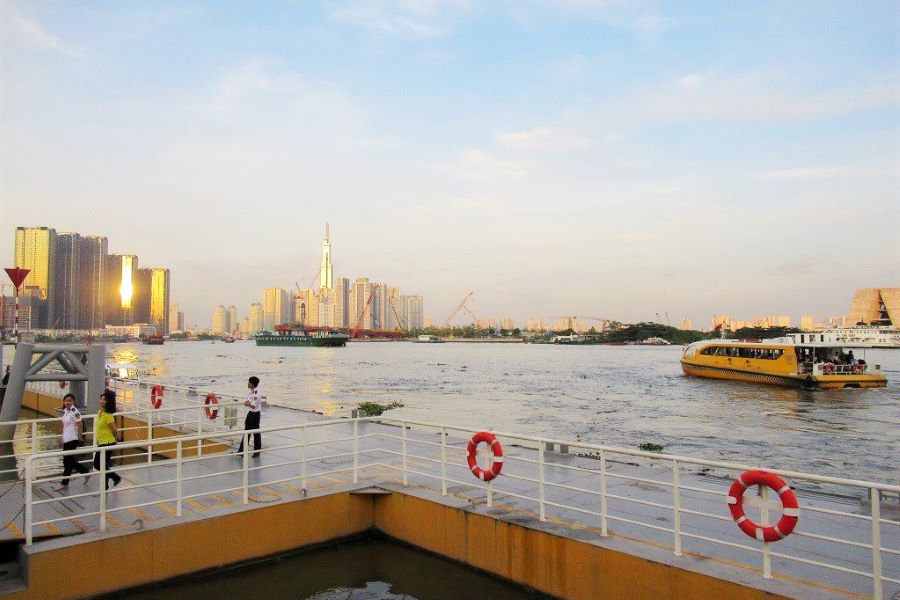 City Hall – Opera House, Nguyen Hue Street
City Hall Opera House was designed by a French architect and modeled on City Hall in Paris. Visitors will have a chance to explore new things because of its unique architecture including the main hall, rectangular wings, and more. The theater was not solely used for entertainment purposes as it was formerly used as the Lower House assembly of Southern Vietnam from the period of time between 1956 and 1975.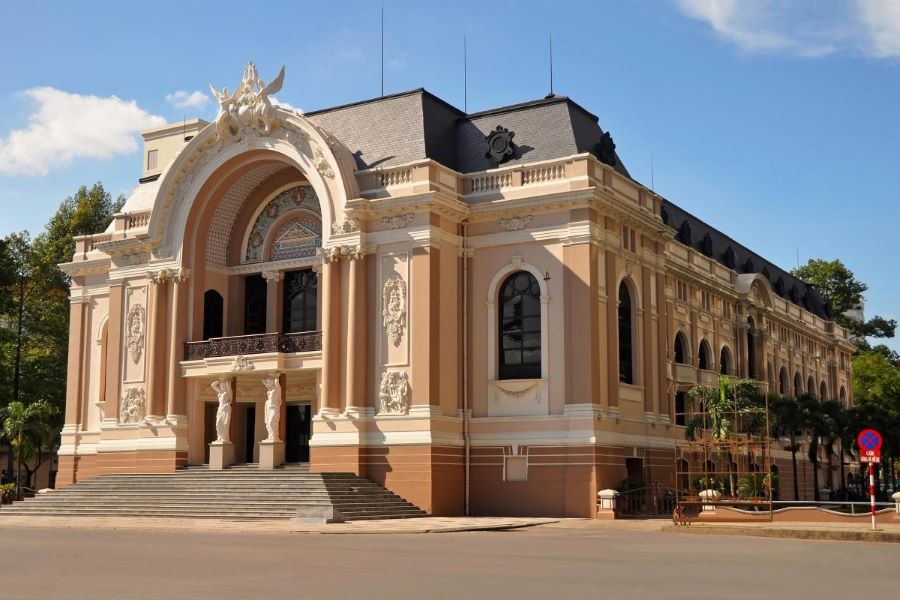 Independence Palace
Independence Palace also is known as the Reunification Palace, this historic structure was used as the residence of the President of South Vietnam during the war, is a landmark in Ho Chi Minh. It is also the site where the Vietnam War ended during the fall of Saigon when the Northern army raided the site with tanks.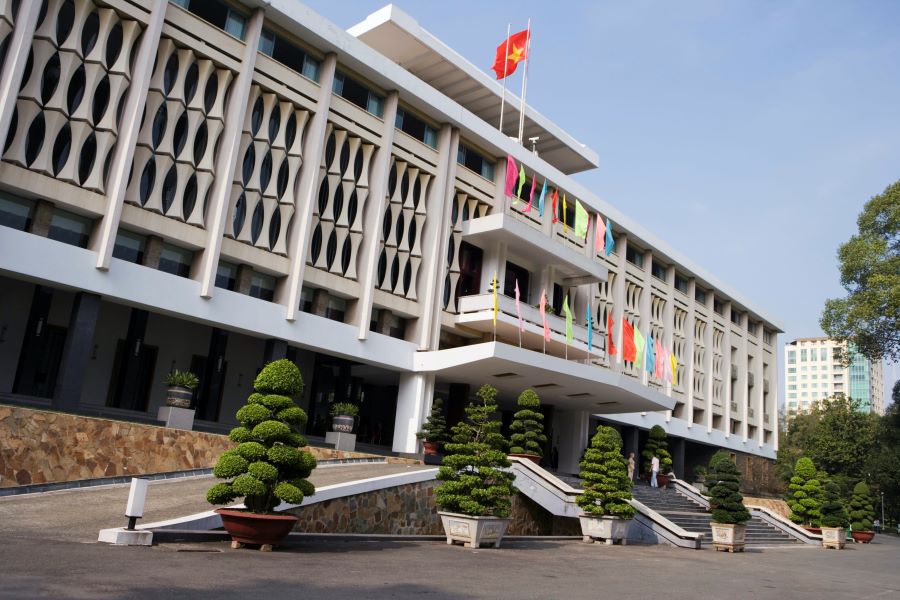 Notre Dame Cathedral – Central Post Office
Built from 1863 to 1880, the cathedral has been one of the most recognizable landmarks in Ho Chi Minh. It features 2 bell towers, each with a height of 58 meters. Perhaps the most notable part of the cathedral is the statue of Our Lady of Peace which was believed to have shed tears back in October 2005.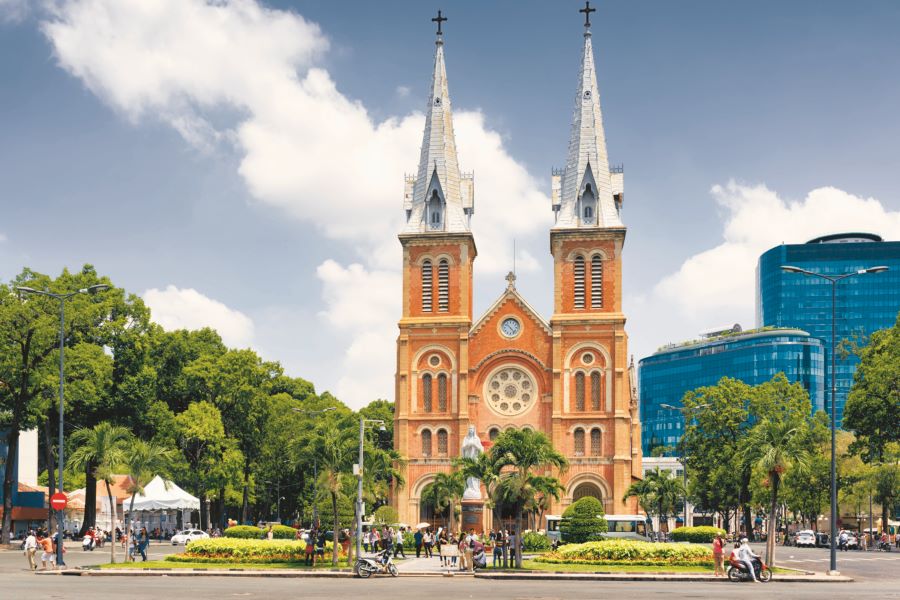 History Museum – Saigon Zoo
The Museum of Vietnamese History features an impressive collection of various artifacts and relics from the country's past dating as far back as the prehistoric period 500,000 years ago. Moreover, the museum includes a small water puppet theatre and a historical research library.
War Remnants Museum
This specialized museum is operated by the Vietnamese government and houses various exhibits detailing the previous wars the country had faced. There are several differently-themed rooms showing events from the Vietnam War and the First Indochina War. This museum currently one of the most reputable museums in Vietnam which makes a strong impression on millions of visitors every year.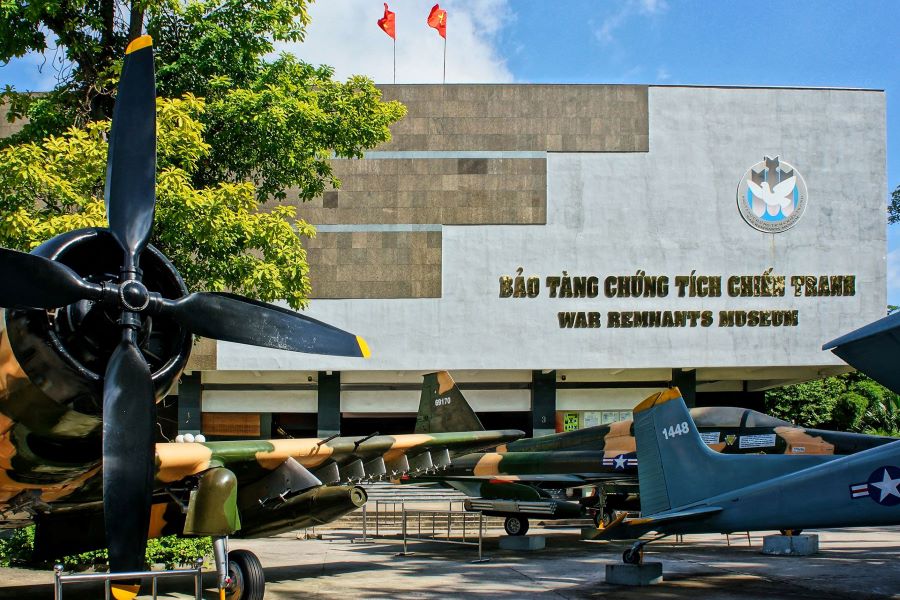 Highlights Of A Ho Chi Minh City Hop On Hop Off Tour
Visiting the outstanding selected tourist attractions in Ho Chi Minh City.
No more worrying about overcharge for a transportation fee
Actively picking or skipping stops relying on an available and fixed schedule.
Enjoying the latest and modern open-top bus with air-conditioning, Wi-Fi, automatic audio commentary in 7 different languages including English, China,
French, Bahasa Indonesia & Malaysia, Germany, Russia, Vietnamese. A tour assistant is also available onboard.
Buying a ticket either online or at a travel agency.
Tourists using the Ho Chi Minh hop on hop off bus ticket have a discount at Sky deck destination.