If you want to get away from the bustle of the vibrant city, enjoy the traditional architecture, lasting religious values, and fresh tranquil atmosphere, Giac Lam Pagoda, one of the must-see attractions in Ho Chi Minh city is one of the best choices. Located at 118 Lac Long Quan Street, Ward 10, Tan Binh District, this 250-year-old pagoda becomes a spiritual center for Buddhists, advocates as well as millions of domestic and international tourists to deeply worship, research, and practice their belief. In 1988, Giac Lam Pagoda was officially regarded as an important historical site by the Vietnamese Department of Culture.
Giac Lam Pagoda History
Giac Lam Pagoda, which is one of the most ancient pagodas in Ho Chi Minh City, reflects an important piece of the city's history. Originally, it was built in the spring of 1744 by Ly Thuy Long, as a gathering place during Lunar New Year. This unique pagoda has undergone 3 times of restoration as well as reconstruction in 1798-1804, 1906-1909 and 1999 since its establishment. The name "Giac Lam" was given to this pagoda after the arrival of Monk Thich Lam Quang in 1772. Nowadays, local people also call it by many other names such as Cam Son Pagoda, Son Can Pagoda or Cam Dem Pagoda.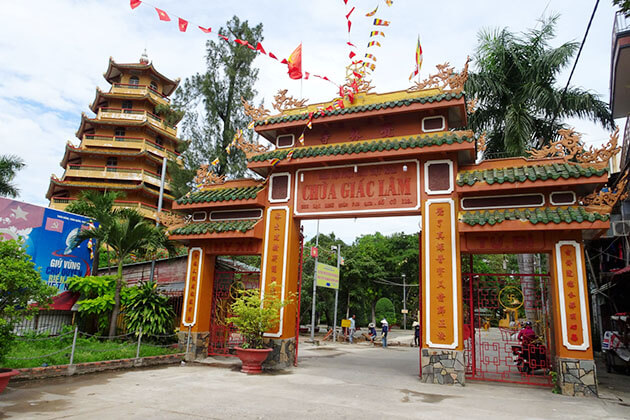 Typical Architecture of Giac Lam Pagoda
Thanks to its unique natural scenery and charming architecture, Giac Lam pagoda is considered as one of the most fascinating attractions in the city. Visitors can easily recognize this pagoda, due to its impressive height (32 meters with 7 storeys) and the spacious, garden-like grounds. In front of the pagoda stands an enormous looming Bodhi tree – a gift from Sri Lankan great monk Narada in 1953. Once set foot on Giac Lam Pagoda, visitors should not miss the hexagon-shaped 7 storey stupa. It was built in 1970 under architect Vinh Hoang's drawings. Each of the floors in the stupa represents a great number of relics of the Buddha. Today, this east-facing stupa is considered as the tallest Buddhist tower in the city. Visitors are allowed to climb up to the top floor for panoramic views of the whole city. Next to the tree, there are some mythical dragon statues as guardians and a sparkling white statue of the Goddess of Mercy (Quan The Am Bo Tat) on a fantastic lotus blossom.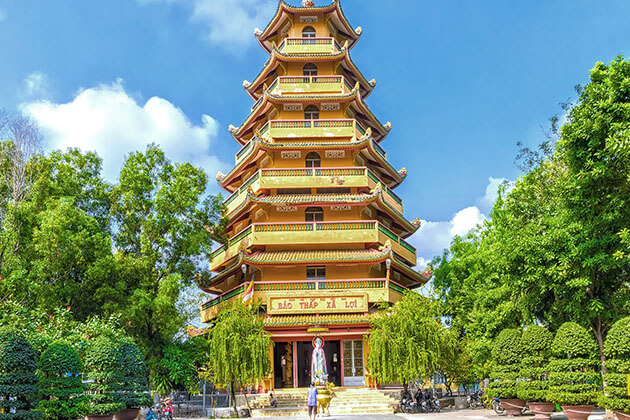 The special highlight of the pagoda is its typical architecture of southern pagodas with its rectangular shape like the letter "Tam" (Three) in Kanji. It means that this richly decorated pagoda consists of three main buildings, namely the ceremonial hall, the dharma preaching hall, and the meal hall. The first one is very large with numerous huge wooden pillars engraved sophisticatedly with red-and-gold Chinese meaningful sentences or some decorative traditional topics such as 9 dragons, sacred animals, etc. It seems a big pity to ignore the great statue of Amitabha Buddha – an influential figure in the Dharma. The wide sanctum of the pagoda is built in the traditional folk style with a perfect combination of 1 compartment, 2 wings, and 4 main pillars. Besides, 118 historic statues made of wood, bronze, and cement can leave you a strong impression about the evolution of Vietnamese art throughout centuries.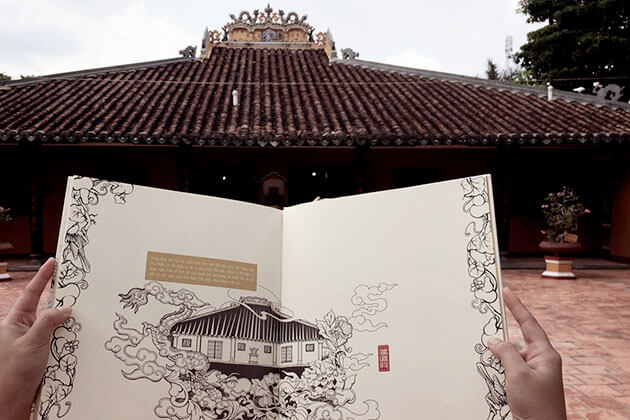 Giac Lam pagoda is not only famous for numerous rare antique artifacts preserved over 200 years, but the complex of towers built in the early 19th century also caught the most attention of tourists. The pagoda currently is comprised of 38 multi-sized towers. Visitors coming here can enjoy the uniqueness and perfection of the most vivid witness for the development of Buddhism in the South through history. Their beauty bases on the specific architectural style of ethnic groups living in the South (Khmer, Vietnamese, Cham, etc.) blending with Western elements (France) and the Oriental (China, India).
Once stepping through the gates, visitors will instantly be comfortable when being welcomed by the friendly monks at Giac Lam Pagoda. You can have a lucky chance to enjoy the chanting ceremony as well as pray service. Especially, a famous monk in the pagoda always takes responsibility for ministering to the sick, the old, and the sufferer.
How to Get Giac Lam Pagoda
About 5.8 kilometers from downtown Ho Chi Minh City, you can reach Giac Lam Pagoda in many ways: bike, motorbike or taxi. You can also travel by bus. You should catch bus No.27 at Ben Thanh Bus Station and stop at the crossroad Lac Long Quan – Au Co.
Being a national-level cultural-historical destination, Giac Lam Pagoda is an ideal place to keep the mind in peace; explore unique architectural styles; enjoy Vietnamese history, culture, and religion. Don't hesitate, the journey of discovering Giac Lam Pagoda will become memorable for you!