There stand a series of obvious things to do in Saigon at Christmas, largely because Christmas just isn't as big a deal here as it is in the Western world. This is hardly surprising given the relatively low population of Christians in Vietnam compared to the population as a whole, and while the West drives itself slightly insane with Christmas shopping frenzies and Christmas pudding cooking, Vietnam tends to be no crazier than it is all year round.
But this doesn't mean that Christmas isn't celebrated at all. The Vietnamese are always ready to have fun, and Christmas is a great chance to get outside and celebrate! Saigon lights up at Christmas time with thousands of string lights and Christmas decorations, and the city fills with hundreds of people who are reveling in the chance to be festive.
So how can you best enjoy this Christmas excitement?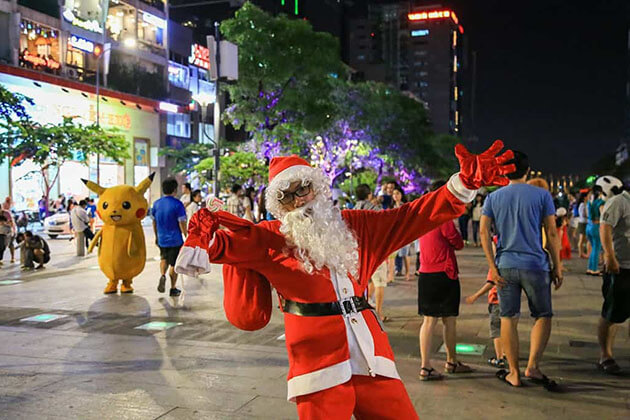 Embrace Your Travel Time Right at Christmas in Saigon
Christmas Eve and Christmas Day are two days of the year when being a shameless, photo-taking, gawking tourist is not only acceptable but almost mandatory
Ho Chi Minh City is beautiful at this time of year, bedecked with strings of lights and dazzling banners, and dotted with the occasional gaudy Santa or glaring Christmas tree. It can be hard to tell which decorations are for Christmas and which are for Tet, but at the end of the day it doesn't really matter
Christmas Day, like Halloween and all other Western celebrations, tends to bring masses of congestion to the already-bustling Saigon, so walking is the best option. Get outside with your camera, or just your eyes, and join the city in being happy.
Be Romantic on the River in Saigon
Ho Chi Minh City is beautiful all year round, with its endlessly buzzing streets and thousands of twinkling lights, but during the festive season the city comes alive with decorations. However, sometimes the streets can be a little overwhelming!
Why not get away from the bustle of the city streets and onto the ancient, lazy Saigon River? The river itself, though definitely not as clear and blue as it once was, is a beautiful reminder of Saigon's past and present, and a romantic cruise on one of Artisan Cruises luxurious barges is a great standpoint from which to watch the city in all its finery.
Sit in the Sky and Watch the "Ants"
Another way to get into Saigon's Christmas festivities without getting lost under the feet of revellers is to sit at one of the city's many rooftop bars and watch the ants. From the famous Chill Skybar and its incredible panoramic views to the homely rooftop at The View on Bui Vien, rooftop bars in general provide a great angle for watching people with a cool drink in hand. Check out for our piece on Saigon's 11 best rooftop bars for a great selection this December!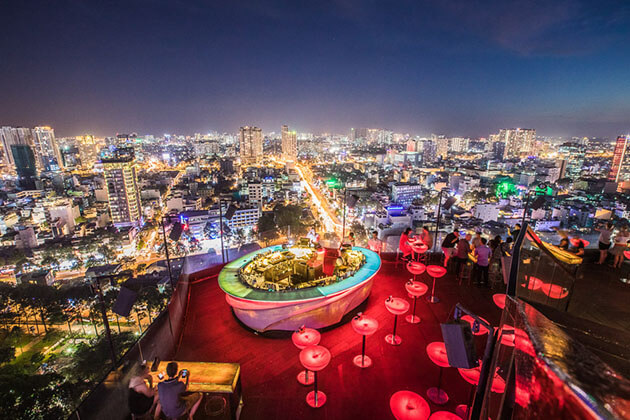 Go to the Church at Christmas
Christmas is a time for lights, smiles, family and merriment with communities all round the world, but for Christians it holds a whole other significance. The beautiful Notre Dame Cathedral in District 1 is a well-known historical icon of Ho Chi Minh City, but it is also a functioning Catholic Church and every Christmas it holds truly special services for its Christian congregation. For insight into Christianity in Saigon, or for a glimpse of the peaceful, religious side of this international celebration, visit the Saigon Notre Dame Cathedral this Christmas.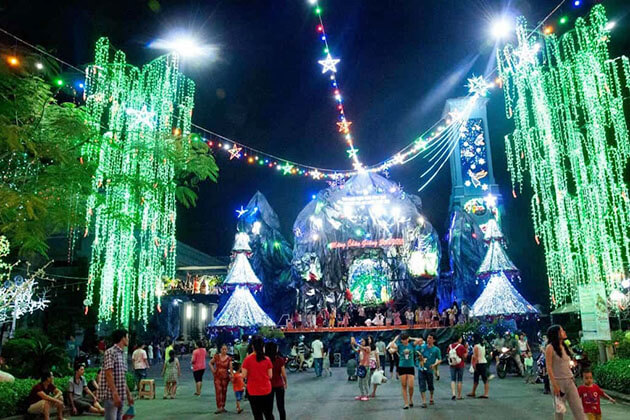 Indulge in Glorious Cake at Christmas Night in Saigon
As a previous French colony, Vietnam is known for its delicious French-influenced baked goods, of which the Bûche de Noël is a Christmas favourite. Why not buy yourself something sweet to enjoy with family and friends while you marvel at how two such different cultures could have been brought so very close?
Let's Selfie – Capture Stunning Christmas in Ho Chi Minh City
I saw a motorbike yesterday with two parents and one small child, all wearing matching, bright red and white Santa costumes, around District 1. This made me think – what if we all dressed up and took selfies? Selfies are ridiculously popular among the young Saigonese, as I'm sure you are aware, and dressing up is equally as popular! Join the slightly embarrassing Saigonese festivities this Christmas in Ho Chi Minh City and slap on your red Santa hat, or just find someone in a Santa suit and ask them for a picture.
Escape from Saigon for a refresh Christmas in Vietnam
Is Ho Chi Minh City too busy for you at Christmas time? Do you crave the beach, the sea, and nice cool glass of something that screams 'I-am-classy-and-very-relaxed!'? Well, why not get away to beautiful Nha Trang this Christmas for a long weekend on the soft sand of Nha Trang Beach.
Luxurious Novotel Hotel Nha Trang is holding a range of special offers this December from their delicious Christmas buffet and drinks to a range of discount packages at the hotel. Stay with Novotel at famous Nha Trang Beach this festive season, relax in the shade, eat your fill and watch the sun fall behind the deep East Sea.
Take a Dip inside Ho Chi Minh City at Christmas
Keen for a bit of a getaway but looking for something closer to home? Van Thanh Pool in Binh Thanh District, nestled in the palm of a beautiful quiet park and with an only VND60,000 entry, is a great place to relax this Christmas. A resort style pool, the deckchairs and palm trees are surrounded by green lawns and a random collection of karaoke booths, restaurants, art galleries and other miscellaneous attractions that are seriously wonderful, simply because they highlight how bizarre Saigon really is.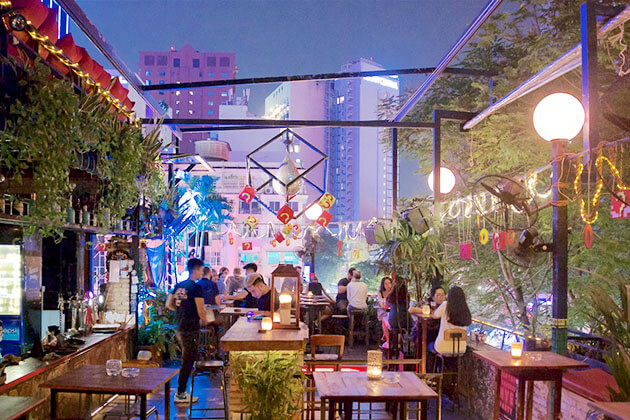 Experience Saigon as a Local
Finally, why not make some friends this Christmas? Park 23/9 in District 1 is known for its gaggles of students looking to practice their English with native speakers. They roam the park, pouncing on unsuspecting foreigners, and often end up making friends with their victims and taking them for a beer. If you are a native speaker, go to the park this Christmas and wait for a group of festive students to befriend, before wandering off to the backpacker strip for a ridiculous amount of laughter, beers and dried squid.