Bui Vien Walking Street, also known as Western Street, is a bustling street in District 1, Ho Chi Minh City where lots of Western tourists choose to stay and relax. When everything is coming to an end, the street becomes more and more bustling. It is a famous entertainment destination not only for foreigners but also for young locals. You can find a wide range of inexpensive restaurants, bars, souvenir shops. Below are top things to do in Bui Vien Walking Street that are specially collected for those who passionate the excitement.
Things to Do in Bui Vien Walking Street
Exciting Entertainment Activities in Bui Vien Walking Street
Bui Vien Walking Street will ban vehicles for a length of about 500m, from 7:00 pm to 2:00 am on Saturday and Sunday to serve entertainment activities with food stalls, games, street performances… Visitors will enjoy "four free": toilets; WIFI; provide information, support visitors and "free smiles".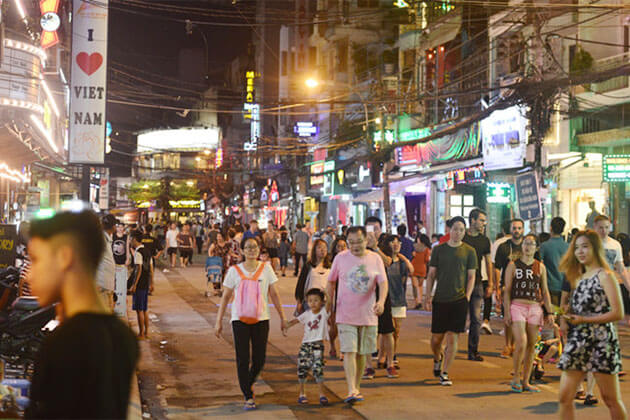 Many art performances from the sidewalks to the streets attract a lot of visitors, creating a very lively atmosphere. Folk games such as mandarin square capturing, skip rope… also attract the attention of foreign tourists. Here, you also have the chance to enjoy the traditional as well as modern music.
Street Foods & Coffee in the Street
The variety of street food is the reason why Bui Vien Walking Street gets so much love from locals and tourists. The price is so reasonable, costs about US$1 per dish. Here is a list of street food that you should try:
• Coconut sticky rice ice cream (155a Bui Vien) – The perfect blend for hot days
• Smoothies (Lane 84 Bui Vien) – Fresh tropical fruits
• Tofu (the street vendor next to 169 Bui Vien) – A bowl of tofu includes tofu, jelly balls, coconut milk, sugar juice
• BBQ vendors (Quan BBQ 63 Bui Vien) – Grilled chicken, pork or seafood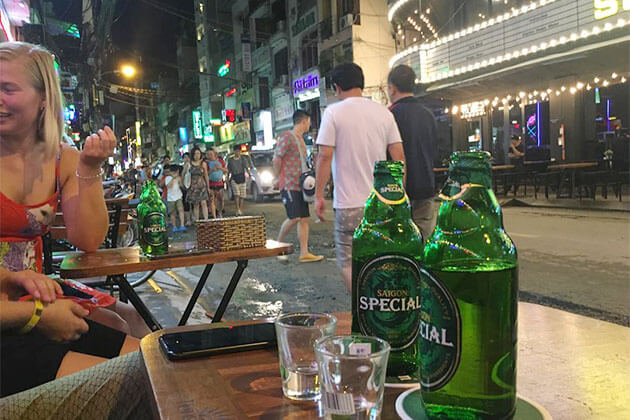 Besides, you also see many famous coffee shops from both international and local brands like Starbucks, Bobby Brew or Phuc Long, Trung Nguyen. However, let's immerse yourself in small coffee shops to feel the peaceful atmosphere in small corners. The list below consists of some special coffee shops that bring you peaceful and strongly nostalgic feelings:
• Goc Hanoi (Hanoi corner) (165/3 Bui Vien) – Hanoian owner, famous coffee egg and yellow calendula vases will remind you to the charming ambiance of Hanoi
• Nha Co 3 Lau (The house has 3 floors) (155 Bui Vien) – Do whatever you want: sleep, read books, play guitar…
• Ut Lanh Café (283/37 Pham Ngu Lao) – Get a ticket to 1990s in Vietnam
Fancy Restaurants & Bars in Bui Vien Walking Street
Here you can find tasty dishes from all over the world, from traditional Vietnamese food to Western, Korean, Japanese or even Indian cuisine. These are some great-quality restaurants that offer various dishes at a reasonable price:
• Five Oysters (234 Bui Vien) – Authentic Vietnamese cuisine
• Pepperonis (111 Bui Vien) – Italian food
• Tom Yum Yum (207 Bui Vien) – Thai cuisine
• La Casa (40/1 Bui Vien) – Mexican, Spanish, Thai, Italian dishes
• Mumtaz (226 Bui Vien) – Indian food
On Bui Vien Walking Street you can also find many bars and pubs that are the most attractive to foreigners as well as young locals. Below is a list of four must-visit bars & pubs for your dynamic experience:
• Boheme Pub (28/2A Bui Vien) – Not very large space, excellent music
• Sahara Beer Club (111-113 Bui Vien) – Large space, green-themed design, professional bartenders, DJ performance every night
• The Hideaway Bar (40/15 Bui Vien) – Rock & Ballad performance
Besides, there are lots of souvenir shops that sell affordable gifts ranging from paintings, statues to clothing and bags.
How to get Bui Vien Walking Street
Located in District 1 – the heart of Ho Chi Minh City, it is convenient for tourists to get to Bui Vien Walking Street. It is about 1km from Ben Thanh Market, you can completely get there on foot. It costs around 20.000 VND if you take a taxi or grab. To go there easier, you should use google map!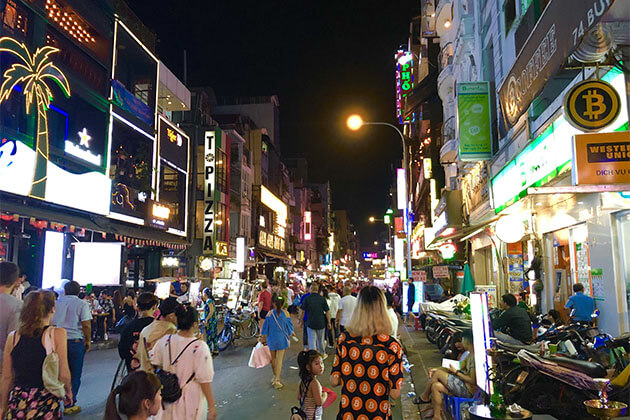 Some Essential Tips to Keep Safe!
Although Vietnam is one of the safe countries for travelers, there still appear some unexpected circumstances. Thus, here are some tips for your wonderful travel time in Vietnam:
• Keep your valuables carefully!
• Bargain before buying anything
• Watch your drinks, especially in the bars or pubs
• Ignore the sellers is the best way to say no
• Marijuana is illegal but people smoke it freely