Saigon culinary culture is known as "a mixed hotpot", which is the convergence of Eastern and Western cultures, ancient and modern ones… Visitors can find delicious dishes everywhere, from small stalls to big and luxurious restaurants. Below are 7 must-try restaurants in Ho Chi Minh City that you should try in order to enjoy the amazing food culture of Saigon – "The Pearl of Far-East".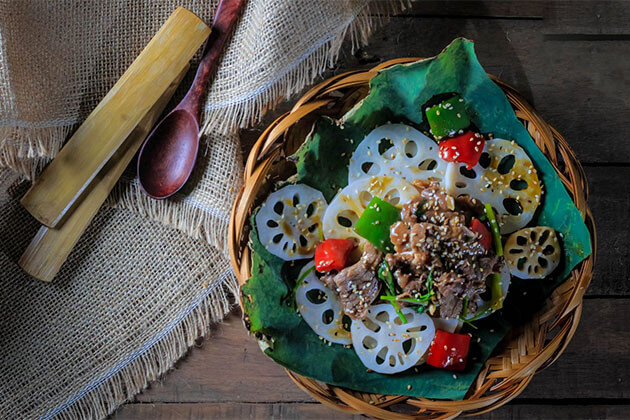 Vietnamese Cuisine Restaurants
Cuc Gach Quan
Cuc Gach Quan (English name – "Brick Restaurant") sheltered inside an old French colonial villa that has been restored and designed by an architect named Tran Binh. This restaurant is known as one of the best 10 places to eat when traveling to Ho Chi Minh City. It becomes more famous after two well-known Hollywood movie stars Angelina Jolie and Brad Pitt dined here when paying a visit to Ho Chi Minh City.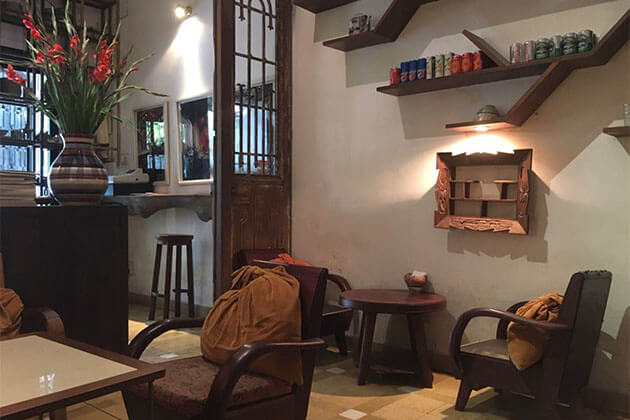 The special menu and the cozy atmosphere at Cuc Gach Quan are suitable for dinners with close friends or beloved family. The restaurant serves Vietnamese traditional homemade dishes. The antique design combined with plants and a little pond in the middle of the villa creates a friendly environment.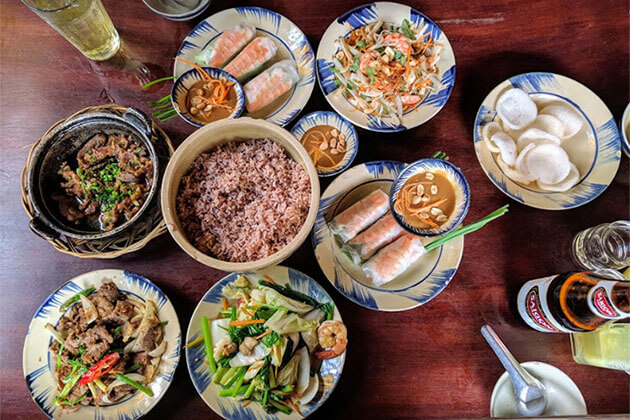 Especially, 80% of vegetables that Cuc Gach is using are grown on its own at Cuc Gach Out-of-Town. That solves the problem of food safety and hygiene in Vietnam.
Address: 10 Dang Tat, Tan Dinh Ward, District 1, Ho Chi Minh City
Opening hours: 9:00 am – 11:00 pm, daily
Price: From 250.000 VND
Hum Vegetarian, Lounge & Restaurant
Hum Vegetarian, Lounge & Restaurant serves the excellent Vietnamese-inspired vegetarian cuisine. Vegetarian eating is a common practice followed by Buddhist in Vietnam. However, if you are not a vegetarian, you can still try vegetarian food and this tranquil restaurant extremely deserves your attention.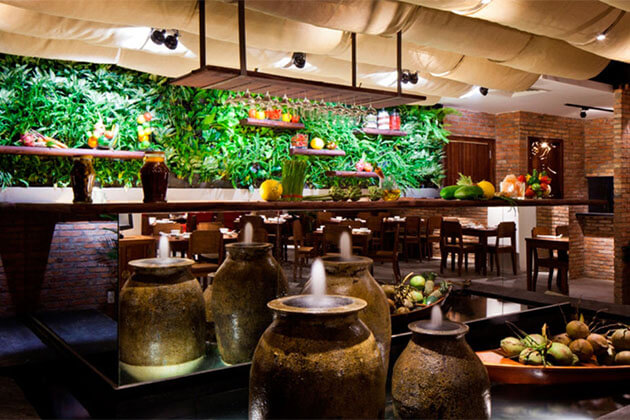 This is not only a place for you to experience the unique vegetarian dishes, but also a place to nourish the soul with the peaceful space. Special dishes and drinks are prepared from the freshest ingredients that are carefully selected for your health-giving benefits.
Inspired by traditional Vietnamese cuisine combined with other typical flavors in Southeast Asia region, delicacies are created based on the harmonious combination of tastes: salty – sweet – sour – spicy with a variety of native spices and sauces.
Menu at Hum Vegetarian Lounge & Restaurants includes many special dishes such as: lotus tuber in sesame salt, summer rolls, spinach fried rice, braised heart of palm, saffron flower soup… and a variety of salads like banana blossom salad, button mushroom salad…
Address: 32 Vo Van Tan, Ward 6, District 3, Ho Chi Minh City
Opening hours: 10:00 am – 10:00 pm, daily
Price: From 100.000 VND
Den Long Quan – "Lantern Restaurant"
Being one of the most famous restaurants in District 1, Ho Chi Minh City, Den Long Quan specializes in serving attractive and delicious Vietnamese dishes with the dedicated service style. The menu includes a lot of dishes with the suitable price. When coming to Den Long Quan, visitors will have the chance to experience the old flavors that we think have been forgotten in modern society.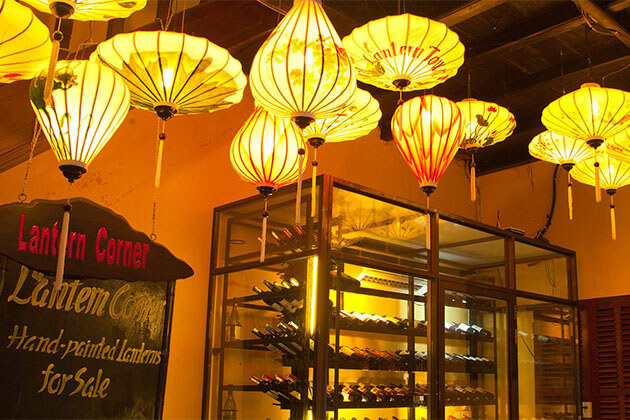 Address: 130 Nguyen Trai Street, District 1, Ho Chi Minh City
Opening hours: 11:00 am – 10:00 pm, daily
Price: 30.000 – 300.000 VND
Grill and Hotpot Restaurants
Pachi Pachi Restaurant
With typical dishes of "the country of Cherry Blossoms" and the cozy space, Pachi Pachi restaurant is an extremely familiar destination for Saigon people. Pachi Pachi restaurant gives diners a completely new experience by the special marination as well as the delicious flavors.
Looking at the menu, this restaurant brings diners many choices with various ingredients: baked beef, fish, seafood, crocodile, chicken… These ingredients are carefully selected to ensure freshness for customers. Besides the freshness, the dishes at Pachi Pachi restaurant are marinated with a variety of Japanese branded sauces such as Teriyaki, BBQ sauce, spicy sauce, light sweet sauce. .. This helps diners get interesting taste experiences.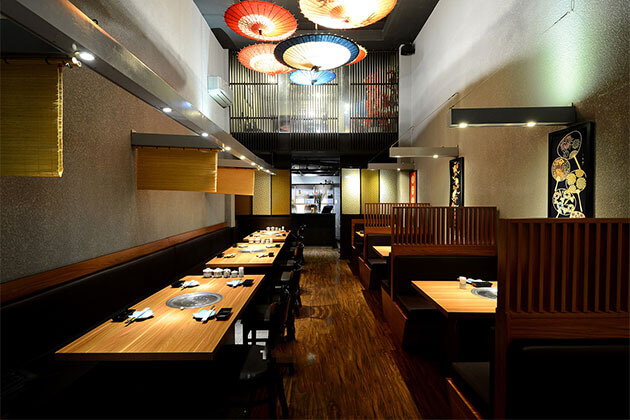 Address: 52 Mac Dinh Chi, Da Kao Ward, District 1, Ho Chi Minh City
Opening hours: 10:30 am – 11:00 pm
Price: about 180.000 – 250.000 VND/ person
King BBQ
Coming to King BBQ restaurant, diners will have chance to experience the world of exquisite and colorful Korean cuisine with over 200 dishes made from fresh and safe ingredients with exclusive recipes. You can optionally choose to eat buffet style or order to match your needs.
The most special thing is that you will enjoy a variety of Korean-style grilled dishes. King BBQ Buffet-branded dishes must be mentioned as: King Rib, Inner Tender, Premium Boneless Ribs, Japanese Eel, Yukichan Soup, Ribs, Beef, Shrimp, Basa fish…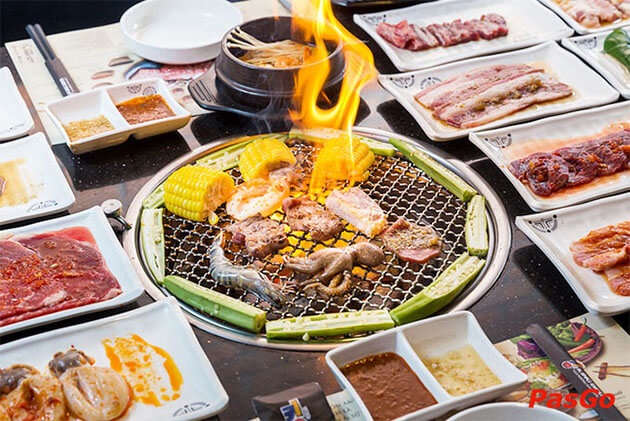 Especially, King Rib is the best-quality rib, imported from the US and carefully chosen. The dish of beef ribs is marinated with spices and then grilled. Diners will taste the slight aroma of spices, the natural sweetness from the beef mixed with the taste of garlic as well as chili. It will fully awake your senses.
Address:
94 Suong Nguyet Anh, Ben Thah Ward, District 1, Ho Chi Minh City
38 Mac Dinh Chi, Da Kao Ward, District 1, Ho Chi Minh City
716 Su Van Hanh, Ward 12, District 10, HCMC
814A Nguyen Van Qua, Dong Hung Thuan Ward, District 12, Ho Chi Minh City
16 Quang Trung, Ward 10, Go Vap District, Ho Chi Minh City
Vincom Thu Duc, 3rd floor, Thu Duc District, HCMC
205 Phan Xich Long, Ward 2, Phu Nhuan District, HCMC
737 Cach Mang Thang 8, Ward 6, Tan Binh District
Opening hours: 10:00 am – 11:00 pm
Price: 250.000 – 300.000 VND/person
Seafood Restaurants
Ut Ca Mau Restaurant
Ut Ca Mau restaurant is designed according to the rustic and simple direction, as the characteristics of Ca Mau. The concept of space here still does not make the customers who love the luxury disappointed. This is the perfect combination between tradition and modernity.
Ut Ca Mau Restaurant space is quite spacious and airy to help customers have delicious meals.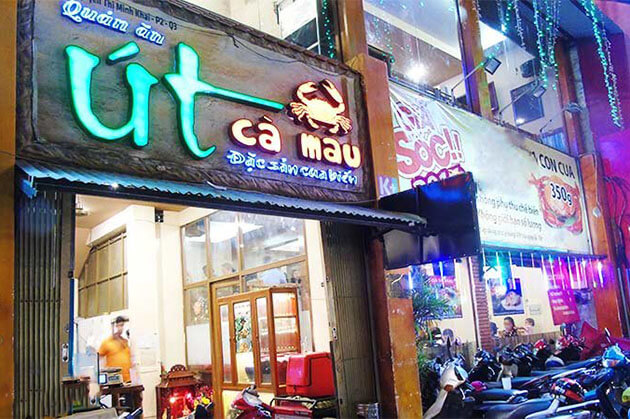 The most special dish in the restaurant menu is Ca Mau crab. This type of crab which has the fragrant, thick and firm meat attracts many gourmets coming to Ut Ca Mau Restaurant. It is the name that makes the brand and brings Ca Mau's food closer to Saigon people.
Address: 215 Dien Bien Phu, District 3, Ho Chi Minh City
Opening hours: 10:00 am – 11:00 pm, daily
Price: 150,000 – 220,000 VND/person
Hang Duong Quan
Located on Ngo Duc Ke street near Nguyen Hue walking street – a crowded area of luxurious restaurants, cafés, Hang Duong Quan is highlighted by European-style decoration with the unique wood and glass architecture.
With the excellent location, Rooftop – the 11th floor – brings you a panoramic view of Nguyen Hue, Ben Nghe River and a corner of District 1. Sitting outside the large balcony, enjoying the scenery of Sai Gon as well as delicious food are really romantic!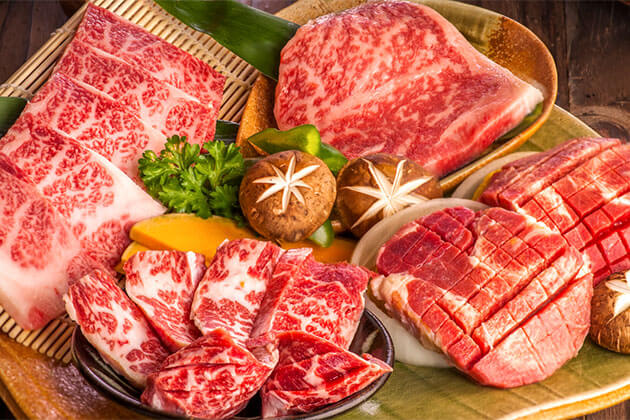 Hang Duong Quan owns a diverse culinary world with delicious dishes that you hardly find anywhere. From unique seafood dishes such as abalone, fish fins, sea cucumbers, lobsters, king crabs … to famous dishes such as Dong Tao chicken feet, red pheasant meat, Wagyu beef, Tamahawk…
One special thing is that Hang Duong Quan is the paradise of beer with many types of beer with 17 fresh beer taps, brewed and fermented by manual methods.
Address: 32-34 Ngo Duc Ke, Ben Nghe Ward, District 1, Ho Chi Minh City
Opening hours: 9:00 am – 11:00 pm
Price: 400.000 – 700.000 VND/person
These are the list of must-try restaurants that helps you choose to enjoy the amazing food culture when you're in any Ho Chi Minh City tour. Wish you have meaningful moments with your family and friends!