Visiting the hustle and bustle Saigon, shopaholics cannot forget putting markets on the visiting list. Markets in Saigon are covered with a lively atmosphere and a variety of items sold, which totally attract shopping enthusiasts. Here, we recommend seven most vibrant markets in Ho Chi Minh City for tourists.
Ben Thanh Market
Location: Le Loi, Ben Thanh Street, District 1
Opening hours: 6:00 – 18:00 (day market)
18:00 – 24:00 (night market)
This is the most famous market in Saigon, also considered as a must-visit spot among tourists. As a result, this bustling shopping area is always packed and noisy, from early morning till midnight. In this market, shoppers can find a diversity of goods, made in everywhere in the world, but most are in Vietnam and China. Since it has become a tourist attraction rather than a local market, the prices are relatively higher, though you can still try your best to bargain. You can meet lots of expats here, so Ben Thanh market is also a lively social hub for travelers to build new relationships.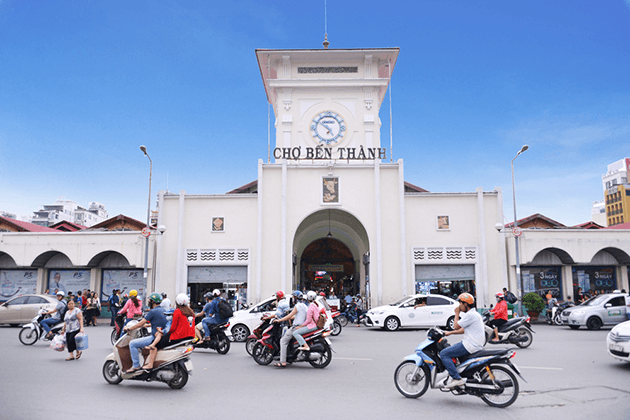 After 6 p.m, the day market is closed. Right after that, the sellers prepare for the night market, which happens on the street outside the building. Rows of items from all kinds are well-organized and eye-catching, most of which are souvenirs. Street coffee vendors are everywhere and worth a shot. In addition to that, street food vendors selling local dishes are fresh to order. Tip: Try some with a cup of beer to enhance the flavor. Sitting on the pavement, enjoying all the vibrancy of Saigon nightlife in dazzling music.
Binh Tay Market (Cholon Sai Gon)
Location: 57 Thap Muoi Street, District 6
Opening hours: 6:00 – 18:00
Also known as Cholon Chinatown Market, this vibrant shopping area is not only one of the biggest markets area in Ho Chi Minh City but also a majestic Chinese building to visit. Inspired by the opulent architecture of China and France, Binh Tay is a gorgeous building with lotus-flower shaped roofs and a giant clock. In the past, expats could also expect to witness four bronze lions standing in the middle of the market, which now has been moved to the Fine Arts Museum. The shopping zone is a central trading hub of local Vietnamese and Chinese.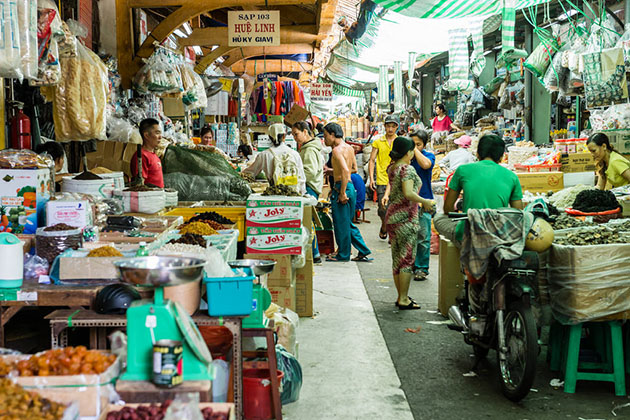 There are two distinct parts of Binh Tay Market: one is the outside market street, and the other is the inside section of the building. The wet market outside the street is extremely crowded in the morning. Get here at 6 a.m to fully enjoy the lively atmosphere. Items sold in this dynamic market are various from fresh produce to handicrafts, and the prices are cheaper compared to Ben Thanh Market. The inside market is not as lively as the outside. The atmosphere is quiet.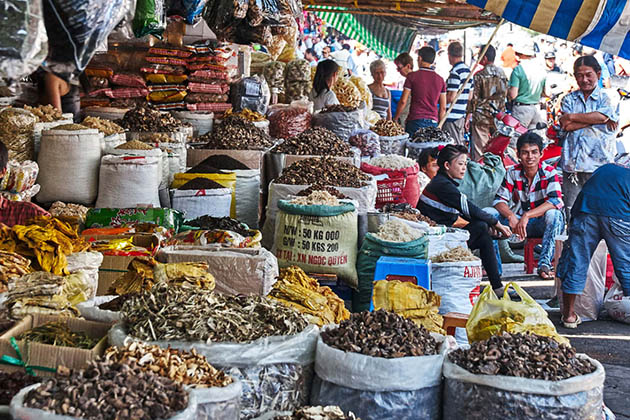 The vibrant shopping center has a reputation for being a breakfast destination. There is no better place to try delicious food in the early morning in Saigon than Cholon Chinatown, there is a wide range of food stalls with all tasty Vietnamese treats.
Binh Dien Market
Location: Nguyen Van Linh Avenue, Street 7, District 8
Opening hours: 20:00 – 6:00
Try to wake up before dawn, head to this vibrant Binh Dien Market, you can explore yourselves how heaven of seafood looks like. Binh Dien is the biggest wholesale market not only in Ho Chi Minh City but also in Vietnam, providing products for most markets in Saigon. Unrelenting noise covers the whole area, the vibrant area is always crowded and all sellers are busy running their business. Sounds of cars horning, fish splashing constantly, of people talking, of sellers playing cards, of broom brushed,… the vibrant scenario is really fantastic, helps visitors understand more about an aspect of Saigon lifestyle.
Every product here is new and fresh, especially the seafood. They are all alive in the market and ready to be sold in large purchases. Seafood is the specialty here, accounting for 65% of the total revenue. It sources from rivers, oceans, fish farms, and even the East Sea and the Gulf of Thailand. Besides, there are large kiosks selling various products like meat, vegetables, dried food, flowers,… Since it is a wholesale market, the prices are already reasonable, so there is no need to bargain. However, not many visitors visit here, hence the market is not set up for small purchases, only some dealers are willing to do that, though they are really friendly.
Note that all activities happen at night, some even end before 4 in the morning. So if you truly want to explore this lively hood, go at 3:00.
Ba Chieu Market
Location: next to Lang Ong, corner of Phan Dang Luu and Bui Huu Nghia Streets, Binh Thanh District
Opening hours: 5:00 – 22:00
This shopping area should be on top of vibrant markets for shopaholic and fashionista in Saigon. A market is also a great option for low-budget visitors or photographers. It seems like everything is on sale here, with reasonable prices which you can easily bargain for. Bargaining is the best part of every Saigon vibrant market, with no exception of Ba Chieu. Try to get to this huge and busy market and test your skills, you would be impressed.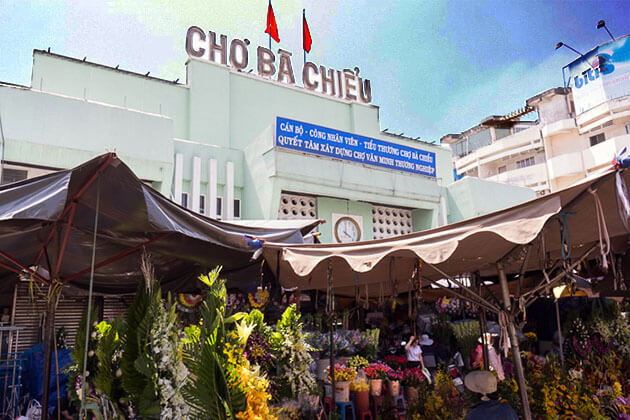 Visiting Ba Chieu Market, visitors can truly experience Saigon locals' daily life. The vintage charm of the building may make you think this is a Saigon peaceful market, however, the stalls are always crowded and noisy and a little bit chaotic. At night, get ready because it is fully packed. Being Saigon's best spot for fashion compared to other markets, in this vibrant shopping center are rows of clothing stalls selling all types of clothes and accessories, from new to secondhand. Don't forget to try some food when you arrive here, the snacks would blow you away.
Tan Dinh Market
Location: 48 Ma Lo, Tan Dinh, District 1
Opening hours: 5:00 – 23:00
Built in 1926, Tan Dinh market is one of the most popular Saigon historical monuments and remains as an outstanding Ho Chi Minh City prominent commercial center. In the past, this used to be considered "market for the rich" among the Saigonese. What is special inside Tan Dinh Market are food and fabrics. The food in this dynamic shopping zone is extraordinary and food courts are everywhere to be found. Visitors can enjoy almost all Saigon cuisine, from sweet to savory dishes, just by heading to the market. The flavors of the food are quite old-schooled, reminding of the old Saigon vibe. The fabrics are of high quality, made from a wide range of material with different patterns and colors. Besides these, fresh produce, groceries, household items, and many other familiar commodities can also be found in the vibrant market.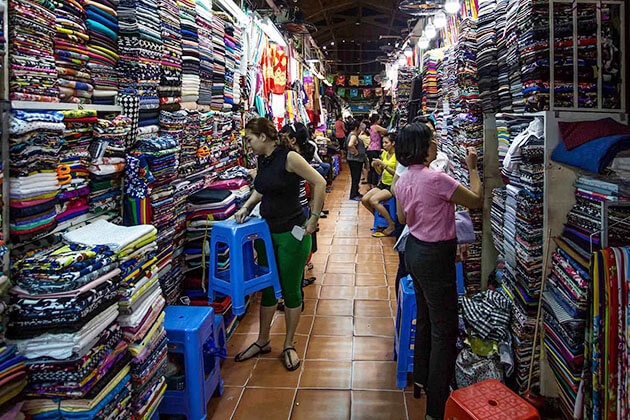 Another highlight is Tan Dinh church nearby. After shopping in the lively Tan Dinh market, visit the destination. The church is among the top visit spots in Ho Chi Minh City. This is a construction inspired by Gothic, Roman and Baroque architectural styles with vibrant pink color. The shopping area brings a vibrant atmosphere, depicting Saigon lifestyle in every corner. This deserves to be on your list must-visit destination, especially to shopping enthusiasts and foodies.
Hoa Hung Market
Location: 539A Cach Mang Thang Tam Street, District 10
Opening hours: All day
A lively market but yet known by not many tourists. The vibrant market locates in of the most horrific roads of Saigon, so this shopping area suits expats who want to have unforgettable shopping experiences in Ho Chi Minh City. Compared to other well-known markets in Saigon, Hoa Hung has the most unimpressive exterior. However, inside is a whole different world with vibrant senses. The familiar sounds of a typical Saigon market combine together like a harmony, the noise made from chickens and ducks, the laughter and banter of shop runners, the constant meat chopping and slicing on wooden chopping boards,… The energy here is comparable to other famous and lively shopping areas, despite its small area. All help foreign visitors understand more about Saigon local culture.
Russian Market
Location: 328 Vo Van Kiet, District 1, Ho Chi Minh City
Opening hours: 8:00-20:00
About 1km away from Ben Thanh Market, located in Central Garden Complex Building, Russian Market is a lively miniature of Russia in the middle of the hustle and bustle Ho Chi Minh City, attracting lots of expats and tourists who want to enjoy the Russian atmosphere right in Vietnam. Opened since 4/2009, the market has 3 floors with a total area of 2,000 m2. Approximately 150 shopping booths providing customers with different goods are set here. Shop owners come from different backgrounds, but most of them used to live in Russia. These nice people always smile and are willing to share their stories to you at any time, creating a Saigon friendly market atmosphere.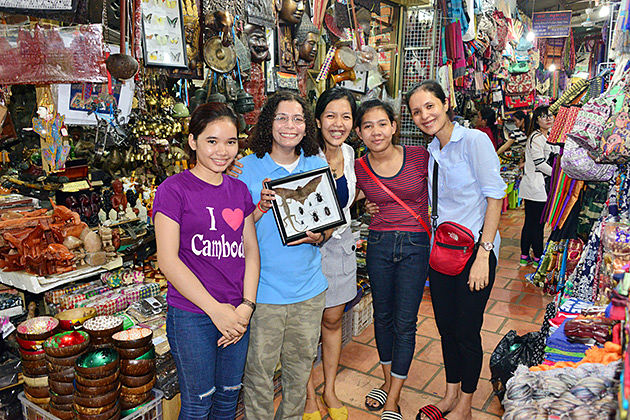 Shopaholic can buy various items in this lively market, mainly made in Russia or Vietnam to export to Russia. From winter clothing, luggage, sportswear to food, everything is priced reasonably. Come and enjoy the vibrant trading scene! To food gourmets, this is a real paradise since they can buy all Russian specialties such as cheese, salmon, sausages, fish, nuts, chocolate, fish eggs,… here. There are food courts to try as well.
Not only is Saigon Russian market a dynamic trading area between Vietnam and Russia but it is also where Russian citizens living in Ho Chi Minh City, students and workers who used to spend life in the country meet and share stories together, making the area more vibrant.