Cai Rang floating market, the largest floating market in the Mekong Delta, has long been a unique tourist destination in the South of Vietnam. This market which has been voted one of the 10 most impressive markets in the world by the Rough Guide Travel Magazine has attracted many domestic as well as foreign visitors. When you pay a visit to this market, you will have the chance to discover the unique culture and the lifestyle of the locals. Below are Things to Do & See and some Essential Guides in Cai Rang Floating Market.
Things to Do & See in Cai Rang Floating Market
Busy Trading Activities in Cai Rang River
Coming to the Cai Rang Floating Market, you can feel the hustling atmosphere like in any markets on land. People buy and sell a variety of products that is necessary for their lives. It is such an interesting moment when you see the locals juggling goods from boat to boat or walking on planks between two boats so as to exchange products. You will also have the chance to immerse yourselves in the simple life of the rural area in Vietnam.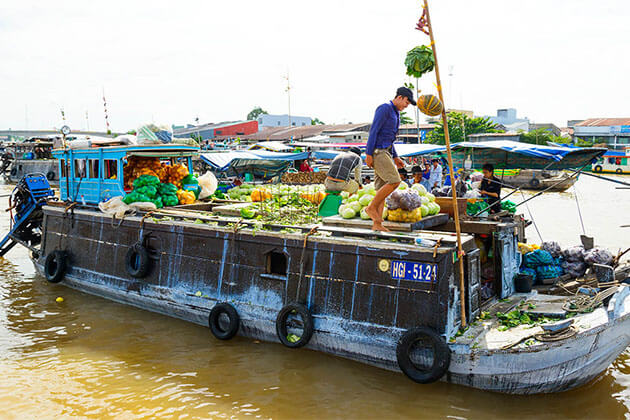 The floating market often opens at around 3:00 am and is at its most hustling at 5:00 am to 6:00 am. That means you have to get up early if you want to breathe in the cool breeze and experience of the pace of life here.
Foodstuff
You can get exciting dining experiences when visiting this market. Indeed, there are many boats serving the tourists' needs for enjoying the local cuisine of the Western region in Vietnam. Most local dishes such as pho, hu tieu, com tam, bun rieu… and many drinks like fruit juice, tea or coffee are available. The price is very reasonable, only about 30.000 VND (less than US$2) per dish.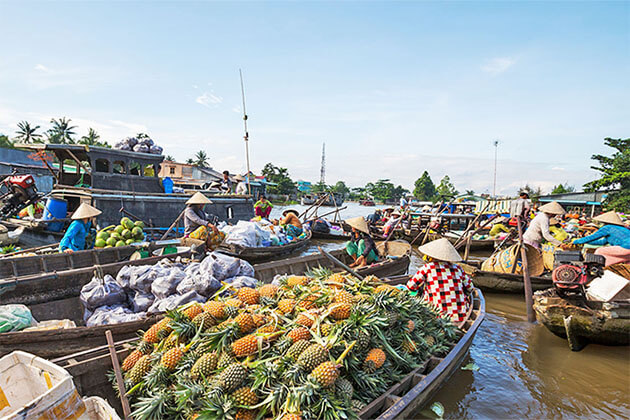 Local Products
Cai Rang Floating Market is the main trading center of the Mekong Delta that provides food, drinks, local specialties such as freshest fruits, dried food, coconut candy, fish sauce, and many household commodities. A special thing is that at the front of each boat, merchants will hang samples of the products on the bamboo pole to identify what they offer. Tourists, as well as locals, can easily buy what they want.
Best time to visit Cai Rang Floating Market
The tropical climate in the South of Vietnam includes two seasons: the dry season (December – April) and the rainy season (May – November). Each season draws a different experience, so tourists can visit Cai Rang Floating Market at any season of the year.
If you want to take a trip in the rainy season, bring raincoat and umbrella to avoid being wet. This season will give you a relaxing feeling thanks to the cooler atmosphere. Whilst, during the dry season, there will be more kinds of fresh fruits as well as agricultural products available.
How to Get Cai Rang Floating Market
Firstly, go to Can Tho City, you can easily book a domestic flight ticket from Hanoi, Da Nang or even Ho Chi Minh City. It takes no more than two hours and the flight will arrive at Can Tho International Airport.
When arriving in Can Tho, catch a taxi to go to Ninh Kieu Wharf where you can buy boat tickets to Cai Rang Floating Market. The ticket for a two-hour trip costs 40.000 VND – 80.000 VND/person. If you travel in a group, rent a whole boat for a cheaper price, just from 600.000 VND to 1.200.000 VND/boat.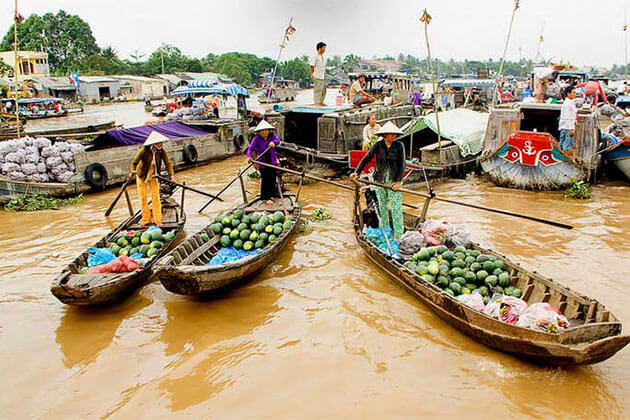 Several Essential Tips in Cai Rang Floating Market
• Wake up early in the morning (around 4:00 am) to see the best scenes in the floating market
• Prepare hats and sun cream because it becomes hot very quickly, bring umbrellas and raincoats to avoid being wet when traveling in the rainy season.
• Bring the camera to capture wonderful pictures
• Choose a pineapple boat to stand on the top of it and you will have a beautiful panoramic picture of the whole market.