Ho Chi Minh City, also known as Saigon, is the most modern and bustling city in Vietnam. Considered as "The City that Never Sleeps", this city is an ideal destination for tourists who love exploring the unique culture, consisting of the lifestyle, cuisine, and tradition, either at day or night. Especially, Saigon Nightlife has a lot of Things to Do waiting to be explored.
Nguyen Hue Walking Street at Night
Nguyen Hue Walking Street is one of the most favorite destinations of the locals as well as foreigners in Ho Chi Minh City at night. The street is usually busy every night, especially at weekends. People often gather together to chat, sing in a group, dance, walk with pets, take photos, or even take exercises and loosen up.

Besides, tourists will have the chance to enjoy many art performances such as fashion shows, dancing, and music shows. You can also taste attractive snacks like animal-shaped ice cream, bingsu, matcha, peach tea, mulberry smoothie…
Location: Nguyen Hue Street, Ben Thanh Ward, District 1, Ho Chi Minh City
Saigon Street Food at Night
Ho Chi Minh is a wonderful place where you can enjoy delicious food on the streets, especially at night. Many different kinds of street food are sold and served you at any time and anywhere, so you can easily find some places whenever you want to satisfy your empty stomach. Unique Vietnamese dishes range from Pho, Bun, Hu Tieu to crispy rice pancakes, steamed rice cake… With only US$2, you are assured of savoring authentic specialties on the streets.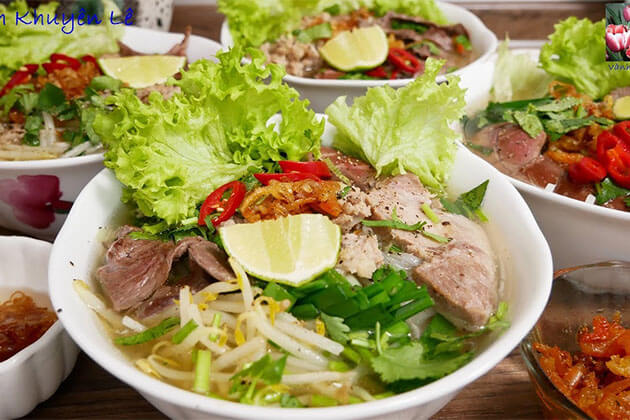 *Useful Tips:
• The most famous street food paradises are Co Bac street and Co Giang Street in District 1
• Make sure you leave some space and you will try as many dishes as possible
Top 5 Nightclubs in Ho Chi Minh City
With a lively atmosphere, a list of various drinks and incredible DJ line-ups, nightclubs are ideal places for the locals as well as tourists to experience Ho Chi Minh City Nightlife. These places are suited to young people who are passionate about music, dances, and parties all night. Moreover, the sociable atmosphere in nightclubs is totally easy for them to make new friends. Many spots often open until sunrise, so you will have an unforgettable night with amazing friends and wonderful parties.
Top 5 Best Nightclubs in Ho Chi Minh City:
Lush Nightclub
Address: 2 Ly Tu Trong, Ben Nghe Ward, District 1
Opening hours: 8:00 pm – 2:00 am, daily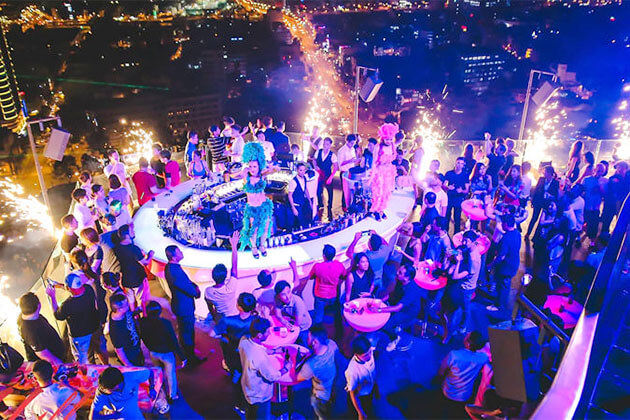 ACE Nightclub
Address: 21 Nguyen Trung Ngan, Ben Nghe Ward, District 1
Opening hours: 8:30 pm – 4:00 am, daily
The observatory Nightclub
Address: 5 Nguyen Tat Thanh, District 4
Opening hours: 8:00 pm – 6:00 am, Thursday – Saturday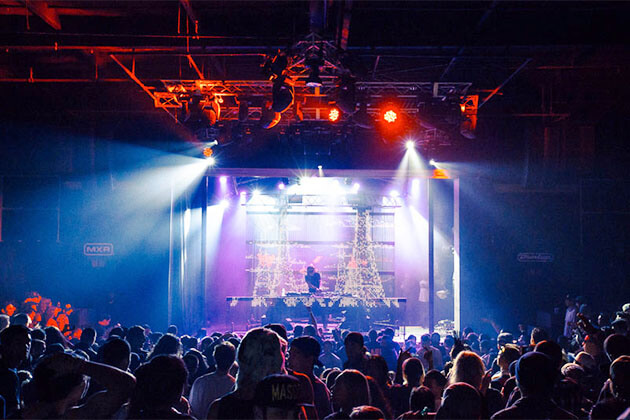 Republic Club
Address: 19 Do Quang Dau, Pham Ngu Lao Ward, District 1
Opening hours: 9:00 pm – 2:00 am, Tuesday – Sunday
MGM Club
Address: 172C Nguyen Dinh Chieu, District 3
Opening hours: 8:00 pm – 2:00 am, daily
Other Night Entertainment Venues in Saigon
24/7 Cafés
24/7 Cafés are the highlights of Saigon nightlife. If you love quiet spaces after a hard-working day, a series of 24/7 cafés are always ready to serve you because they open both daytime and nighttime. You can meet friends, watch the street at night, or read a book there. These cafés offer you lots of tasty drinks together with romantic space.
Here is a list of 24/7 cafés that you should try:
• Opera Tea Club: 1st floor, 39 Ly Tu Trong, District 1, HCMC
• Thuc Coffee: 182 Pasteur, District 1, HCMC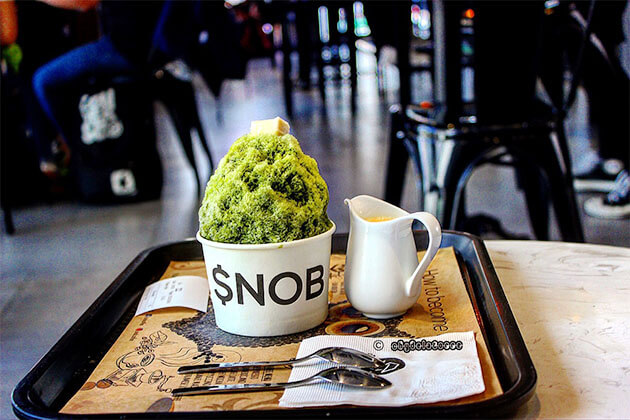 • Snob Coffee: 147A Tran Hung Dao, District 1, HCMC
• CI5 Coffee & Tea House: 243 Le Van Sy, District 3, HCMC
• Step up Café: 32 Pham Hong Thai, Ben Thanh Ward, District 1, HCMC
Mesmerizing Rooftop Bars in Saigon
Ho Chi Minh City has many wonderful rooftop bars which are luxuriously decorated. These bars offer you not only the panoramic views of this charming city but also tasty drinks and delicious food. You also have the chance to wallow in amazing music. Spending a few hours to enjoy the special night in rooftop bars is always worthy. These are some best rooftop bars in Saigon for your great experiences of Ho Chi Minh nightlife:

• Saigon Saigon Rooftop Bar – The 9th floor of Caravelle Hotel
Address: 19 Lam Son Square, District 1, HCMC
• Chill Sky Bar Saigon – The 25th floor of Saigon's AB Tower
Address: 76A Le Lai, District 1, HCMC
• Level 23 Wine Bar – Sheraton Saigon Hotel & Towers
Address: 88 Dong Khoi Street, District 1, HCMC
• Rex Rooftop Garden – Rex Hotel Saigon
Address: 141 Nguyen Hue Street, District 1, HCMC
• Glow Skybar Saigon
Address: 93 Nguyen Du, Ben Nghe Ward, District 1, HCMC
Dinner Cruise Down the Saigon River
If you are looking for a more romantic night in Ho Chi Minh, taking a dinner cruise down the Saigon River is the most unique experience that you should not miss. A luxurious meal, live jazz performance, traditional Vietnamese dance on board will make your night more comfortable. The two best options for you to choose are Bonsai River Cruise and Les Rives.