Ho Chi Minh City is home to a mass number of impressive French architectures scattered across the city. Among those magnificent buildings, the Museum of Ho Chi Minh City is always worth the attention of many visitors. The museum gives you a great chance to spread your eyes over collections of cultural treasures, folk art, and pre-historic artifacts. In addition, if you are a history enthusiast who wants an in-depth lesson to understand more about the Vietnam War, Ho Chi Minh City Museum the best museum in Ho Chi Minh City to start in your Saigon Trip.
History of Ho Chi Minh City Museum
Built in 1885, the structure was designed by French architect Alfred Foulhoux to initially house the Museum of Commercial Trade, exhibiting products and goods of Southern Vietnam. However, it soon became the headquarter and residence of the Governors of Southern Vietnam. In 1954, the building was renamed Gia Long Palace and its street was also renamed Gia Long Street by Bao Dai King. It was not until 1962, Prime Minister Ngo Dinh Diem originally living in Norodom Palace (now Reunification Palace) moved to Gia Long Palace in the interim as Norodom Palace was bombed and partially destroyed. Diem and his family were the last residents in the Palace before his assassination in an event of a coup in 1963.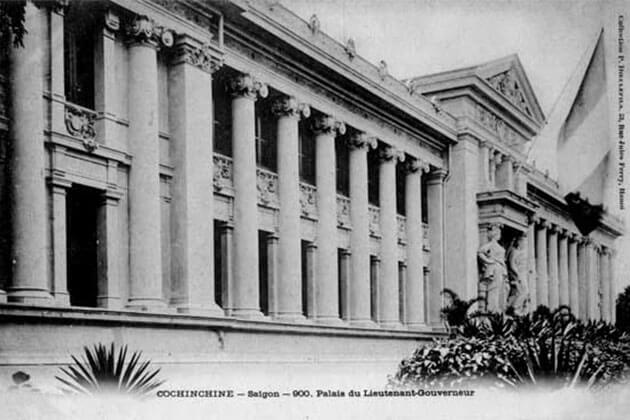 After Vietnam was reunified, the building was last used as a museum, just like its original purpose and renamed Ho Chi Minh City Museum in 1999 by the local authority.
Ho Chi Minh City Museum Architecture
The two-level palace covers a total area of over 1700 meter square. The architecture of the museum is a mix of both European and Oriental styles. While the flooring, staircases, and halls were European-inspired, the roof was Oriental-styled. The museum is fronted with a huge balcony above the entrance and big paralleling pillars will draw great attention from visitors.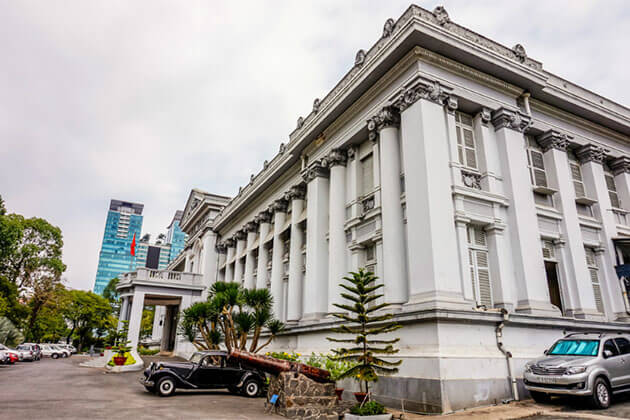 The frontal face of the roof is adorned with grotesques. The symbolic chickens and owls in the exterior structural represent daytime and owls for nighttime. The roof is embossed with many Greek mythological symbols, iconic plants and tropical animals such as lizards and birds flying or expanding its wings.
Under Diem's residence, a network of reinforced concrete bunkers and fortified corridors was constructed. The system stretches the way to other parts of the city so that he and important officials could escape in the event of a coup. 1963, Diem was widely believed to have used one of these escape routes to hide the siege on the palace before fleeing to Cha Tam Church. The tunnels were 2.2 m high and the walls were 1 m thick, with 6 iron vault doors for entry and exit. The tunnels had 2 downward stairs, leading to a basement with 6 rooms including conference rooms, offices, bathrooms, electrical rooms.
Nowadays, the network is not opened to the public because most of the tunnels are flooded.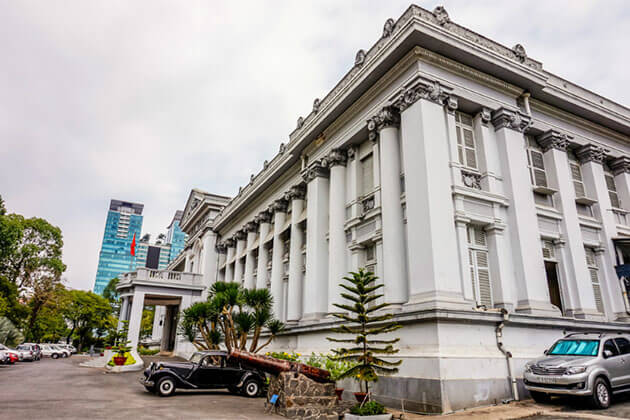 What to see in the Ho Chi Minh City Museum
Before approaching inside the museum, you are highly recommended to spend a few minutes admiring the magnificent exterior of the building.
Outdoor Exhibition Area
In the gardens, you will immediately see the outdoor exhibition area of Ho Chi Minh City Museum.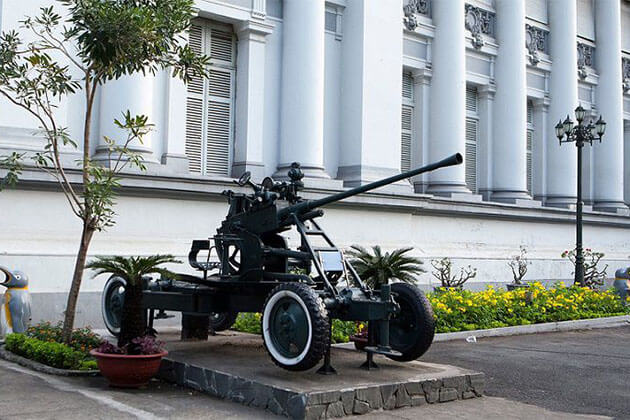 This field displays several larger exhibits of the American war, various pieces of military hardware including a group of American aircraft, a tank and a collection of cars such as the America-built F.5 fighter to bomb the Presidential Palace (now IndependencePalace), an A.37 fighter used by the US to attack Tan Son Nhat Airport, and an armed helicopter UH-1 Vietnamese Air Force seized from the enemy to support army units in order to defend the Southwestern borders and a lot more.
Indoor Exhibition Area
The indoor area is divided into different sections and each of them presents crucial phases of the Vietnam War as well as different aspects of the city. The museum doesn't just put historical artifacts on display for visitors, but also includes realistic figures for a more vivid experience.
Culture of Saigon – Ho Chi Minh City
The exhibition displays the diversified and vibrant culture of Saigon – Ho Chi Minh City. It focuses on introducing belief, custom, traditional performance art and education of some typical ethnic groups in Southern Vietnam such as Kinh (Viet), Cham, Chinese, and Khmer. Your eyebrows will be raised by the bright costumes and decorations used as traditional weddings over centuries. Eating betel custom, Holy Mother worshiping, the collections of musical instruments, some famous plays in Cai Luong theatre, traditional performance art of the Khmer and documents of Saigon education where was the first center for propagating national language and newspaper first published in Vietnam are livelily exhibited in the space.
Nature – Archaeology
Nature and Archaeology exhibition presents geography, mineral, animals, flora, river system and the life of the ancient people in the year of 2000, 3000 BP with artifacts such as stone hoes, stone axes, personal adornments, tombs found at archaeological sites. You have a chance to learn more about the ancient history of civilization in Vietnam and you will be inspired by a lot of perfectly preserved tools and 2 carved wooden boats served as the major transport carrying out people and food along the Saigon River.
Revolution 1954 – 1975
The war against the American lasted 21 years, and Saigon – Gia Dinh people played an important role in victory of the battle. The demonstrations enable you to understand the Revolution through chronologically outstanding exhibitions within 21 years, from Geneva Conference, Mau Than Offensive, Paris Conference, to the historical Ho Chi Minh Campaign.
Ho Chi Minh City Museum Travel Guide
– Address: Ho Chi Minh City Museum is located at 65 Ly Tu Trong, District 1.
– With such an accessible location, you can easily approach it on foot from other famous attractions like the Reunification Palace, Ben Thanh Market, Saigon Post Office or Ho Chi Minh City Museum of Fine Arts
– Opening hours: 7.30 AM – 5.00 PM from Monday to Sunday
– Entrance fee: 30,000 VND/ person.
– Phone number: 028.38.299.741
– Transportation: You can easily catch a taxi at a cheap price to reach the museum. If you would love to experience public transport, buses number 04, 18, 31, 36, 42, 52 are available, then you just take a short walk.
– The signs are written in Vietnamese and English, so you can guide yourself in the museum, or you can book from a reliable travel agency to have a deep discovery of the attraction.