Ho Chi Minh City, also known as Saigon, is a vibrant metropolis that offers a myriad of unique experiences. Among its many attractions, rooftop bars stand out as some of the most captivating spots to visit. With stunning views of the city skyline, delicious cocktails, and a lively atmosphere, these rooftop bars provide an unforgettable experience for locals and tourists alike. Let's delve into the top 10 spectacular rooftop bars in Ho Chi Minh City that you shouldn't miss.
Top 10 Spectacular Rooftop Bars in Ho Chi Minh City
Zion Sky Lounge & Dining
Address: 87A Ham Nghi, District 1, Ho Chi Minh City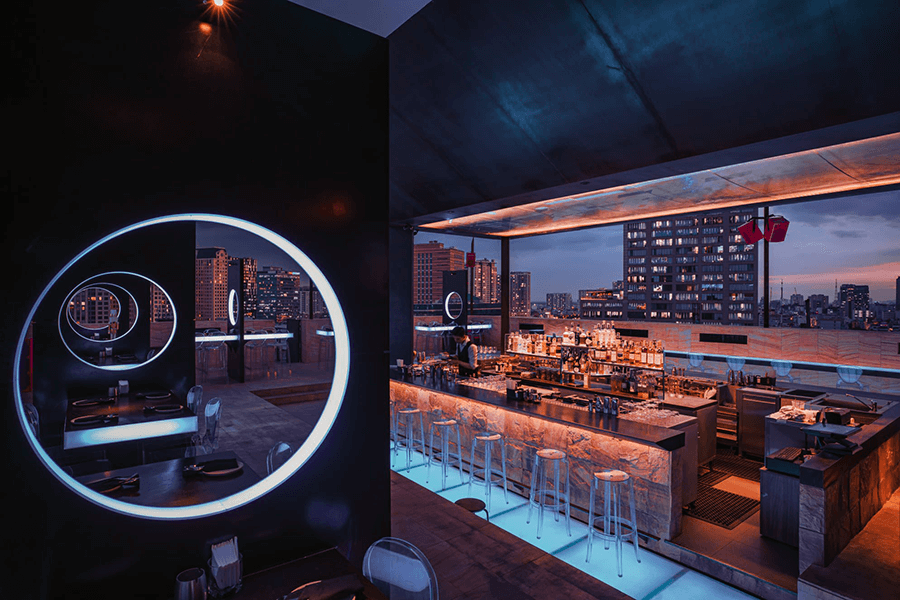 Zion, the best sky bar in Ho Chi Minh City, offers a must-have experience with crafted cocktails and stunning sunset views. Located on Ham Nghi street in District 1, it is conveniently surrounded by iconic landmarks and hotels. With live music events featuring renowned artists and a vibrant atmosphere, Zion is the perfect place to discover Vietnamese music culture. Don't forget to bring a date for a romantic night under the stars.
Chill Skybar
Address: Rooftop 26-27th Floor, AB Tower, 76A Le Lai, District 1, Ho Chi Minh City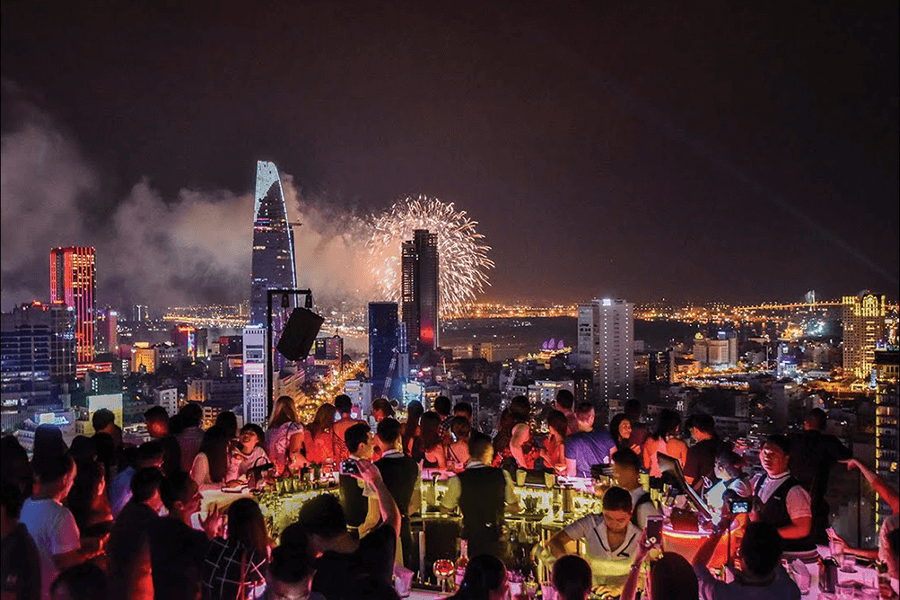 Chill Sky bar, situated in District 1 of Ho Chi Minh City, is a sophisticated rooftop bar that offers a must-visit experience for those seeking to elevate their nightlife. With its stunning city views, upscale ambiance, and a blend of electronic and house music spun by both local and international DJs, it's the perfect spot to indulge in a luxurious evening. While the dress code leans towards sophisticated casual and the prices may be higher, the experience is undoubtedly worth it.
Level 23 Wine Bar At Sheraton Saigon Hotel
Address: 23rd Floor, Sheraton Saigon Hotel & Towers, 88 Dong Khoi, District 1, Ho Chi Minh City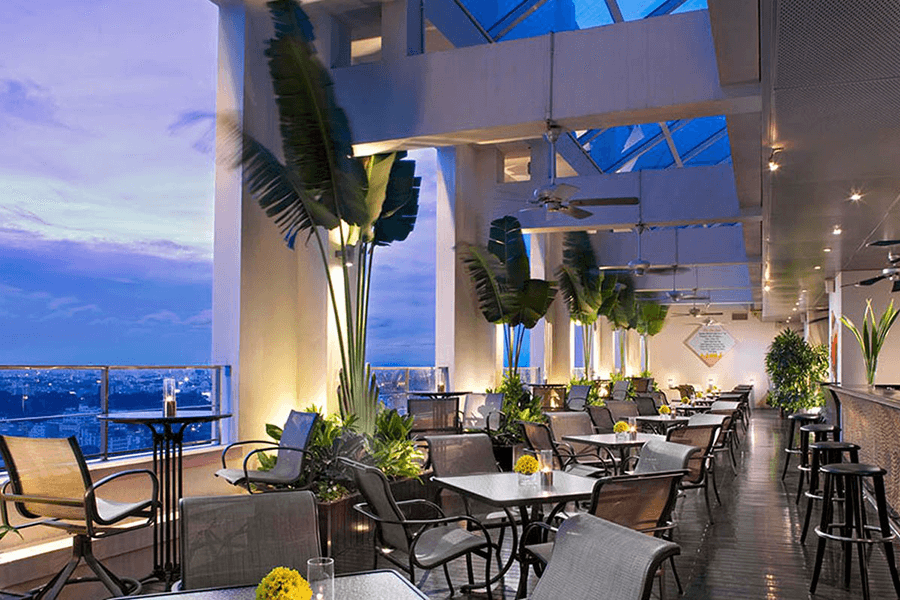 Situated on the 23rd floor of the Sheraton Saigon Hotel, Level 23 Wine Bar offers a trendy and serene rooftop experience with breathtaking panoramic views of Ho Chi Minh City. Whether you're looking for a romantic date or a memorable night with friends, this bar provides the perfect ambiance. With an extensive selection of wines and beverages, live jazz and blues music, and a sophisticated atmosphere, it promises an unforgettable experience. While the dress code leans towards sophisticated casual and the prices may be higher, the exceptional experience makes it well worth it.
Saigon Saigon Rooftop Bar
Address: 19-23 Lam Son Square, Ben Nghe, District 1, Ho Chi Minh City
Saigon Saigon Rooftop bar is a historical gem known for its popularity among Vietnam war correspondents. The nostalgic ambiance, featuring black and white marble floors, wooden accents, and sepia photographs, transports you back in time.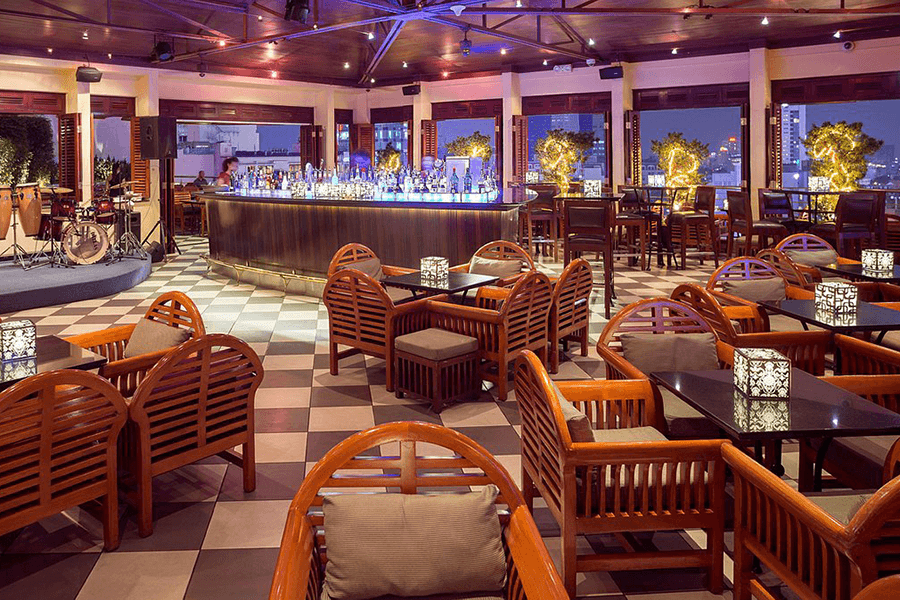 With a drink in hand, enjoy mesmerizing views of Saigon's opera house, the Notre Dame Cathedral, and the people's committee, immersing yourself in the charm of old Saigon. The spacious layout accommodates larger groups, while the ambient lighting and Latin music create a seductive atmosphere that will keep you captivated. Take advantage of the half-price happy hour from 6 to 8 pm, where drinks are accompanied by delicious bites. Additionally, don't miss out on the opportunity to savor some of the city's best burgers and steaks available at Saigon Saigon.
Glow Skybar Saigon
Address: 93 Nguyen Du, Ben Nghe, District 1, Ho Chi Minh City
Glow Skybar, located in District 1, has become a sensation in Saigon since its establishment in 2015. The bar exudes a vibrant beach-style ambiance, complemented by stylish black and white furnishings and a generously sized dance floor for you to unleash your moves.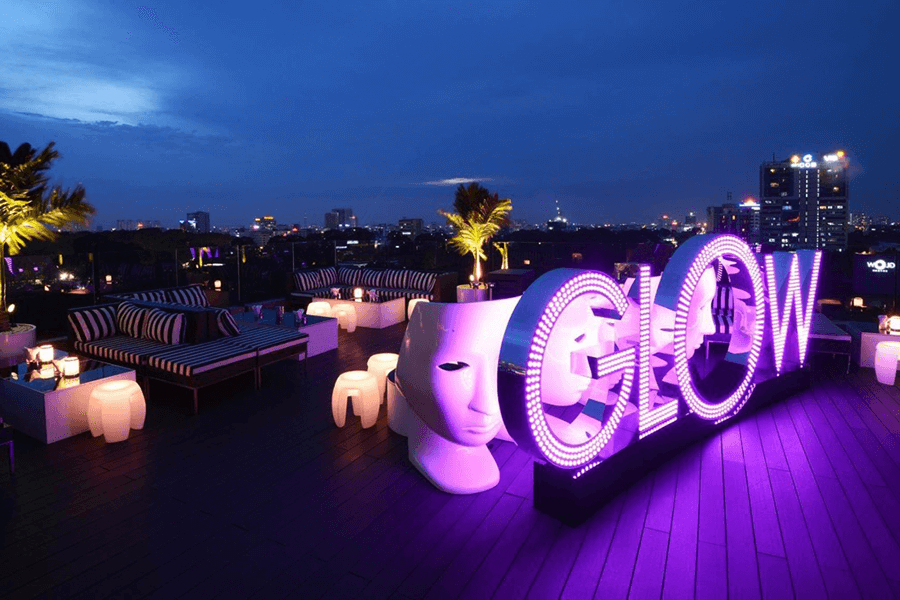 One of Glow Skybar's notable features is its circular bar, where you can enjoy a wide selection of classic cocktails, along with exclusive signature creations like Xin Chao Vietnam. This special concoction combines Belvedere vodka, lemongrass, Vietnamese basil, and lime, delivering a delightful and refreshing taste.
Shri Restaurant & Lounge
Address: 72 Nguyen Thi Minh Khai, Ward 6, District 3, Ho Chi Minh City
Perched atop the Centec Tower, Shri Restaurant & Lounge is a versatile venue that caters to various dining and entertainment preferences. Whether you're looking for a memorable dinner party, a relaxed evening with cocktails, or a sophisticated whisky bar experience, Shri has it all.
With its natural decor, the bar area exudes a stylish and refreshing ambiance, creating an inviting atmosphere for socializing. On the other hand, the restaurant area sets a more intimate tone with its dim neon lighting, making it an ideal choice for a romantic dinner. Shri Restaurant & Lounge provides a multi-concept space that caters to different occasions, ensuring a memorable and enjoyable experience for its guests.
The Lighthouse
Address: 104 Nam Ky Khoi Nghia, Ben Nghe, District 1, Ho Chi Minh City
Located in the heart of District 1, The Lighthouse offers a more affordable option for those seeking a budget-friendly rooftop bar experience. Its classy wooden interior and relaxed atmosphere provide a low-key setting, perfect for a quiet drink or a casual date. Despite its laid-back vibe, The Lighthouse still offers an enticing selection of reasonably priced drinks and a music lineup that may tempt you to stay until the early hours (closing time is 5 am, Thursday to Saturday).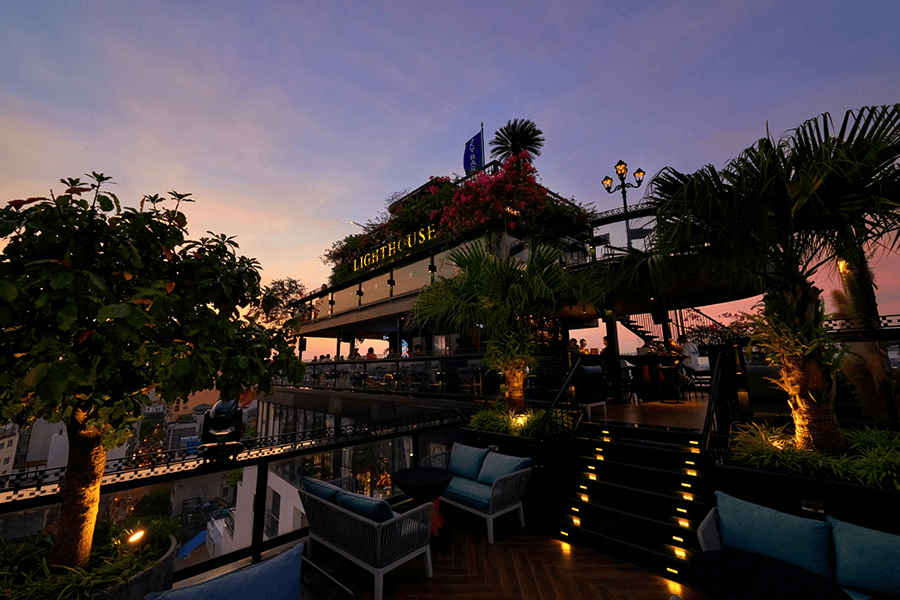 The bar features local and international DJs spinning non-commercial electronic music, ranging from deep house and techno to funky disco beats. Spanning across two floors, The Lighthouse provides an immersive experience with its underground and indie vibes, all while offering stunning 360-degree panoramic views of Ho Chi Minh City.
Cafe Des Stagiaires
Address: 10 Street N.54, Thao Dien, District 2
Le Café des Stagiaires, which translates to "the cafe of trainees," offers a unique concept of employing trainees who are eager to learn the ins and outs of running a restaurant. Led by Parisian Chef Milan Lam, the team serves delectable French and Belgian dishes, including Planchette, a mouthwatering cold cut platter with cheese, foie gras, and liver pâté, as well as Steak Frites, Duck Confit Parmentier, French fries, burgers, croquetas, and more.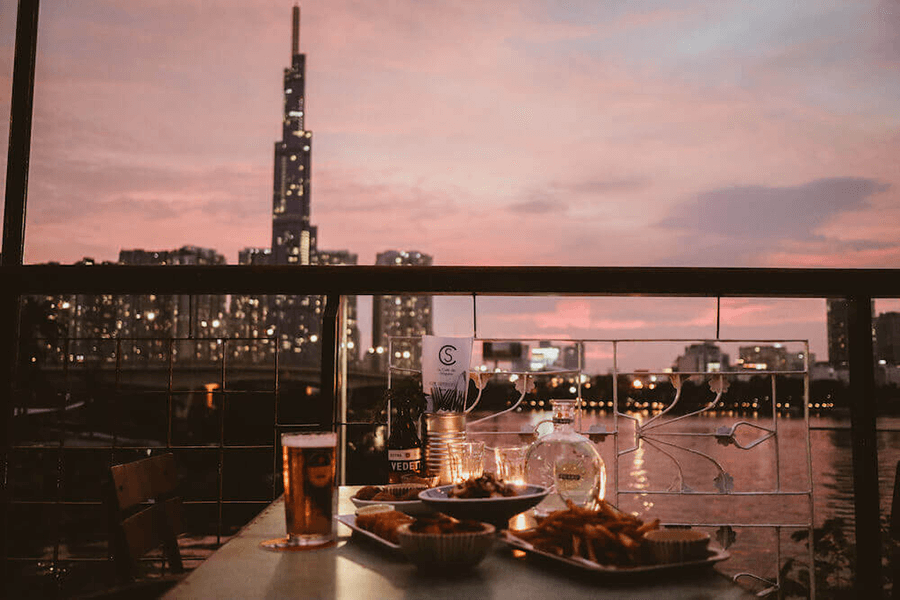 What sets Le Café des Stagiaires apart is its vibrant rooftop adorned with colorful flights and breathtaking views of the Saigon River and Landmark 81. Additionally, it proudly holds the distinction of being the first bar in Vietnam to offer the renowned portfolio of Duvel Moortgat Brewery, an iconic Belgian beer company.
Social Club Rooftop Bar
Address: MGallery Saigon, Floor 24, 76-78 Nguyen Thi Minh Khai, District 3, Ho Chi Minh City
Located atop Hotel Des Arts, the Social Club Rooftop Bar is an exquisite destination that boasts a fully open-air bar and the highest rooftop infinity pool in Ho Chi Minh City. This vibrant venue strikes the perfect balance between relaxed and energetic, with DJs spinning tunes that will help you unwind or get the party started.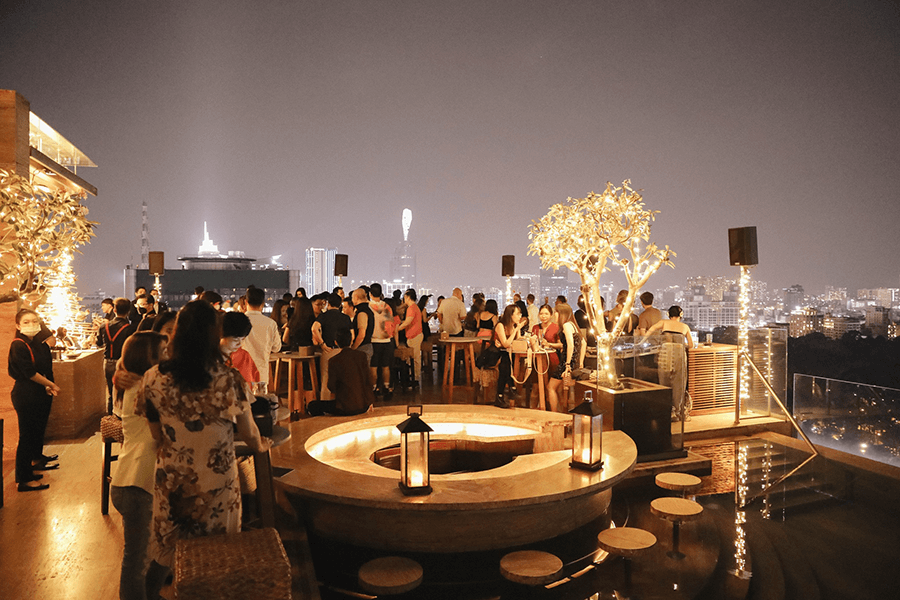 Indulge in the art of French-inspired craft cocktails, where each drink is crafted to evoke the essence of French perfumes. Sip on unique concoctions like Mon Paris, a blend of Absolut Raspberry, fresh lime, raspberries, and cinnamon syrup, or savor the flavors of Black Opium, featuring Glenlivet 12 yr, Martell VSOP, Chambord, and cold brew coffee. The Social Club Rooftop Bar offers a sensory experience that will leave a lasting impression.
Brick and Barrel
Address: 114-152 Calmette, Nguyen Thai Binh Ward, District 1, Ho Chi Minh City
Brick and Barrel, a beloved spot among expats and locals in Saigon, offers a spacious, casual, and relaxed rooftop bar experience in the heart of District 1. Whether you want to unwind with a refreshing beer after work, celebrate special moments with friends, or organize a corporate team gathering, this is the place to be.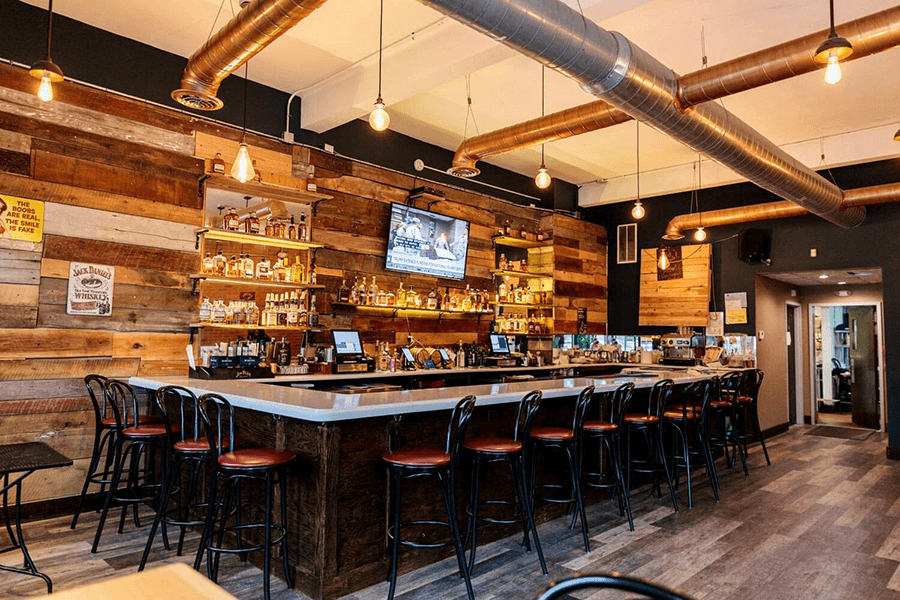 Indulge in their selection of craft beer towers while savoring mouthwatering burgers, irresistible bar snacks like jalapeno poppers, cheesy fries, and chunky onion rings, as well as delicious wood-fired pizzas. With a variety of options, Brick and Barrel caters to all tastes and preferences. The venue is designed to accommodate large groups, featuring expansive timber tables, a stage with a microphone, and large TVs strategically placed for sports enthusiasts who don't want to miss out on the game.
When it comes to unforgettable experiences in Saigon, visiting the city's spectacular rooftop bars is a must. From breathtaking views of the skyline to delicious cocktails and vibrant atmospheres, these rooftop bars offer a glimpse into the vibrant nightlife of Ho Chi Minh City. So, make sure to add these 10 spectacular rooftop bars to your itinerary and create memories that will last a lifetime.