Coffee is recommended to be a must-try thing when you take your Vietnam vacation, especially in Saigon – the most dynamic city of Vietnam. Coffee culture in Saigon boasts from the traditional Vietnamese coffee to the well-known types of coffee in the world. Following are best coffee shops in the bustling Ho Chi Minh City, formerly Saigon.
ID Cafe Saigon
Just 5 minutes walking from Ben Thanh Market, ID Café Saigon is an inspiring place to enjoy quiet moments away from the hustle and bustle of Ho Chi Minh City. Choosing retro as its theme, the café surprises guests by a large space of the 70s style arm-chairs, vinyl records, antique radios, and subdued arts. The menu ranges from the typical Vietnamese hot and iced coffee to cappuccino, latte or even a glass of beer.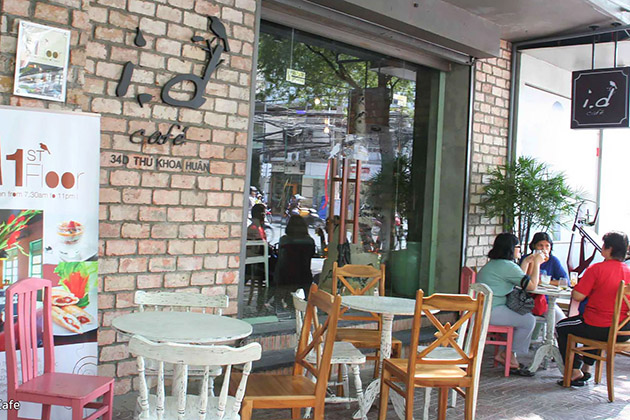 Opening Hour: 7.00 AM – 11.30 PM
Address: 34D, Thu Khoa Huan Street, District 1, HCMC
Saigon Coffee Roastery
Established by Phap Vo – an experienced and famed barista in Vietnam, Saigon Coffee Roastery mostly offers qualified Vietnamese coffee. Influenced by the design of Italian espresso bars, Phap converted his idea into the current space today. Beautiful coffee gear, excellently roasted beans, and delicious coffee are graceful words to talk about this coffee shop.

Opening Hour: 8.00 AM to 6.00 PM
Address: 151 Dong Khoi Street, District 1
The Loft Coffee Shop
Being one of the top coffee shops in Saigon, the Loft occupies inside an old building that welcomes you by a tranquil atmosphere with light music played. The coffee shop possesses an elegant design decorated with wooden vintage – looking furniture. It is a perfect place to enjoy a cup of coffee while looking at the traffic through the windows or simply spend a morning reading your favorite book. Coffee blends, tropical drinks and Western dishes such as sandwiches and salads are served in this beautiful coffee shop.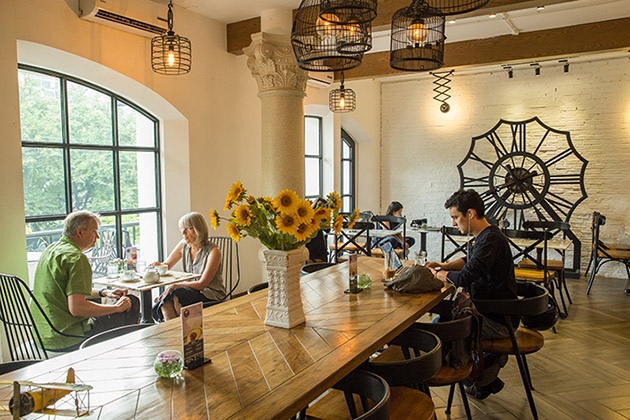 Opening Hour: 8.00 AM – 10.30 PM
Address: 26 Ly Tu Trong, District 1
Shin Coffee
Located in the heart of old Saigon, a short walk from the Bach Dang Pier, Shin coffee is a good choice for many tourists. If you have never tried egg coffee, Shin Coffee is highly recommended as one of the few cafes in the city to offer this Vietnamese specialty.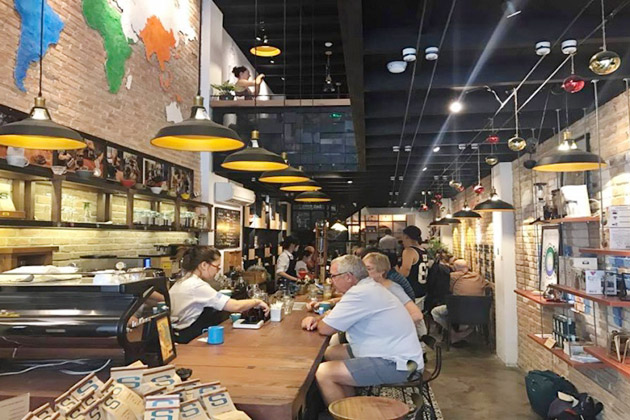 Opening Hour: 7.30 AM to 11.00 PM
Address: 13 Nguyen Thiep, District 1
The Note Coffee
Interestingly, visitors in Saigon now have a chance to drop by The Note Coffee – Hanoi's number one coffee shop. The Note Coffee Saigon serves the famous egg coffee, mouth-watering coconut latte, and refreshing Italian ice-cream. One great experience in this coffee shop is that you can leave your marks, quotations in the notes and stick them anywhere in the shop.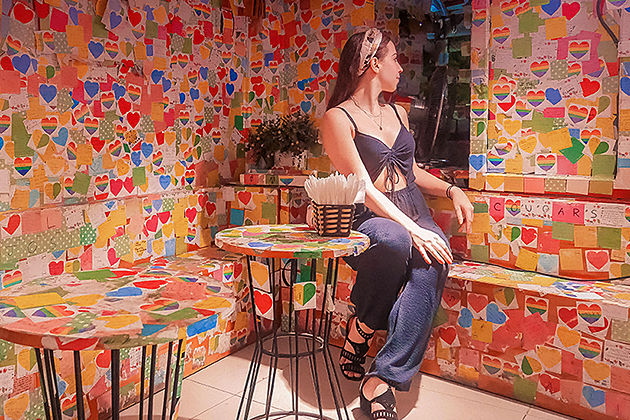 Opening Hour: 8.00 AM to 11.30 PM
Address: 183 Bui Vien Street, District 1
Kamakura Café Saigon
Kamakura is a typical Japanese coffee and dessert shop that attracts a great number of customers every day. After you get in the café, soak into the sudden cool, relaxed vibes and inspiring atmosphere. Though the coffee shop is fairly small, it has a quite cozy ambiance. At the front side, a glass wall let the sunlight pass through, brighten up the whole site and is ideal for watching people passing by. Drinks and desserts are reasonable and amazingly great. Customers can choose to have their seats on normal couches, or at the bar tables.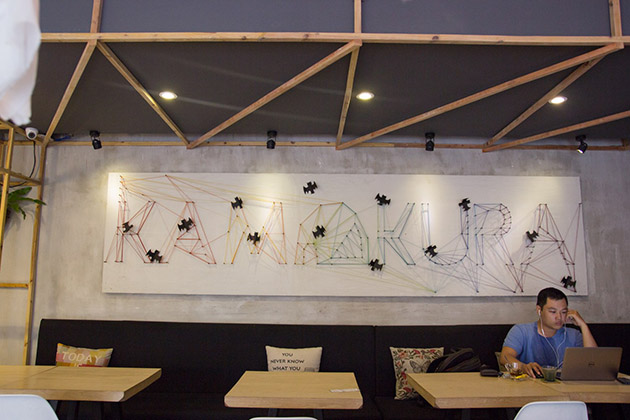 Opening Hour: 7:00 AM to 10:00 PM
Address: 21 Phan Ke Binh Street, District 1
Padma De Fleur
In addition to offering food and drinks, Padma De Fleur also sells flowers. You will feel like you are lost in a fairytale garden when you step into the café. This is a truly poetic place for ones who are finding the natural beauty in vibrant streets.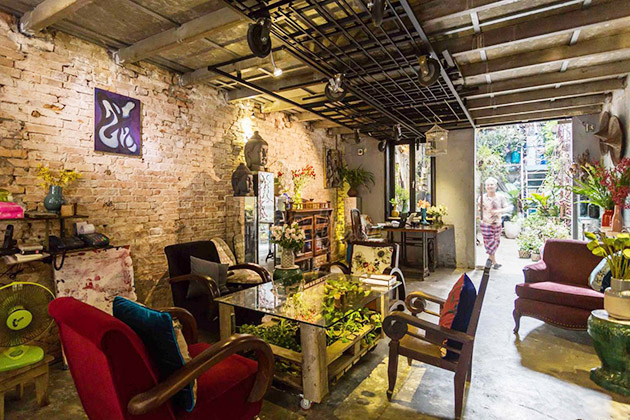 Opening Hour: 9.00 Am – 11.00 PM from Tuesday to Sunday,
Address: 55/6 Le Thi Hong Gam Street, District 1
M2C Café
M2C is the abbreviation of Modern meets Culture. In spite of the fact that M2C is located on a crowded street, everything inside the coffee shop is quiet and restful. The menu combines the modern taste and trend to create a comfortable space that offers cool drinks and food for couples, friends or just a personal retreat.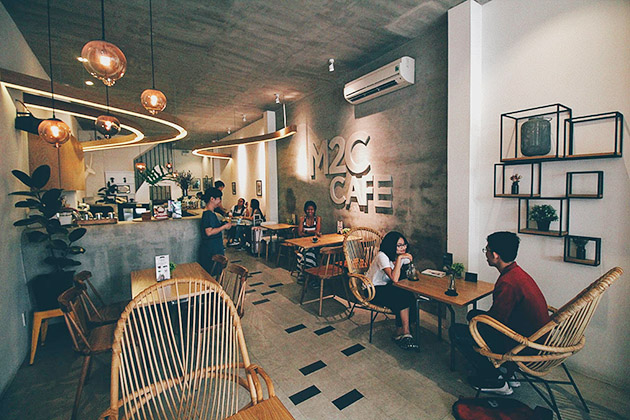 Opening Hour: 8.00 AM to 6.00 PM
Address: 44B Ly Tu Trong Street, District 1, HCMC
L' Usine Coffee Shop
Being part of the coffee shop and part of fashion boutique building, L'usine is a unique coffee shop in Saigon that follows the typical French architecture. The antique lighting and whitewashed wall create a cozy and home-like ambiance. The coffee shop provides delicious Vietnamese style coffee as well as European classics such as lattes and cappuccino. Sitting at the large balcony, you can also enjoy the tasty croissants, quiches or cupcakes. L'unise has been one of the best cafés in Ho Chi Minh City. L'Usine has three locations in Saigon, and all of the stores have perfect foods and drinks, and beautiful decoration.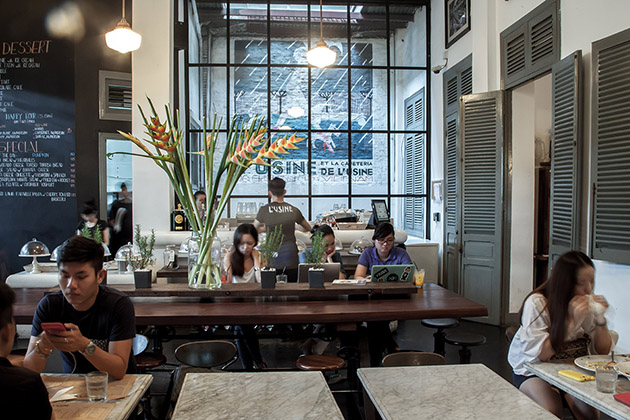 Opening Hour: 7.00 AM to 10.30 PM
Address: 1st floor, 70B, Le Loi Street, District 1
19 Le Thanh Ton, District 1
151/5 Dong Khoi, District 1
Cong Cafe
Cong Caphe is a flagship coffee chain that is famous to many Vietnamese people. You can find Cong Caphe stores in many places in Saigon. Cong Caphe gives guests special feelings and impressions as its design follows the theme of Vietnamese society in the 1980s. Antique furniture, military decor, tableware, the dim lights, and mellow music contribute to an extremely rustic space. Iced coconut coffee is exceptional and a must-try beverage when stop by Cong cafe.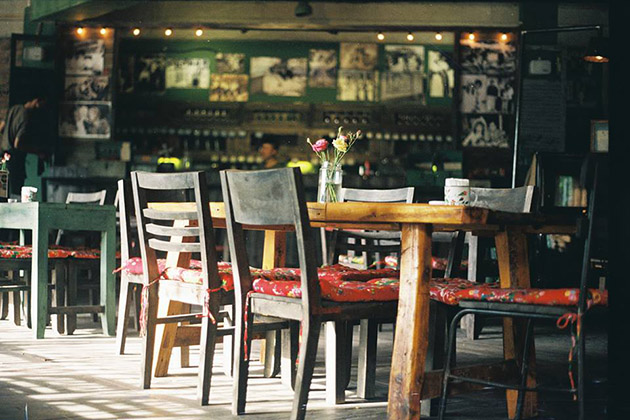 Opening Hour: 7.00 AM to 11.30 PM
Address: Multiple locations