Nguyen Hue Street, located in the heart of Ho Chi Minh City, is a bustling and vibrant destination that offers a plethora of cultural and entertainment experiences. This iconic street has a rich history and is brimming with attractions that cater to all types of visitors.

History of Nguyen Hue Street
Nguyen Hue Street, formerly known as Boulevard Charner, has an intriguing history that dates back to the days when it was a canal called Kinh Lon (Grand Canal) linked to the Saigon River. This canal connected the river with the old Citadel of Saigon, known as Thanh Bat Quai.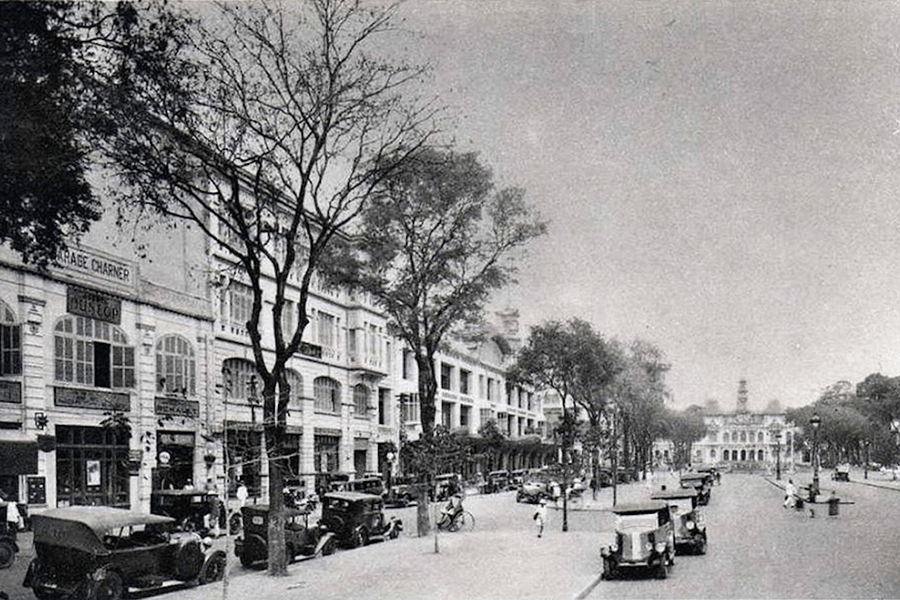 However, due to severe pollution, the decision was made to fill in the canal. The construction to fill the canal began in the late 1860s and was completed in 1887. The transformed boulevard was then named Boulevard Charner. In 1955, it was given its current name, Nguyen Hue Boulevard, in honor of Nguyen Hue, a renowned Vietnamese military leader.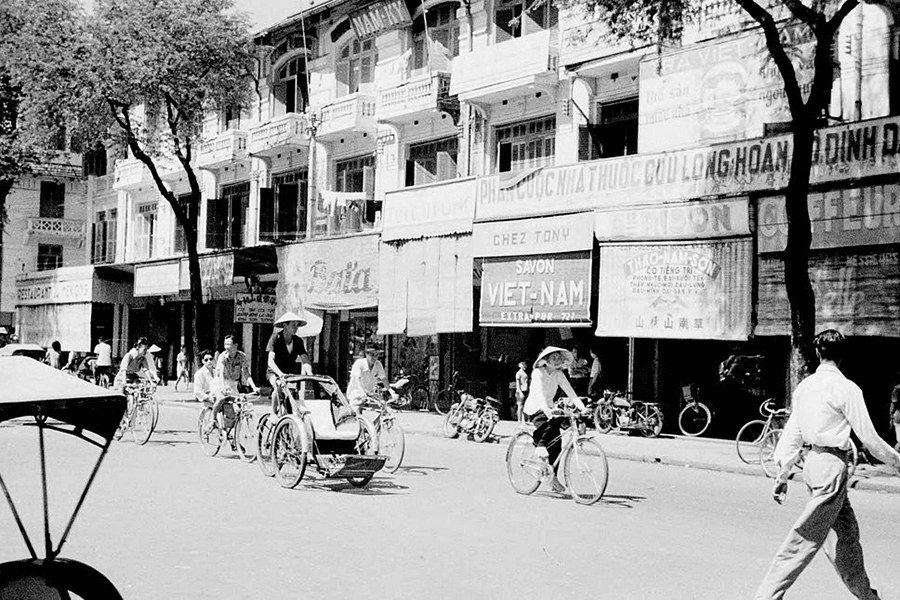 In an effort to enhance the city's appeal and create a vibrant pedestrian-friendly environment, the government of Ho Chi Minh City embarked on a project in October 2014 to convert the entire boulevard into a pedestrian street. The project was successfully completed on April 29, 2015, marking the transformation of Nguyen Hue Street into a bustling and vibrant hub for locals and tourists alike.
Attractions of Nguyen Hue Street
Take a lot of stunning photos
Nguyen Hue Street is renowned for its captivating scenery, seamlessly blending modern and traditional architecture, bustling street life, and a vibrant cultural atmosphere. This makes it a haven for photographers, whether they're amateurs seeking to capture the beauty of the street or professionals looking for unique and inspiring shots.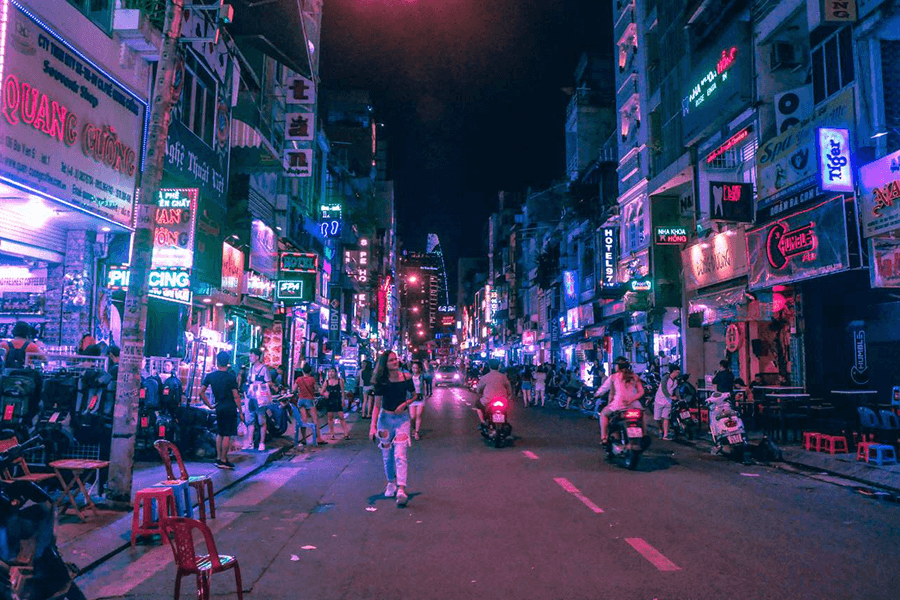 The street boasts stunning colonial-style buildings, charming street-side cafes, and captivating street art, all contributing to its visual appeal. Nguyen Hue Street offers endless opportunities for photographers to capture breathtaking moments and create stunning images. If you have a passion for photography, visiting Nguyen Hue Street should be at the top of your list when exploring Ho Chi Minh City.
Explore Apartment 42 Nguyen Hue
Apartment 42 Nguyen Hue stands out as a remarkable destination on Nguyen Hue Street, offering a captivating glimpse into Saigon's history. This meticulously preserved space allows visitors to step back in time and immerse themselves in the ambiance of an authentic 1950s Saigon apartment.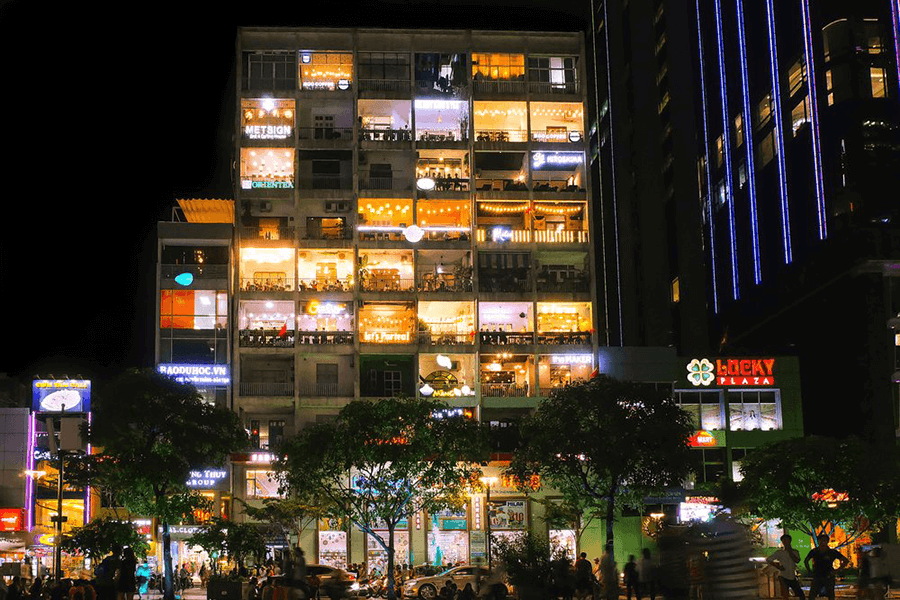 Inside Apartment 42 Nguyen Hue, guests will encounter vintage furnishings, intricate tiles, and nostalgic decor, all carefully curated to reflect the era. The attention to detail in preserving and decorating the apartment creates an immersive experience, allowing visitors to connect with the cultural heritage of the city.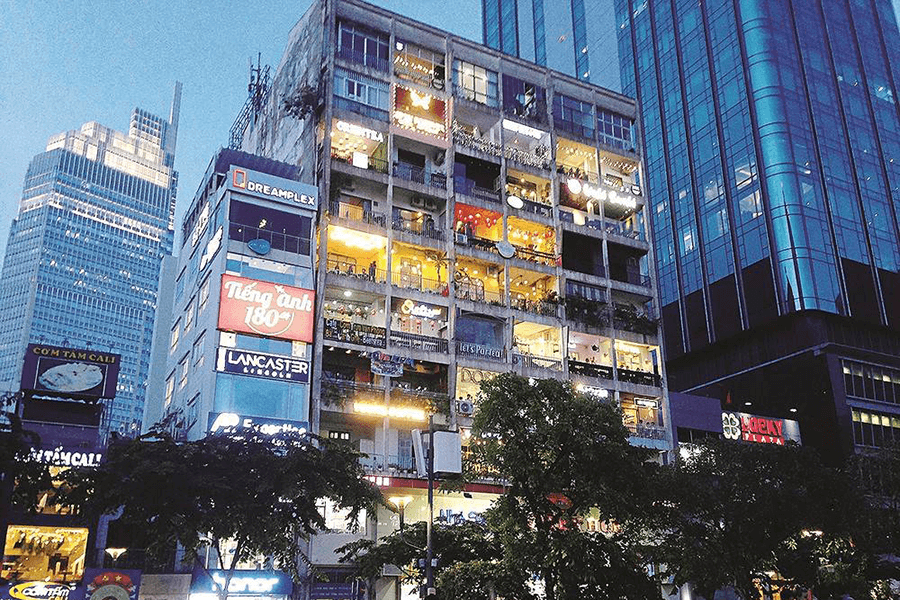 Whether you're a history enthusiast, a photography lover, or simply seeking a unique and enriching experience on Nguyen Hue Street, Apartment 42 is a must-visit destination. It provides a captivating window into Saigon's past and offers a memorable journey into its cultural roots.
Visit the bookstores on the street 
For book enthusiasts and those seeking cultural experiences, exploring the bookstores on Nguyen Hue Street is an absolute must. These establishments offer a treasure trove of literary delights, showcasing a diverse collection of local and international titles that provide insights into the city's rich history and vibrant culture.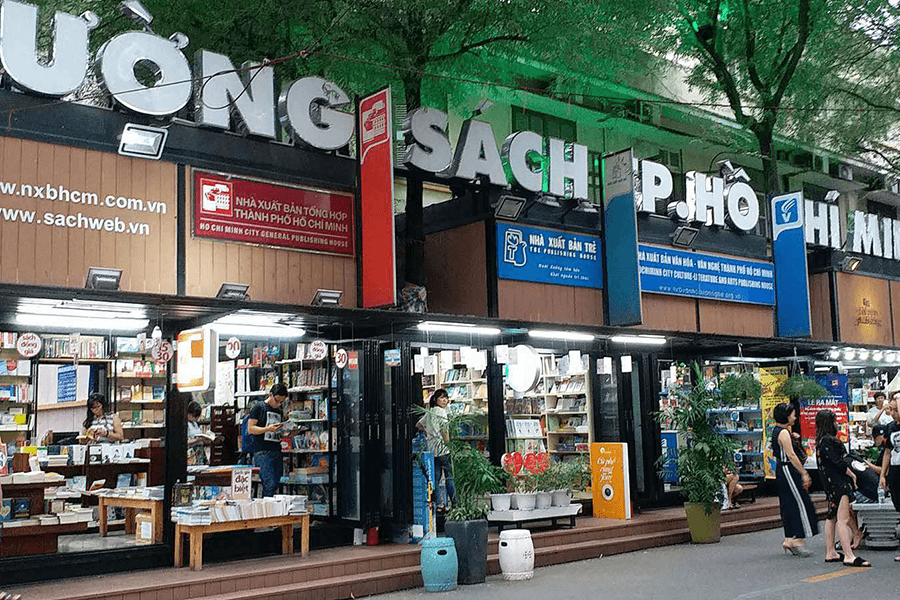 Whether you're seeking a light-hearted read or a deep dive into local literature, the bookstores along this street cater to a wide range of interests and preferences. Beyond browsing the latest releases, these bookstores also provide a tranquil haven amidst the bustling street atmosphere, allowing visitors to escape into the captivating world of literature. Whether you're a seasoned book lover or simply in search of a peaceful respite, be sure to include a visit to the bookstores on Nguyen Hue Street in your travel itinerary.
Drop by cafés with beautiful views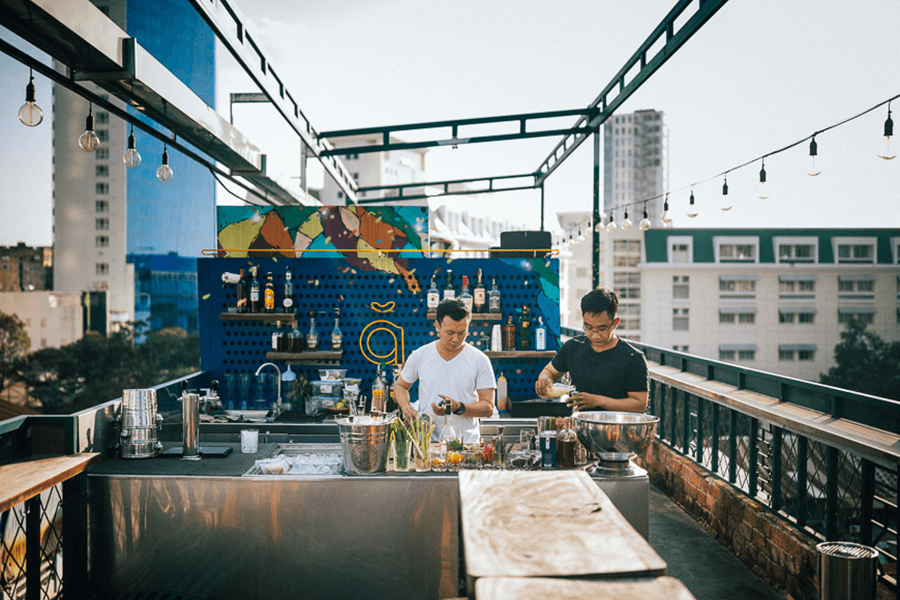 Nguyen Hue Street is famous for its captivating architecture, vibrant ambiance, and charming cafés offering mesmerizing views. Whether you prefer a rooftop setting or a cozy spot on the street, you'll find numerous cafés along this bustling street that boast breathtaking panoramas. These cafés provide the ideal retreat to relax and unwind after a day of exploring the city, allowing you to soak in the scenic beauty while enjoying a refreshing beverage or a delicious snack. Nguyen Hue Street truly offers a delightful experience for café lovers, combining stunning views with a vibrant atmosphere.
Enjoy the thrills of street shows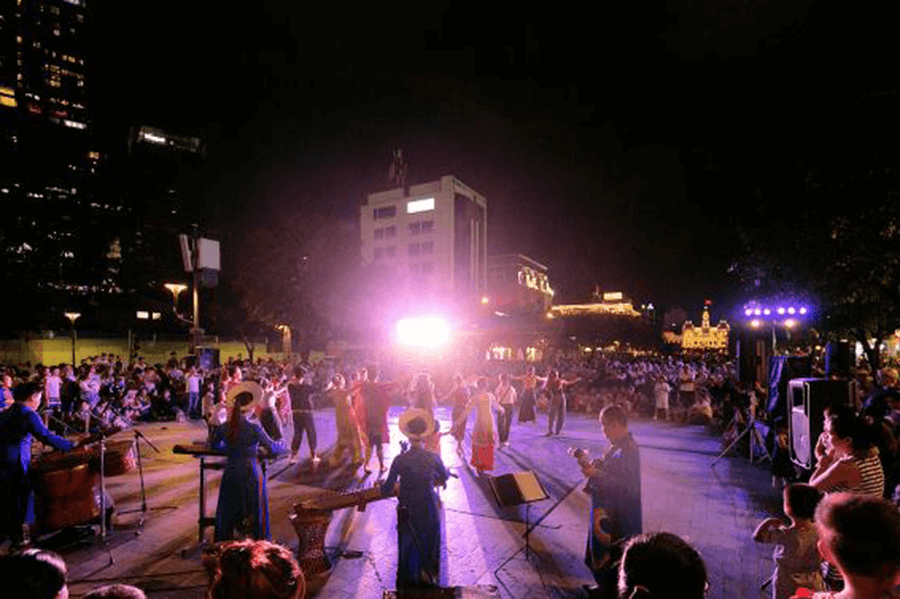 Nguyen Hue Street offers a captivating array of street performances, ranging from traditional music and dance to modern acts. These shows provide a unique cultural experience and a chance to relax and immerse yourself in the vibrant atmosphere of the street. With a wide variety of performances to choose from, a visit to Nguyen Hue Street is sure to leave a lasting impression.
How to get there 
To avoid heavy traffic, it is recommended to travel to Nguyen Hue Street by bus or motorbike. If you choose to ride a motorbike, head towards the city center from Nguyen Duc Canh Street, turn right onto Ton Duc Thang Street, and continue straight until you reach Nguyen Hue Street on the right. For parking, options include the City Post Office, Youth Cultural House, Sofitel Plaza Hotel, and sidewalk areas along Ham Nghi, Hai Trieu, and Ho Tung Mau. Alternatively, visitors can take convenient bus routes such as 03, 04, 124, 152, 19, and 93 to reach Nguyen Hue Street, saving money and reducing traffic congestion.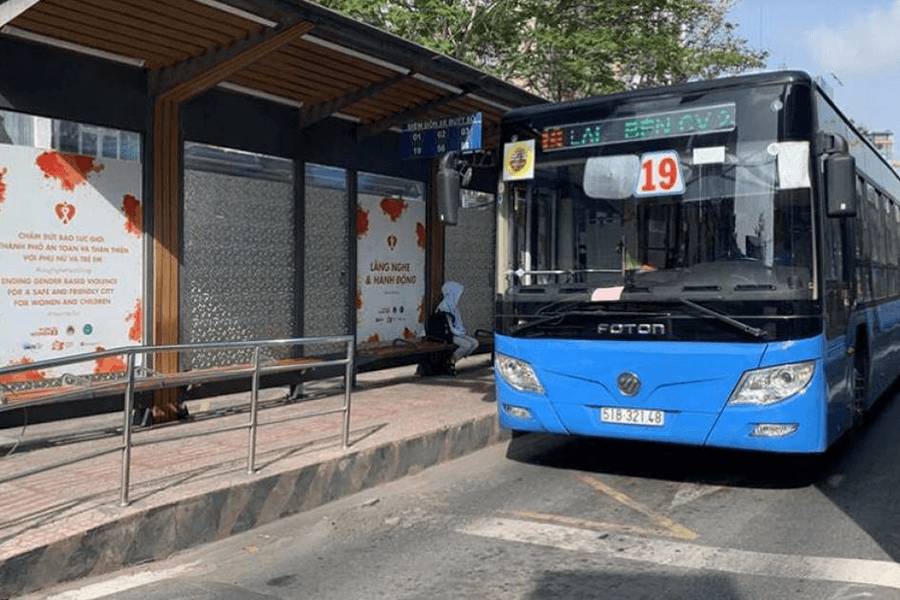 Nguyen Hue Street stands as a vibrant cultural hub in Ho Chi Minh City, offering a delightful blend of history, attractions, and entertainment. Whether you are captivated by its historical significance, mesmerized by its stunning architecture, or drawn to its lively atmosphere, a visit to Nguyen Hue Street is sure to leave you with lasting memories of this dynamic city.