If you are a nature lover or an adventurous individual, pay a visit to the one-of-a-kind floating markets in Mekong Delta. Mekong Delta region is where waterway heavily influences the locals' lives; thus, there are numerous floating markets in this area, one of the most worth-visit is Cai Be Floating Market.
Cai Be Floating Market 
Cai Be Floating Market lies on the Tien River, adjacent to Tien Giang, Ben Tre, and Vinh Long. Formed in the 19th century, this is the biggest and the most famous wholesale market in the Mekong Delta region. Notably, compared to other floating market of the region, Cai Be is the closest to Ho Chi Minh City (2-hour drive from Saigon city center). Therefore, note this in your bucket list when you visit Ho Chi Minh City.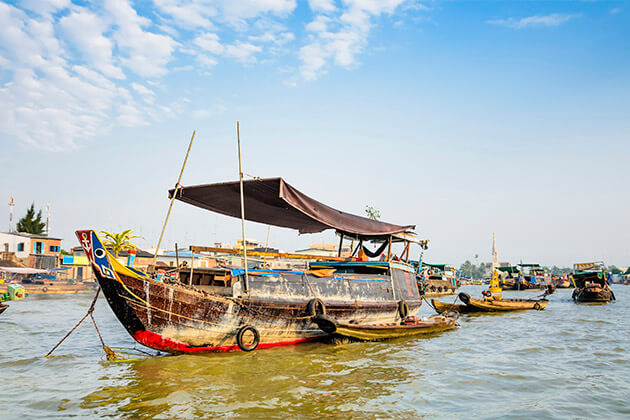 Cai Be Floating Market – The Feature of Daily Life in Mekong River
From breaking dawn, Cai Be Floating market has already been busy and crowded with unrelenting noises cover the whole area. Hundreds of boats and rafts head here daily to do business, each of which offers its own specialties. Products sold in this market can be bought in both large and small stocks, so the customers vary from sellers who purchase products and bring them to the land markets for sale to housewives.
Things to Do in Cai Be Floating Market 
What is sold in Cai Be Floating Market
There is a wide range of products offered in the floating market, all the boats and rafts are packed with fresh vegetable, fruit, potatoes, flowers,… with reasonable price. The items come from many provinces of Southern Vietnam. A thing visitors should try when visit Cai Be Floating Market is to try local cuisine right on the boat. What can sound more appealing than having a bowl of the bun on the riverway, listening to the sellers singing traditional songs?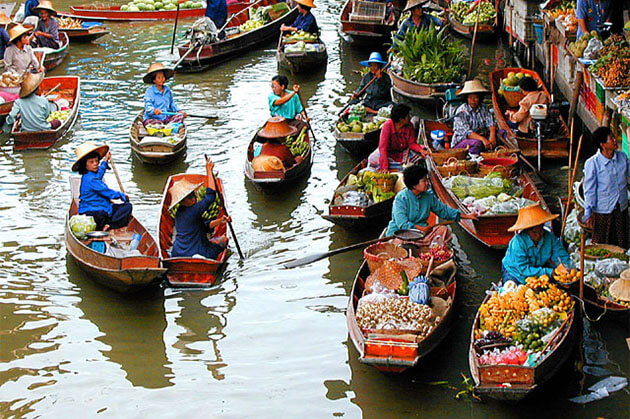 Cai Be Floating Market is divided into two parts: buying and selling places, all of which happen on boats. The unique part of Mekong Delta markets is a long wooden pole in front of each boat. On the poles, customers can easily notice different good samples, this presents what kinds of products are sold on the boat. Travelers may catch the image of bananas or mangoes hanging on the poles.
Authentic experiences in Cai Be Floating Market
Floating Taxi
Experiencing Cai Be Floating Market, visitors must use modes of transportation that work on the waterway. The boat is a common suggestion, since this means of transport is considered "taxi" in the region, extremely convenient and economical. The locals would paddle you throughout the journey, they are very friendly so do not hesitate to talk to them, though not many of the locals speak a foreign language. Other than that, tourists can rent a motorboat and explore how vibrant this market is.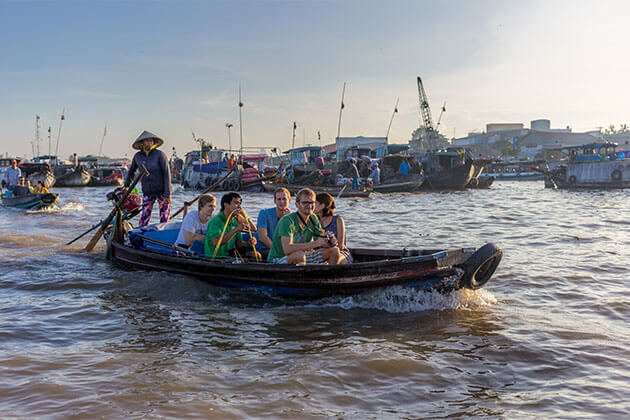 Mobile house
Visiting Cai Be Floating Market is a great choice not only to explore the signature of Mekong Delta region but also to learn about the locals' lifestyle. The water plays an indispensable role in their lives. Many traders spend their lifetime on the river, live in their boats, or what they call "mobile houses", for generations. All of their daily routines happen on the water. Travelers may have a chance to see people sleeping, cooking, studying on the deck of a random boat while visiting the floating market. You can ask for a short visit to their "floating houses" to experience a trip of a lifetime.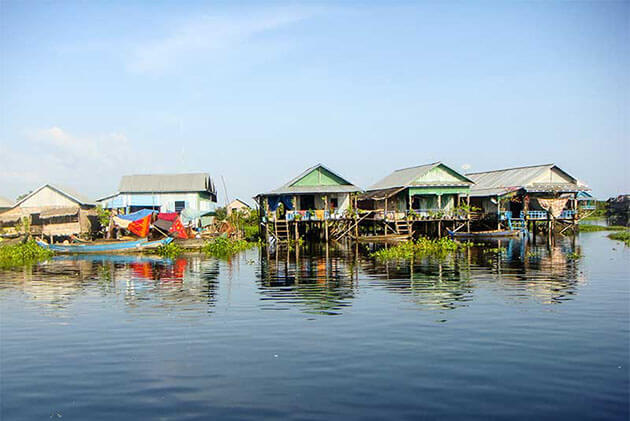 How to Get Cai Be Floating Market
Cai Be is a great choice if you don't have much time to explore the whole Mekong Delta since its location is very close to the dynamic Ho Chi Minh City. To visit Cai Be Floating Market, you don't have to wake up too early like the other local markets since the market always opens until later hours of the day.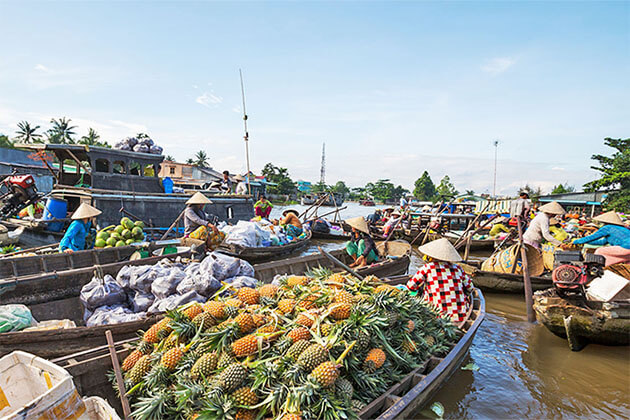 Cai Be province is situated 80km away from Ho Chi Minh City through 1A highway. You can get Cai Be Floating Market by booking a private tour or getting a taxi. Once you're in Cai Be, ask the locals for directions to get the market.
Address: Cai Be Town, Tien Giang Province
Opening hour: 3:00 – 24:00